BYU reveals new locker rooms for football players in the Student Athlete Building, Monday, June 21, 2021, in Provo. © BYU PHOTO 2020 (Nate Edwards, BYU Photo)
PROVO — One of the latest trends in the college football arms' race hit BYU campus Monday.
The Cougars, who compete as an independent in football, have long prided themselves in offering Power Five-level competition, facilities and extras such as uniforms and equipment.
But Monday afternoon, the players were introduced to the first locker room upgrade in the Student Athlete Building practice facility since the facility opened in 2004.
Located on the main level of the building, the new locker space offers a 75-yard long locker room patterned after similar designs used by the NFL's Philadelphia Eagles, along with convenient access for players and coaches to the facility and adjacent rooms for equipment, athletic training facilities, strength and conditioning, practice fields and meeting rooms.
One wall includes game-worn jerseys and equipment for BYU coaches who played for the Cougars, such as former BYU fullback and current head coach Kalani Sitake and former BYU wide receiver Aaron Roderick, the team's new offensive coordinator.
There's also space for a display for an assortment of historic and current BYU gear from Nike, new shuffle boards and televisions in a lounge area, and equipment pick-up lockers. Locker-room space in the football staff and alumni areas were also renovated during the project, which began in April.
"This is awesome. We are super grateful for the staff, administration and school for these renovations," said BYU center and returning team captain James Empey in a statement from the university. "We are blessed to have such a nice place to utilize as we get ready for workouts, practices and games. I liked that they involved us as players and made sure to ask us what we were looking for and what we wanted in a locker room. It was great to have that input in the process. There is so much attention to detail. This is great."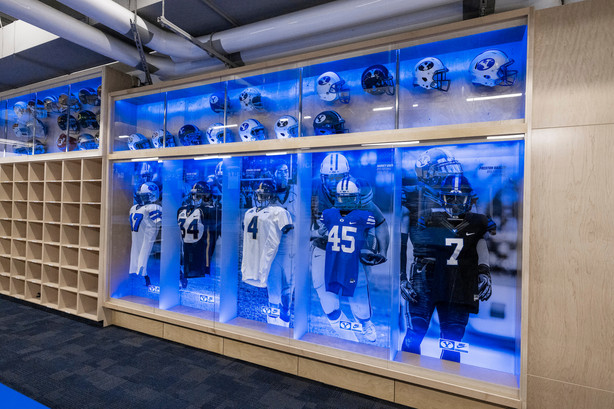 The Cougars aren't the first to update their facilities, and they won't be the last. They aren't even the first in the state of Utah.
Two years ago, Weber State unveiled new locker rooms that boast a similar aesthetic to the renovated portions at BYU as part of a $16 million facility upgrade near Stewart Stadium in Ogden. The renovation included 120 new lockers, the Barbara and Rory Youngberg Football Center, and the Stromberg Strength and Conditioning Complex, as well as an expanded equipment, coaching offices and position group meeting rooms.
The University of Utah is currently renovating Rice-Eccles Stadium as part of an $80 million renovation announced nearly three years ago that includes new home and visiting locker rooms, the addition of nearly 5,000 seats in the south end zone, and an enclosed lower bowl that will bolster capacity from 45,807 to 51,444 for the upcoming football season.
The Utes' new stadium was made possible in large part by a $17.5 million gift from the Ken Garff family and around $35 million in philanthropic gifts.
LEVELED UP ⬆️🤫 pic.twitter.com/UMo7xNDmla

— BYU FOOTBALL (@BYUfootball) June 21, 2021
As a private university, BYU does not disclose how much any of its renovations cost. But the Cougars said in a statement that funding for the latest locker-room renovation project came from the SAB maintenance endowment fund, which was established prior to the construction of the Student Athlete Building in 2004, with interest earned on the endowment devoted to "ongoing maintenance and future improvements of the facility."
"This project is possible because of the generosity of so many great Cougar fans who years ago contributed to the building of the Student Athlete Building and its endowment," BYU athletic director Tom Holmoe said in April when the project was announced. "Cougar Nation's tremendous support of BYU Athletics continues to bless the lives of our student-athletes."
×
Photos
More stories you may be interested in