PROVO — In many ways, there was only one place Matt Haarms could end his career.
When the 7-foot-3 Purdue center announced his intentions to leave the Boilermakers after graduating and play his final season of college basketball somewhere else, he could scarcely imagine that somewhere would wind up being Brigham Young University.
Haarms had barely heard of BYU, was not a member of the school's sponsoring faith The Church of Jesus Christ of Latter-day Saints, and never imagined he would be playing for the Cougars while growing up in The Netherlands or playing prep ball at Sunrise Christian Academy in Kansas.
Nothing against his new school; he just fully admits that it never crossed his mind.
"He didn't have any familiarity with BYU basketball, other than watching the great work that the players did last year," BYU coach Mark Pope recalled of the Dutch shot blocker. "We were trying to think of anything and everything we could do to possibly reach him."
He also never thought he'd return to Indiana when he finally left Purdue. He loved his time with the Boilermakers, but playing time and other opportunities sent him away, and even his girlfriend Maggie moved to Utah to be closer to the center's final year in Provo.
Imagine his surprise, then, when the NCAA announced a single-site men's basketball tournament, all in the greater Indianapolis area, to be played during his final season of college basketball. As always, time is a flat circle — especially for the graduate senior who is averaging 11.3 points, 4.8 rebounds and 1.96 blocks per game.
This week, Haarms returned to Indiana, to Indianapolis — site of the 2021 NCAA Tournament — to quarantine with sixth-seeded BYU (20-6) ahead of the Cougars' tournament opener Saturday against either Michigan State (15-12) or UCLA (17-9) (7:40 p.m. MDT, CBS).
The team got to practice Tuesday for their first tournament appearance since 2015 after testing and isolating, and then it was back to their hotel rooms, to school work, Netflix and anything else they brought to keep them occupied while they try to create an impenetrable bubble around themselves — free of the novel coronavirus that canceled last year's tournament.
"Once we're there, we've thought of some ridiculous things we're going to do," Pope said before the Cougars departed early Monday morning via charter flight. "We're going to be in the hotel, and the only time we can leave our floor is to practice for an hour and 50 minutes, lift for 45 minutes, and then go to our meeting space. We've got a lot of things planned, and hopefully you'll see some interest on social media."
Under the circumstances, it may not feel like home to Haarms. But in many ways, it is.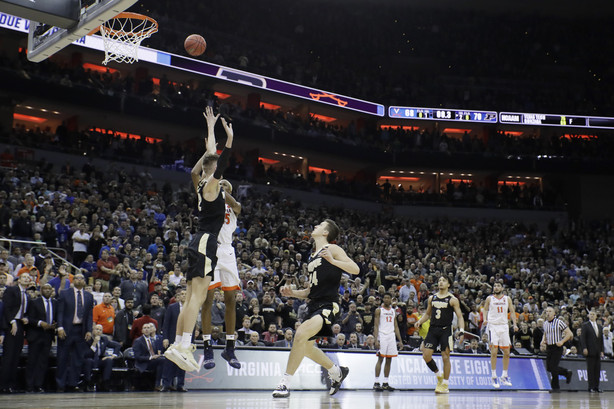 "It's pretty cool," Haarms told reporters after Sunday's selection show. "It's just interesting, especially if we end up playing in Mackey Arena. There are a lot of people I still know back there, and a lot of people at Purdue I'm still friendly with. I spent a lot of time there, and to be able to come back to that state, to have a bit of my family there, is cool.
"Hopefully I'm able to get a couple of those people to the games. It'll be really fun."
A limited number of fans will be allowed to attend tournament games, though Haarms doesn't know how many tickets players will be allotted. At roughly 20% capacity of each venue, there won't be many people cheering on Haarms or BYU — but there's guaranteed to be some.
Everywhere they've been this year, they've found some odd assortment of BYU — large or small — cheering them on. It's just part of the BYU culture.
Either way, Haarms will be ready for the tournament. Like the Cougars' team last year, the Boilermakers also had their season end abruptly after a 16-15 season and the Big Ten tournament was canceled before Purdue took the floor in its first game.
So Haarms knows how BYU fans felt, watching Yoeli Childs, Jake Toolson, TJ Haws and the rest ride off into the sunset without their One Shining Moment. Purdue might not have made the tournament, either — but he didn't even get to try in what amounted to his final season in West Lafayette.
"Last year was tough, because we didn't get an opportunity," Haarms said. "I know last year's team at BYU felt the same way.
"We feel like we really missed out on something. To see the greatest sporting event not happen, it really sucked. I'm so glad it's back, and so glad it's able to be done safely."
What Haarms does know is Indiana — specifically, Big Ten country. The Hoosier State is a basketball state, making this year's tournament bittersweet. The state's acclaimed Indiana University didn't make the field of 68, nor did little-known-turned-Big-East heartthrob Butler, located in downtown Indianapolis.
The state's Hoosier dreams rest with Purdue, the No. 4 seed in the South regional that opens Friday against North Texas. It's a team that Haarms knows well, obviously, as well as an arena. Mackey Arena is one of the venues capable of hosting games this year, and Haarms owns a 42-6 record in the building, including a 15-0 record in 2018-19 and a 16-1 record as a redshirt freshman, when Haarms averaged 4.8 points and 3.2 rebounds to help the Boilermakers to a 30-7 record and a spot in the Sweet 16.
[embedded content]
Haarms is also 3-0 at Assembly Hall in Bloomington, and 0-2 in Indianapolis with losses to Notre Dame and Butler in the Crossroads Classic. So the Hoosier States contains mostly good memories for him.
He's never played at the acclaimed Hinkle Fieldhouse, which is ironically where BYU will open the tournament. That was one place he was looking forward to visiting, no matter how long it took the tournament to schedule the Cougars there, he said Sunday evening before the sites were announced.
"To be able to play there would kind of cross off all the awesome arenas in Indiana off my Indiana arena bucket list," Haarms said. "To cross Hinkle off would be pretty cool. Any arena we play at will be awesome because they're all great environments."
But that hardly matters, he quickly adds. There won't be a lot of sightseeing in Indianapolis for the Cougars, nor need to find local hotspots — even for takeout or delivery.
In the gym, everything's the same; Haarms even paraphrased the beloved film "Hoosiers" in describing his emotions for returning home to several gyms he knows and loves.
"The game of basketball is the game of basketball," he said. "The hoop's the same height. I don't know if me being basically an Indiana native will help me.
"Every team will be ready the same way we are."
So, too, will the Cougars. But Haarms will be more than ready.
On the Air
NCAA Men's Basketball Tournament
No. 6 BYU (20-6) vs. No. 11 Michigan State (15-12) OR UCLA (17-9)
Saturday, March 20
Tipoff: 7:40 p.m. MDT
Venue: Hinkle Fieldhouse, Indianapolis
TV: CBS
Radio: BYU Radio 107.9 FM, KSL Radio 1160 AM/102.7 FM
×
Photos
Related Stories
More stories you may be interested in