PROVO — In a season unlike any other, BYU basketball is on the verge of doing something that has become remarkably similar.
The Cougars' 65-51 win over Saint Mary's on Senior Night in Provo propelled BYU to 19-5 on the season and 10-3 in the West Coast Conference, locked in a semifinal berth in the conference tournament in Las Vegas, and guaranteed an at-large bid to the NCAA Tournament for the first time in five years — if you ask any of the noted experts in bracketology. ESPN's Joe Lunardi, for example, projects the Cougars as a No. 7 seed in his latest mock selection.
Without denigrating those accomplishments, however, BYU's 19th win of the season marked an even more important milestone: just five months after the 2020-21 college basketball season was put to the brink, BYU played 24 games and did not cancel a single game of its own volition.
In an age where COVID-19 wreaked havoc on schedules nationally — including BYU's own, with games being pushed back while the Cougars were on a plane for California, or on the ground for game day in San Diego — they made it through the season without significant enough coronavirus cases to shut down the program.
That last part is significant; BYU is the only West Coast Conference team that didn't pause its season at any point. Even Portland, the other school that made it to the final week of the regular season with such a distinction, had to temporarily put its program on pause.
The Pilots will return in time for the WCC Tournament, after having their initial positive test result flagged for a "technical error" and subsequently reported as negative.
But the move means BYU stands alone.
"It's a miracle, isn't it?" BYU coach Mark Pope asked rhetorically, before immediately motioning toward gratitude. "We feel so fortunate and so blessed. We wrap our whole life up into this team and these games. This is our life, getting to watch these kids grow in real-time.
"To have the hit we had last season, and to not be sure if we'd get to play — I'm just grateful to (athletic director) Tom Holmoe, Brian (Santiago, associate AD) and (BYU President Kevin) Worthen for allowing us all to finish the way we did. We've been pretty blessed. I bet Vegas had the odds pretty low that we'd get 24 games in — and I'm grateful, because we got to really watch these young men grow. … We're not promised another day, but we got to today, and it was awesome."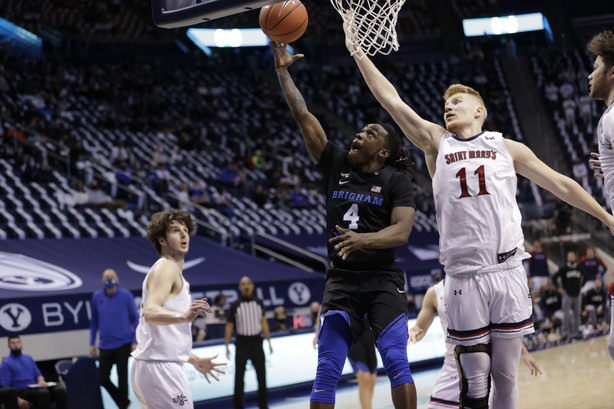 BYU guard Brandon Averette scores as the Cougars beat Saint Mary's on Senior Night in Provo, Saturday, Feb. 27, 2021. (Photo: Nate Edwards, BYU Photo)
It wasn't easy, and in some ways, it speaks to the somewhat antisocial nature of the Cougars — many of whom are married, and others, like graduate senior Matt Haarms, who was recently named WCC Defensive Player of the Year, and Alex Barcello, who lived with Haarms and spent plenty of non-game nights at home playing board games and away from the public.
But by doing so, the Cougars made it to the end of the regular season.
And they aren't done yet. BYU will open the WCC Tournament in Monday's semifinals, where the Cougars will face any of three opponents: Pacific, Santa Clara or Portland.
Just getting to this point has been a challenge, and deserves high praise. But like Barcello told the 1,700 or so fans in the Marriott Center after senior night: they aren't done yet.
"I know to us seniors, it means everything," Barcello expounded to reporters after the game. "It's our last year. I really give credit to our coaching staff, with how hard they worked. Every game that got postponed or canceled, they were calling 30 teams to try to get a game in a day or two.
"They believe in us so much that they don't care who we play. We just want to play games … and I give all the credit to them. I really believe that's why we played 20-plus games this season."
From online classes to Zoom media interviews to coaches' show interviews conducted with social distancing and teleconferences, BYU's players deserve credit for taking seriously a lengthy list of COVID-19 protocols, approved by the university's medical team and following local, state and CDC guidelines.
After practice in the Marriott Center Annex, players go straight home; they've only been out in public for a bite to eat a handful of times, if it all, Barcello admitted. Whether restrictions called for it in the country or county, the Cougars were — for the most part — under significant lockdown.
But Barcello was willing to go through it all. After all, taking BYU back to the NCAA Tournament was the least he could do after the school took him in a "broken" state, he said recently during a "Deep Blue" feature on BYUtv.
"The end of my sophomore season, I just came to the conclusion that if I still wanted to follow my dreams, I needed a bigger opportunity," Barcello said of his decision to transfer from Arizona. "I needed to go somewhere that is going to love and care about me as a person, and as a basketball player.
"It was a rough summer for me; kind of like a roller coaster — ups and downs."
[embedded content]
But with March entering and the postseason on the horizon — both in Las Vegas and further away in Indianapolis — it's all proving to be worth it.
"It's honestly crazy," senior Brandon Averette said. "I just thought about it; we never had any COVID during the season, and I think it's just a test to the maturity of how we took this season. We knew the precautions we'd have to take, not being able to hang out like we normally do. But we stayed locked in on what we needed to do to play these games."
A win Monday would give BYU a 20-win season for the 14th time in 15 seasons, and for the second time under Pope. The only time the Cougars have fallen short was in 2018-19, as legendary coach Dave Rose was retiring.
But to bring it back to Barcello: they want more.
"At the beginning of the year, we had one goal," he said, "and that was to win as many games as possible and to win a conference championship — to make a run in the NCAA Tournament.
"A lot of people counted us out this season. That didn't stop us. We knew it was going to be hard, but we just put our heads down and went to work."
West Coast Conference men's basketball tournament
Orleans Arena, Las Vegas
Thursday, March 4
Game 1: San Francisco vs. San Diego, 7 p.m. MT (Stadium)
Game 2: Santa Clara vs. Portland, 10 p.m. MT (Stadium)
Friday, March 5
Game 3: LMU vs. Game 1 winner, 7 p.m. MT (Stadium)
Game 4: Pacific vs. Game 2 winner, 10 p.m. MT (Stadium)
Saturday, March 6
Game 5: Saint Mary's vs. Game 3 winner, 7 p.m. MT (ESPNU)
Game 6: Pepperdine vs. Game 4 winner, 9 p.m. MT (ESPN2)
Monday, March 8
Semifinal 1: Gonzaga vs. Game 5 winner, 7 p.m. MT (ESPN)
Semifinal 2: BYU vs. Game 6 winner, 10 p.m. MT (ESPN2)
Tuesday, March 9
Championship game, 7 p.m. MT (ESPN)
×
Related Stories
More stories you may be interested in