BYU's Samson Nacua during practice in Provo on Thursday, Aug. 5, 2021. (Laura Seitz, Deseret News)
PROVO — As BYU wrapped up Monday's practice and approached the end of the first week of training camp, no decisions were made in the race for the starting quarterback job.
On the other end of the pass, the conversation was very different.
Even beyond the top four of Gunner Romney, Puka Nacua, Samson Nacua and Neil Pau'u, the Cougars have one of the deepest wide receiver groups in recent memories. Wide receivers coach Fesi Sitake said less than a full week into camp he's confident starting at least 10 players on the perimeter for the Cougars, and offensive coordinator Aaron Roderick quipped last week that he's never seen as deep of a group in his time at BYU.
"Our receiver depth is the best it's been since I've been here," Roderick said definitively. "And the O-line, I really like our big group of guys. There are six guys who play a lot and are proven players, and then a lot of good guys to work with. But the total number is higher than it has ever been."
Roderick has been with head coach Kalani Sitake for most of the first time head coach's five seasons in Provo. One of the years he wasn't a full-time position coach on staff was the Cougars' 4-9 season of 2017 that prompted a massive offensive shakeup.
Which begs the question: Is this the most talented group of receivers Sitake has had during his six-year tenure with the program? Perhaps the biggest problem with the group will be defining a two-deep depth chart prior to the Sept. 4 season opener against Arizona in Las Vegas.
It's a good problem to have.
"We legitimately have 10 guys right now that I could easily play on every down during the season," wide receivers coach Fesi Sitake told KSL.com, "and that's been reassured during the first week of fall camp. We're deep, man."
Add to it a group of pass catchers that include former Lehi star Dallin Holker and returning Freshman All-American Isaac Rex, and BYU's once-dubbed "QB U" could be rebranded "Pass Catchers' U" in equal time.
But the conversation starts with Romney, the 6-foot-3, 195-pound wide out who had 767 yards and two touchdowns in 10 games a year ago for the Cougars.
Romney missed three games a year ago with a hamstring injury — one he sees he's "fully recovered" in the offseason. He has another year to get it back after the NCAA granted all players a free season of eligibility due to the COVID-19 pandemic.
But the Chandler High product who recently married longtime friend Sadie in July said he's looking at 2021 as his senior season (barring injury and other unforeseen circumstances, of course). Romney wants to prove he can stay healthy, and improve on a breakout season last year in every way but the ones affected most by his injured hamstring.
He's not alone, though.
"We have a lot of guys coming in who are just barely learning the offense," Romney said. "But you can see the potential. You can see that there's guys making plays every single day in practice, and even talking with some of our coaches, there isn't a huge drop-off. We have 10 receivers who can play right now.
"I think the depth is real. I think we have one of the best groups in the country at receiver."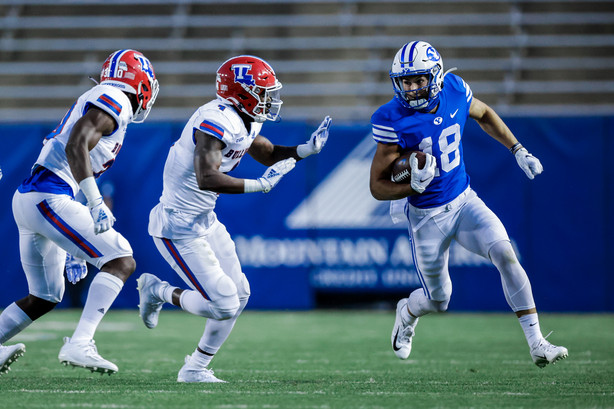 Depth is good for the team and for the group, even if it's a "good problem" for the coaching staff in compiling a two-deep.
It's also a "good problem" to have for the quarterbacks — no matter who wins the starting job.
"It can be hard, because there aren't just one or two guys out there who have the mismatches. You look around the offense, and that's everyone," said Baylor Romney, Gunner's older brother and one of three vying for the QB1 tag. "It's nice to know that at every position, you've got a guy that can do their job on the play."
Then there's Pau'u, the fifth-year receiver who has been the early standout of fall camp with a touchdown from Jaren Hall in Thursday's first day of practice and another from Jacob Conover that would've gone for six were it not for a flagged pass breakup during Monday's 7-on-7 skelly portion.
The former quarterback from Anaheim's Servite High caught 45 passes for 603 yards and four touchdowns during the COVID-impacted 2020 season, and said the "mentality" is what's separated the wide receiver group this year from previous seasons.
"Some guys are only doing one-on-ones and seven-on-sevens, some guys are trying to recover from injuries they got that first week," Pau'u said. "So, the mentality just to come in, stay focused, locked in and grind. Hopefully in a week, everybody's healthy and we can see what's really going on with everybody."
[embedded content]
That mentality has spread from the old guard to the newcomers. Pau'u said one of the biggest surprises about Samson and Puka Nacua transferring to BYU was how the two Pac-12 transfers "just wanted to be part of the group."
But it's a good group to form a part, and an easy one to fit in, Samson Nacua added.
"Out here, everyone welcomed me and Puka with open arms; it felt like we were here for years," Nacua said. "Gunner and Neil were the leaders of the group, and they took us in right away, teaching us their knowledge of the offense. We know that your group is only as strong as the weakest link. We've got to bring everyone along."
The 6-foot-3, 195-pound pass catcher who prepped at nearby Timpview High School hopes to complement that depth and use the new offense under Roderick to unlock a new level than what he achieved at Utah, where he finished with over 1,000 receiving yards and led the Utes in touchdowns in 2018 (five) and 2019 (four).
That's a decent amount of production out of an offense that struggled to find a consistent offensive coordinator, and currently focuses on a power-run game under current coordinator Andy Ludwig. BYU's offense, by contrast, has been installing a more wide-open scheme with multiple sets — an offense called the RVO, or "reliable violent offense" by former coordinator Jeff Grimes upon which Roderick has built.
"I think this offense has been perfect for me," Nacua said. "I didn't get to explode as much as I ever wanted to throughout my years at Utah. It's a different king of offense up there, obviously, and I was able to make it work. But I don't think I was ever able to expose how talented I truly am. I think being down here will help me show more what I can do than what I've done."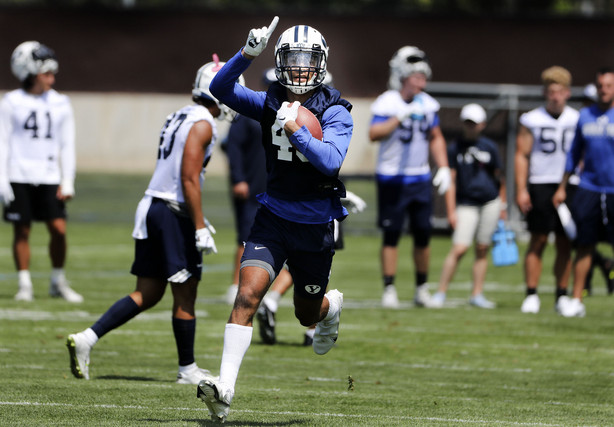 Ditto for his younger brother Puka Nacua, the former Gatorade Utah Player of the Year from Orem High who considered BYU before ultimately signing with Washington, where he caught nine passes for 151 yards and a touchdown in the truncated 2020 season.
In addition to his brother, the younger Nacua is also excited to reunite with several former in-state prospects, like Dixie's Hobbs Nyberg, Lehi's Kade Moore and American Fork's Chase Roberts, who trained with Nacua and former BYU standout Ross Apo privately through high school.
"I think we're pretty scary," Puka Nacua said. "Everyone is coming back home, and it's cool to see. We're pretty big, too. Every time I think about everybody we've got, we create matchups everywhere we line up. And then our tight ends, too … I just can't wait."
Beyond the Big Four, Sitake said that role players Brayden Cosper, Keanu Hill and Chris Jackson have taken the biggest steps during the offseason and the first week of camp.
"Those three have really been here and gotten meaningful game reps, and now they aren't skipping a beat," Sitake added. "Then there's a group of guys in a similar position as those guys last year, like Terrence Fall, Hobbs Nyberg and a few others who just need to keep developing. There's 10 guys right there that I could play.
"That's the problem I want to have."
×
Photos
Related Stories
More stories you may be interested in