The weather outside is frightful—a stifling 100 degrees. But inside the Utah Valley Convention Center in Provo on this late August evening, amidst air conditioning and socially-distanced audience members, Grammy winner Lauren Daigle—the biggest name in Christian music—is about to spread some holiday cheer.
As the featured performer in this year's Christmas Under the Stars concert, Daigle joins an impressive list of A-list music artists who have previously headlined BYUtv's annual holiday special: John Legend, Gladys Knight, Five For Fighting, The Band Perry and Gentri, to name a few. Daigle's headlining special premieres Sunday, Dec. 6 at 7 p.m. and will also be available to stream on the BYUtv app.
Taking cues from her holiday album "Behold," which leans heavily on her roots in Louisiana jazz, Daigle first wows the crowd with her peppy, jazzy rendition of "Jingle Bells." And from there, she performs a delightful, heartfelt mix of perennial holiday favorites, worshipful carols, and a few of her signature songs.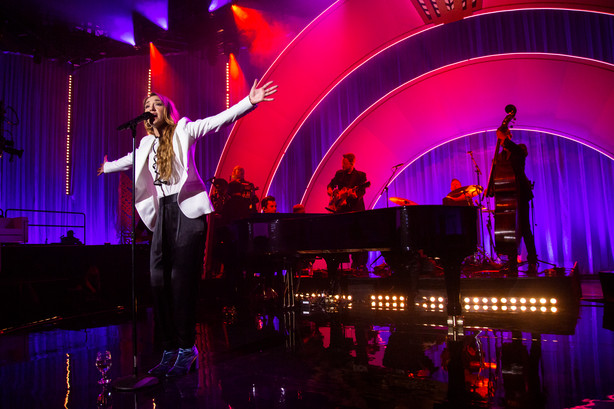 Photo: Justin Hackworth Photography
Her smoky-sweet vocals have been compared to Adele and Amy Winehouse, her mainstream appeal is reminiscent of Amy Grant's; her style is modern bohemian, and her love for the Savior is unmistakable.
Daigle's first national exposure was in 2010 on the television series "American Idol," but it wasn't until 2015, when her debut album "How Can It Be" went platinum certified (#1 on the Billboard Christian charts, #16 overall), when she cemented herself as a true crossover artist. Her 2018 album, "Look Up Child," catapulted her into the stratosphere with the single "You Say," a catchy, moving, (and overtly religious) pop anthem that sticks with you long after you've listened to it. That stickiness has kept "You Say" at the top the Hot Christian Songs chart for 106 weeks straight (and counting).
While the late summer heat makes you feel like you've been walking in a withered wonderland, Daigle effortlessly brings that gingerbread feeling. She singlehandedly reaffirms what we already know: that the spirit of the season truly can be felt any time of the year.
×
More stories you may be interested in