AROUND THE SHIELD — It had been a long time since Taysom Hill completed a touchdown pass before Sunday's NFL kickoff between the New Orleans Saints and Atlanta Falcons.
If you believe the math conducted by the NFL broadcast crew on FOX Sports during Sunday morning's broadcast, it was 1,471 days, dating back to Hill's senior year at BYU — but who's counting?
Hill put those numbers to bed Sunday afternoon, and the only numbers he was counting were 3-0 (the Saints' record with Hill under center in 2020) and 10-2 — the mark New Orleans reached to become the first team in the NFL to clinch a playoff berth.
Hill threw for his first touchdown pass since his final year at BYU, then he threw for another one to lead the Saints to a 21-16 win over the Falcons on Sunday afternoon in his third career start at quarterback.
The former BYU standout completed 27-of-37 passes for 232 yards and two touchdowns and added another 83 yards on 14 carries in the Saints' win, which also included a late goal-line stand by the New Orleans defense.
"I don't care as much as people might think about statistics and all this stuff," said Hill, who preempted several postgame comments to the Saints' press corps with the 'Look' he often gave at BYU. "I care about winning football games. I know there have been a lot of conversations about that; but as long as we're winning football games, I'm happy. I was certainly happy because I knew it would help us win. And I was happy for Tre'Quan, too."
Taysom Hill with his first career TD pass 👏

(via @NFL) pic.twitter.com/ius6hadOAe

— ESPN (@espn) December 6, 2020
Hill hit Tre'Quan Smith for a 15-yard score with 7:01 left in the first quarter to set up his first career passing touchdown, and his first since a 10-yard touchdown to Mitchell Juergens against Utah State on Nov. 26, 2016.
He then added an 11-yard TD strike to tight end Jared Cook to snap the 1,471 passing futility streak that gave the Saints a 10-6 halftime lead.
"He's doing everything we could ask of him, and then some," Cook said of the backup quarterback thrust into the starting spotlight since rib injuries and a collapsed lung sidelined Drew Brees. "He's just been a huge player for us and stepped up in the moment."
Hill's legs were a weapon, too — but he also made plenty of mistakes. The quarterback dropped three fumbles, losing one, as the Falcons crept back into the game in the second half. After Alvin Kamara's 11-yard touchdown run in the third quarter, the Falcons came back through Matt Ryan's 10-yard strike in the fourth to pull within five.
But Atlanta (4-8) could get no closer against a Saints defense that included former Utah star safety Marcus Williams, who had seven tackles and a pass breakup in the win. His opportunities may not be as flashy in highlight reels and headlines, but they're just as important.
[embedded content]
"I don't do a lot of talking. I just come out here and do my job," Williams said. " I just have to keep putting in the work and get better each week."
New Orleans held the Falcons to 5-of-13 on third down, and kept three scoring drives to field goals — which head coach Sean Payton called the key to the win.
Payton, who has championed Hill since acquiring the undrafted free agent prior to the 2017 season, even took responsibility for the lost fumble.
"I didn't like my call there, on second down, with where we were at in the game," Payton said. "Every once in a while, I'll have regrets on a situation — and that's certainly one of them.
"The ball security when he's a runner has to get fixed. He'll start figuring it out but, obviously, when we're in the fourth is crucial."
Still, the Saints improved to 8-0 in the past two seasons without Brees, a run that has included three quarterbacks, including Hill.
Those are the statistics Hill can get behind.
"At the end of the day, I'm happy that we got three wins (since Brees' injury)," Hill said. "That's the statistic that I care most about. As far as my own development, I feel like I've become more and more comfortable operating the offense. There are so many ways I can become better … but overall, I'm getting more comfortable."
Taysom delivers a dart 🎯 @T_Hill4@JaredCook89#Saints

📺: #NOvsATL on FOX
📱: NFL app // Yahoo Sports app: https://t.co/nO8DOddpx2pic.twitter.com/tqAKvSrOQR

— NFL (@NFL) December 6, 2020
Here's how other former college and high school football players from Utah fared in the NFL's Week 13. There are two Monday Night Football games: Washington vs. Pittsburgh and Buffalo vs. San Francisco, as well as one Tuesday night game: Dallas vs. Baltimore.
New Orleans 21, Atlanta 16
Taysom Hill threw two touchdown passes and the Saints held off a late comeback to clinch a playoff berth and improve to 5-0 in division play.
Saints (10-2)
Taysom Hill, QB, BYU: Completed 27-of-37 passes for 232 yards, 2 TD; ran for 83 yards on 15 carries
Marcus Williams, S, Utah: Made 7 tackles, including 5 solo stops, and a pass breakup
Kaden Elliss, LB, Judge Memorial: Played as a reserve
Falcons (4-8)
No locals on the active roster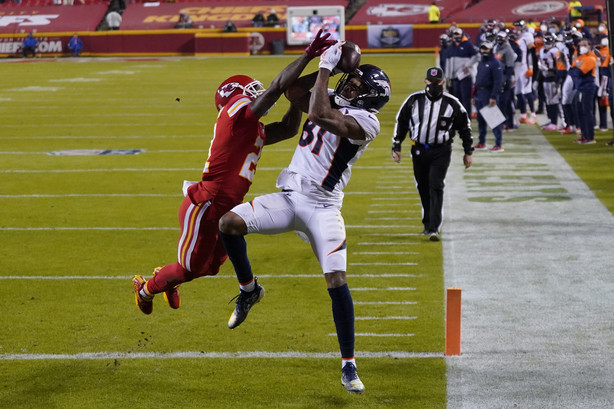 Kansas City 22, Denver 16
Patrick Mahomes threw for 318 yards and a touchdown, Harrison Butker nailed five field goals, and the Chiefs held off the Broncos to clinch a playoff berth on Sunday Night Football.
Chiefs (11-1)
Daniel Sorensen, S, BYU: Starting free safety made 5 tackles with 2 QB hurries
Darwin Thompson, RB, Utah State: Played as a reserve
Marcus Kemp, WR, Chiefs: Played as a reserve
Broncos (4-8)
Tim Patrick, WR, Utah: Starting wide receiver caught all 4 of his targets for 44 yards, 2 touchdowns
Garett Bolles, OT, Utah/Snow/Westlake: Started at left tackle
TOE. TAP. TIM.@Broncos retake the lead on Tim Patrick's second TD. #BroncosCountry

📺: #DENvsKC on NBC
📱: NFL app // Yahoo Sports app: https://t.co/TDkSnAgsvBpic.twitter.com/Z6TwaA0uVI

— NFL (@NFL) December 7, 2020
Detroit 34, Chicago 30
Matthew Stafford threw for 402 yards and three touchdowns with one interception, and Adrian Peterson scored the go-ahead touchdown with 1:37 left to help the Lions rally by the Bears.
Lions (5-7)
John Penisini, DL, Utah/Snow/West Jordan: Starting defensive tackle had 3 tackles, fumble recovery
Miles Killebrew, DB, SUU: Reserve safety made 1 tackle on special teams
Bears (5-7)
Jaylon Johnson, CB, Utah: Starting cornerback made 4 tackles, pass breakup
Patrick Scales, LS, Utah State/Weber: Starting long snapper played 9 snaps on special teams
Miami 19, Cincinnati 7
Kyle Van Noy had a team-high eight tackles as the Dolphins held the Bengals to 196 yards and forced two turnovers.
Dolphins (8-4)
Kyle Van Noy, LB, BYU: Starting linebacker made 8 tackles, including a team-best 5 tackles for loss and 3 sacks, with one pass defended
Eric Rowe, DB, Utah: Starting safety made 4 tackles
Bengals (2-9-1)
LeShaun Sims, CB, SUU: Starting cornerback had 8 tackles, including 4 solo stops
👀👀👀 3 piece…. #ridethewave#finsuppic.twitter.com/ojcNeh2LlN

— Kyle Van Noy (@KVN_03) December 6, 2020
Indianapolis 26, Houston 20
Philip Rivers threw for 285 yards and two touchdowns, and the Colts forced two turnovers to hold off the Texans.
Colts (8-4)
Julian Blackmon, DB, Utah/Layton: Starting free safety made 4 tackles
Noah Togiai, TE, Hunter: Placed on injured reserve Saturday with a knee injury
Texans (4-8)
No locals on the active roster
Minnesota 27, Jacksonville 24
Dan Bailey kicked a 23-yard field goal with 1:49 left in overtime to lift the Vikings to a win over the Jaguars.
Vikings (6-6)
No locals on the active roster
Jaguars (1-11)
No locals on the active roster
NY Giants 17, Seattle 12
Alfred Morris ran for 39 yards and a touchdown, and caught a 6-yard score, as the Giants shocked Seattle for their fifth-straight win.
Giants (5-7)
Kyler Fackrell, LB, Utah State: Placed on injured reserve earlier in the week
Jackson Barton, OT, Utah/Brighton: Not active for Week 13
Seahawks (8-4)
Bobby Wagner, LB, Utah State: Starting middle linebacker had 6 tackles, a tackle for loss, and a pass defended
Cody Barton, LB, Utah/Brighton: Reserve tackle made 1 tackle on special teams
Bryan Mone, DT, Highland: Placed on reserve/COVID-19 list Saturday
[embedded content]
Las Vegas 31, NY Jets 28
Derek Carr threw for 381 yards and three touchdowns, including the go-ahead score to Henry Ruggs with 5 seconds left to help the Raiders rally past the winless Jets.
Raiders (7-5)
Devontae Booker, RB, Utah: Starting running back averaged 3.1 yards per carry, for 50 yards
Nevin Lawson, CB, Utah State: Reserve defensive back had 3 tackles
Dallin Leavitt, S, Utah State/BYU: Reserve safety made 2 tackles
Andre James, OT, Herriman: Played as a reserve
Jets (0-12)
Harvey Langi, LB, BYU/Bingham: Starting inside linebacker had 8 tackles
Javelin Guidry, DB, Utah: Reserve cornerback made 6 tackles, forced 2 fumbles
Cleveland 41, Tennessee 35
Baker Mayfield threw for 334 yards and four touchdowns as the Browns led 38-7 at halftime before holding off the Titans.
Browns (9-3)
Sione Takitaki, LB, BYU: Made 2 tackles on defense, one on special teams as a reserve after spending time on the reserve/COVID-19 list
Porter Gustin, DE, Salem Hills: Not on the active roster for Week 13
Titans (8-4)
No locals on the active roster
LA Rams 38, Arizona 28
The Rams nearly doubled the Cardinals in yards (463-232) and time of possession (38:53-21:07) for the 10-point win.
Rams (8-4)
Matt Gay, K, Utah/Utah Valley/Orem: 39-yard field goal, 5 extra points
Cardinals (6-6)
Leki Fotu, DL, Utah/Herriman: Reserve tackle made 2 tackles for loss
Kylie Fitts, LB, Utah: Played as a reserve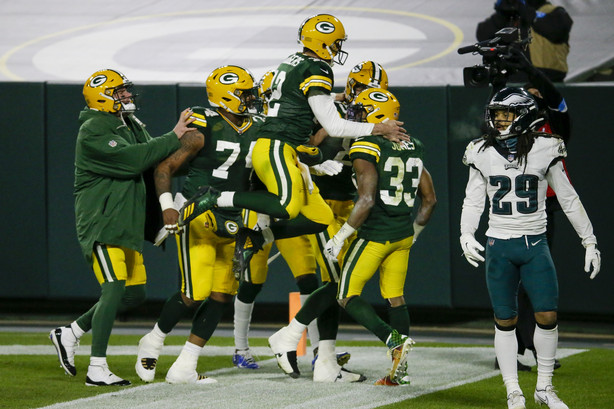 Green Bay 30, Philadelphia 16
Aaron Jones ran for 130 yards, including a 77-yard touchdown with 2:36 remaining, to help the Packers shut the door on a Philly comeback
Packers (9-3)
Jamaal Williams, RB, BYU: Reserve running back averaged 5.2 yards per carry for 26 yards, caught 2 passes for 10 yards
Jordan Love, QB, Utah State: Inactive for Week 13
Eagles (3-8-1)
No locals on the active roster
New England 45, LA Chargers 0
Cam Newton threw for 69 yards and a touchdown and ran for 48 yards and two scores as the Patriots blanked the Chargers.
Patriots (6-6)
No locals on the active roster
Chargers (3-9)
Michael Davis, CB, BYU: Starting cornerback had 4 tackles
Sam Tevi, OT, Utah: Inactive for Week 13
Nick Vigil, LB, Utah State/Fremont: Starting linebacker had 8 tackles, 1 tackle for loss on defense; 1 tackle on special teams
Alohi Gilman, S, Orem: Played as a reserve
×
Photos
Related Links
More stories you may be interested in