AROUND THE SHIELD — Browns linebacker Sione Takitaki knew his team got worse this week, when standout defensive star Myles Garrett was placed on the NFL's reserve/COVID-19 list two days before the Week 11 game against Philadelphia.
But with all due respect to Garrett, the BYU product also knows Cleveland (7-3) has a lot more defensive talent than the 6-foot-4, 270-pound defensive end with two All-Pro selections in his fourth season in the NFL.
Takitaki is one of them.
Takitaki had had his first career pick-six, scoring the Browns' first touchdown on a 50-yard interception return to spark Cleveland's 22-17 win over the Eagles in cold, wet weather to improve to 7-3 on the year.
"You guys know Myles, we all know Myles," said Takitaki, who also had two tackles, a tackle for loss and a quarterback hurry in the win. "But those other guys are great football players, too. We have a lot of big names, too, and what kind of set us up was we were able to get on those third-and-manageable downs and let those guys go in."
Takitaki called Garrett "an all-time great" — but immediately expressed all the confidence in his teammates that limited the Eagles (3-7-1) to 106 rushing yards and 2-of-12 on third down.
"With Myles out, we're looking for those guys to step up," Browns coach Kevin Stefanski said.
TAKITAKI TO THE HOUSE. #Browns@STakiTaki

📺: #PHIvsCLE on FOX
📱: NFL app // Yahoo Sports app: https://t.co/XvGQdBFS2Ipic.twitter.com/5oxAuulKSz

— NFL (@NFL) November 22, 2020
With Garrett out, Stefanski also knew Takitaki could be one of those guys. It's why the team made him a game-day captain, despite a season in which he's only totaled more than five tackles twice in eight games.
"He was a game captain today, and the reason for that is he is as tough as they come," Stefanski said of Takitaki. "He plays through injuries, and he just does his job, plays his role, and plays it hard. To see him make a play on the ball and go score was incredible. I'm so proud of him.
"We knew we were going to have to make those type of game-changing plays, and they showed up."
In true Takitaki fashion, he deferred most of the credit to his teammates, though. Guys like Olivier Vernon, who had five tackles, three sacks and a pass breakup; former Salem Hills quarterback Porter Gustin, who had three tackles and a quarterback hurry; and Denzel Ward, who had three tackles, four pass breakups and an interception.
[embedded content]
The last one is important, perhaps. Ward also blitzed from the corner to hurry a pass and send Carson Wentz's attempt zipping into Takitaki's hands. All the Fontana, California native had to do was hold on to the football and run into the end zone, untouched, for his first professional touchdown.
"That was huge," Ward said. "He returned it for a touchdown, and it was a game-changer when we needed it. He stepped up big for us.
"He definitely has to give me the assist, though," Ward added in jest.
As soon as Takitaki crossed the goal line, he dropped to his knees, then immediately went to celebrate with his onrushing teammates. It was the biggest play of his career, and marked a turning point in the game for the Browns — and perhaps a turning point for the Browns linebacker, as he helped the club to back-to-back wins in cold, snowy weather.
"There's no such thing as an ugly win," Stefanski said. "That was a beautiful win."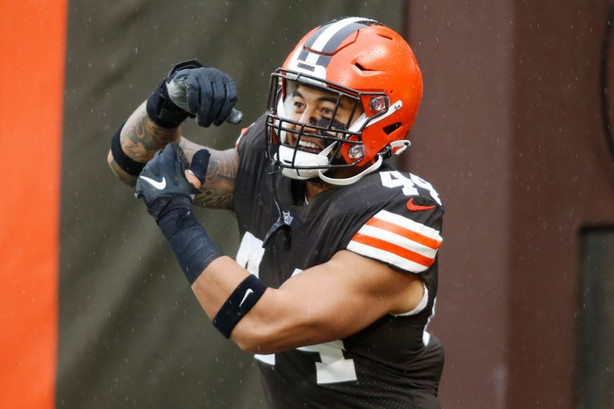 Nov 22, 2020; Cleveland, Ohio, USA; Cleveland Browns linebacker Sione Takitaki (44) is introduced before the game between the Cleveland Browns and the Philadelphia Eagles at FirstEnergy Stadium. (Photo: Scott Glavin, USA TODAY Sports)
Here's how other former college and high school standouts fared in Week 11 of the 2020 NFL season.
New Orleans 24, Atlanta 9
Former BYU quarterback Taysom Hill completed 18-of-23 passes for 233 yards, and ran for 51 yards and two touchdowns to lead the Saints to a victory over their NFC South rivals in Hill's first start at quarterback of his career.
Saints (8-2)
Taysom Hill, QB, BYU: 18-23 passing, 233 yards; 10 rushes, 51 yards, 2 TD; 1 fumble
Marcus Williams, S, Utah: Made 3 tackles, 1 pass breakup, 1 interception
Kaden Elliss, LB, Judge Memorial: Played as a reserve
Falcons (3-7)
No locals on the active roster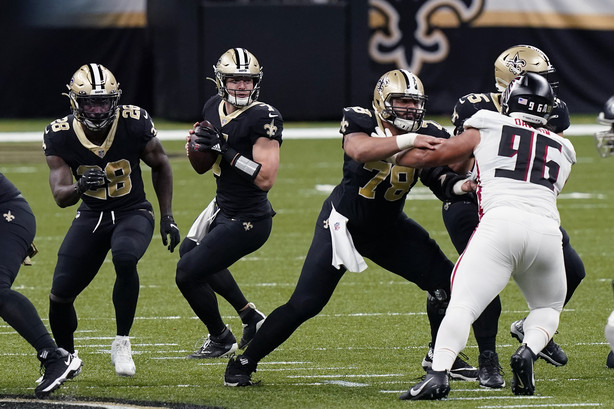 New Orleans Saints quarterback Taysom Hill (7) drops back to pass in the first half of an NFL football game against the Atlanta Falcons in New Orleans, Sunday, Nov. 22, 2020. (Photo: Butch Dill, Associated Press)
Carolina 20, Detroit 0
PJ Walker threw for 258 yards and a touchdown with two interceptions to win his NFL debut as a starting quarterback to help the Lions (4-6) to a win.
Lions (4-6)
John Penisini, DL, Utah / West Jordan: Started at defensive tackle; 4 tackles; 1 sack
Miles Killebrew, S, SUU: Played as a reserve; made 1 tackle on special teams
Panthers (4-7)
No locals on the active roster
Dallas 31, Minnesota 28
Dalton Schultz caught a 2-yard touchdown from Andy Dalton with 1:37 remaining to help the Cowboys edge the Vikings.
Cowboys (3-7)
Dalton Schultz, TE, Bingham: Starting tight end caught 4 passes (6 targets), 25 yards, 1 TD
Bradlee Anae, DE, Utah: Inactive for Week 11
Francis Bernard, LB, Utah / Herriman: Played as a reserve
Vikings (4-7)
No locals on the active roster
Dalton to Dalton!

The #DallasCowboys take the lead with 1:37 remaining!

📺: #DALvsMIN on FOX
📱: NFL app // Yahoo Sports app: https://t.co/tUoK0wsA9Npic.twitter.com/Kmhh60295x

— NFL (@NFL) November 23, 2020
Denver 20, Miami 13
Melvin Gordon ran for 84 yards and two touchdowns as the Broncos handed Tua Tagovailoa and the Dolphins their first loss.
Broncos (4-6)
Garett Bolles, OT, Utah / Westlake: Started at left tackle
Tim Patrick, WR, Utah: Caught 5 receptions (8 targets) for game-high 119 yards
Dolphins (6-4)
Kyle Van Noy, LB, BYU: Starting linebacker had 4 tackles, 2 quarterback hurries
Eric Rowe, DB, Utah: Starting safety had game-high 10 tackles, 1 fumble recovery
Washington 20, Cincinnati 9
Former Utah quarterback Alex Smith threw for 166 yards and a touchdown with an interception in a game won by the Washington Football Team but remembered for Bengals quarterback Joe Burrow's season-ending knee injury.
Football Team (3-7)
Alex Smith, QB, Utah: 17-of-25 passing, 166 yards, 1 TD, 1 INT; 3 rushes, -3 yards
Jared Norris, LB, Utah: Inactive for Week 11
Nate Orchard, DE, Utah / Highland: Did not play
Bengals (2-7-1)
LeShaun Sims, CB, SUU: Started at CB, made 6 tackles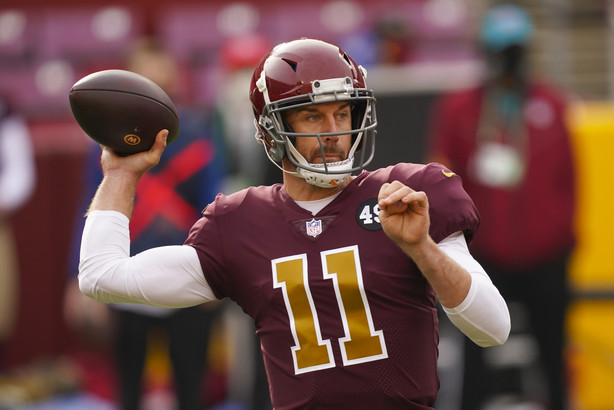 Washington Football Team quarterback Alex Smith (11) passing during the first half of an NFL football game against the Cincinnati Bengals and Washington Football Team, Sunday, Nov. 22, 2020, in Landover. (Photo: Andrew Harnik, Associated Press)
LA Chargers 34, NY Jets 28
Justin Herbert threw for 366 yards and three touchdowns to lead the Chargers by the winless Jets.
Chargers (3-7)
Michael Davis, CB, BYU: Starting cornerback made 2 tackles, 1 pass breakup
Sam Tevi, OT, Utah: Started at left tackle
Nick Vigil, LB, Utah State / Fremont: Finished with 1 tackle
Alohi Gilman, S, Orem: Played as a reserve
Jets (0-10)
Harvey Langi, LB, BYU / Bingham: Finished with 11 tackles, one off the game-high
Javelin Guidry, DB, Utah: Played as a reserve
Indianapolis 34, Green Bay 31 (OT)
Rodrigo Blanketship's 39-yard field goal in overtime lifted by the Colts by the Packers.
Colts (7-3)
Julian Blackmon, S, Utah / Layton: Made 5 tackles, 1 pass breakup
Noah Togiai, TE, Hunter: Inactive for Week 11
Packers (7-3)
Jamaal Williams, RB, BYU: Ran for 12 yards on 5 carries; caught 4-yard touchdown pass
Jordan Love, QB, Utah State: Inactive for Week 11
THAT'S WHAT DIRY DAN DOES pic.twitter.com/qqJWtmqO6l

— Kansas City Chiefs (@Chiefs) November 23, 2020
Kansas City 35, Las Vegas 31
Patrick Mahomes hit Travis Kelce with the game-winning 22-yard touchdown pass with 28 seconds left, and BYU alum Daniel Sorensen sealed the Sunday Night Football win with an interception moments later to help the Chiefs to their ninth win of the season.
Chiefs (9-1)
Daniel Sorensen, S, BYU: Made 4 tackles, 1 pass breakup and an interception
Darwin Thompson, RB, Utah State: Played as a reserve
Raiders (6-4)
Nevin Lawson, CB, Utah State: Made 6 tackles on defense, 1 tackle on special teams
Dallin Leavitt, S, Utah State: Played as a reserve
Andre James, OT, Herriman: Rotated on offensive line as a reserve
Devontae Booker, RB, Utah: Ran for 16 yards on 5 carries
Thursday Night Football
Seattle 28, Arizona 21
Russell Wilson threw for 197 yards and two touchdowns to help the Seahawks hold off the Cardinals in a key divisional game.
Seahawks (7-3)
Cody Barton, LB, Utah / Brighton: Made 1 tackle on special teams as a reserve
Bobby Wagner, LB, Utah State: Starting middle linebacker made 9 tackles, 1 tackle for loss, 1 quarterback hurry
Cardinals (6-4)
Kylie Fitts, LB, Utah: Played 4 snaps on defense, 22 on special teams
×
Related Links
More stories you may be interested in