SALT LAKE CITY — A St. George man has filed a federal civil rights lawsuit claiming that police used excessive force on him while he was suffering a mental health crisis — resulting in the loss of his right eye.
Benjamin Joseph "Joey" Herold, 41, and his attorney, Robert Sykes, held a press conference Monday to announce the lawsuit against St. George Police Sgt. Michael Christensen, officers Pace Truman and Gage Gardiner, the police department and the city of St. George.
Police, who say Herold was resisting arrest and fighting with officers, shot him in face with a pepper ball from 6 to 12 inches away, according to the lawsuit. Sykes said the device is designed to be used from a distance of 4 to 5 feet.
As a result, Herold's right eye had to surgically removed.
"Taking out somebody's eye for being noncompliant is outrageous." Sykes said.
On March 13, 2019, St. George police were called to Cheryl Herold's home where her son was having a mental health issue. Herold's sister told dispatchers that her brother was mentally ill and delusional and needed mental health services, the lawsuit states, and she also reported that even though Herold was yelling at his mother, she was safe.
Sykes also released body camera videos from the three officers involved.
The first arriving officers can be seen talking to an agitated Herold inside his house. The officers remain calm in the video while talking to him.
"I'm just here to make sure you're OK," an officer tells Herold. "How can I help you?"
Truman is heard in the video telling Herold that he is concerned about him having a weapon. Herold responds by taking off his clothing and spinning in a circle.
"This demonstrated that Joey was not only unarmed, but that he was mentally ill by exposing himself in this manner," according to the lawsuit, which says Herold also told officers "that he was preparing for zombies and the end of the world."
The lawsuit says, "Throughout the conversations with Gardiner and Truman, Joey demonstrated that he would have lucid moments of understanding and then agitated moments of mental illness."
After the conversation moved to the garage, the officers remained calm while talking with Herold, who is seen in the videos with his hands in his pockets. He tells the officers several times he will not hurt them nor his mother.
"I'm going to bed. I've already taken my meds. That's why I'm a little bit loopy right now. … Nothing will happen to my mom ever," he tells the officers.
"I know that. You would never hurt me. I know that," Cheryl Herold, who is listening nearby, tells him. "You need help."
"I don't need help, mom," Herold replied, raising his voice.
The officers ask Herold a couple of times how they can help him, while explaining to him that he won't be allowed to sleep at his mother's house. The two officers believed they were making progress talking to Herold when their sergeant arrived, according to the suit.
As Herold walks toward a refrigerator, Christensen, who has been watching in the background, walks over and orders him to "stay out of the fridge. Stop right there," and puts a hand on Herold.
Once Herold is touched, his mood immediately becomes angry and defensive.
"Do not push me," he yells at Christensen.
Christensen tells Herold he is being detained, which prompts him to throw a can of soda to the ground. Christensen then tells Herold he is under arrest. Herold responds by putting his hands behind his back while screaming profanities.
"Christensen, for no apparent reason, then took Joey forcefully to the ground where Truman and Gardiner also pounced on him. Joey was on the garage floor, lying on his back and facing upward," the lawsuit claims.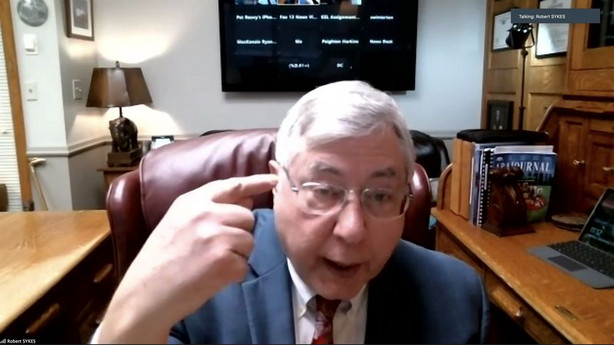 Salt Lake attorney Robert Sykes holds a videoconference with client Joey Herold and his mother, Cheryl Herold, from their home in St. George Utah on Monday, Dec. 21, 2020. Joey Herold lost his right eye after a confrontation with police in 2019. (Photo: Salt Lake attorney Robert Sykes holds a videoconference with client Joey Herold and his mother, Cheryl Herold, from their home in St. George Utah on Monday, Dec. 21, 2020. Joey Herold lost his right eye after a confrontation with police in 2019.)
The officers order Herold to roll onto his stomach. But during the struggle, an officer can be heard on the body camera videos commenting, "He can't."
Herold laid on his back, unable to move or perform the commands of the officers due to them being on top of him, according to the lawsuit. Christensen, who according to the lawsuit was "very agitated" by Herold's lack of cooperation, then threatens to use a pepper spray on him.
"Roll on your back or I will shoot you in the face," he said.
Herold becomes more defiant and tells the officers, "Go for it, I dare you to," and, "Go ahead! Shoot! I hope it kills me."
That's when Christensen shoots Herold in the face with a pepper ball.
"Christensen used force as a punitive measure to get back at Joey for allegedly not responding to his demands. The pepper blast shot severely damaged Joey's right eye, causing total loss of the eye," the lawsuit states.
After the shot is fired, the officers continue to order Herold to show his hands. But at that point, Herold stops talking and only heavy breathing can be heard and blood seen on the ground.
"That is not what we wanted to happen," an officer tells Herold as he's being treated.
Since being hit with the pepper ball, Herold had to have his eye surgically removed and replaced with a glass eye, and has had a total of three surgeries due to other complications from being shot.
"I was living in hell," Herold said Monday of the pain he has endured over the past year, "It seemed like I was living in a never-ending nightmare."
"It was hell for me also as a mother watching my son being treated this way," Cheryl Herold recalled of that night.
She said she was also frustrated that evening because she had hoped the officers would bring mental care assistance with them. She told police that her son suffered a brain injury when he was 2, that he was "off his medication and that he needed to go to the hospital," that he "was very protective over his home when he was in a delusional state," according to the lawsuit.
"I felt very frustrated as a mother because I felt they weren't even hearing me," she said. "They were taunting him. They were bullying him."
After police told Cheryl Herold to go back inside the house while they confronted her son in the garage, she said the main thing going through her mind was, "What have I done?"
The lawsuit contends the St. George Police Department does not properly train its officers on how to deal with mentally ill subjects or the proper use of pepper spray.
According to court records, Herold was charged in Washington County Justice Court with criminal mischief and interfering with a police officer the day after the incident, but the charges were dismissed that same day.
In March, Sykes sent a notice of claim to St. George, letting them know of their intention to file a lawsuit. One day after receiving the notice, Sykes said the criminal charges were refiled. Herold is now charged in 5th District Court with three counts of assault on a police officer, interfering with an officer and criminal mischief.
According to charging documents, police were called to the residence on a "family fight" and Herold's mother was hiding from him "because she was scared for her safety." The charges state that Herold "became physically resistant" when officers attempted to place him under arrest.
Sykes contends the criminal charges are "clearly in retaliation" for the lawsuit.
St. George police referred all comments on Monday to the city. City spokesman David Cordero said the city had not been served with the lawsuit as of Monday, and declined comment.
×
Photos
More stories you may be interested in