SALT LAKE CITY — The Weber State football team knows they'll get every opponent's best shot when they play. It's what happens when your team is currently ranked No. 3 in the nation. Saturday was no different.
The Wildcats traveled to Southern Utah to take on the Thunderbirds, where the Wildcats held on for a 19-16 win in what turned out to be a frustrating game for Weber State.
"A lot of good in that game, a lot of frustration in the first half," Weber State head coach Jay Hill said after the game. "I thought the defense played absolutely outstanding in the first half. We needed to do a better job of making the other team pay for that. We needed to have a bigger lead, then we did; and in fact, we had a deficit at halftime due to a blocked punt. That's not like us."
Weber State (4-0) set the defensive tone on the very first drive of the game after forcing the Southern Utah (1-3) offense to go three-and-out to give the Wildcats the ball.
Quarterback Bronson Barron, who missed last week, was back in action for the Wildcats Saturday. Bronson found an open Ty MacPherson for a 56-yard completion to ultimately set up a 51-yard field goal by Kyle Thompson that would give the Wildcats an early 3-0 lead in the first. Offensively in the first half, Weber State struggled to find any sort of consistency and didn't score again in the first half.
Southern Utah made things interesting for Weber State when they blocked a Wildcat punt later in the game. La'akea Kaho'ohanohano-Davis scooped the ball up and returned it for a 25-yard touchdown. The Thunderbirds missed the extra-point attempt to take a 3-point lead. Manny Berz later kicked a 39-yard field goal as time expired in the first half to give the Thunderbirds a 9-3 lead at halftime.
Things got better in the second half as the Wildcats scored on the opening drive, going 75 yards in just over six minutes of play. In that drive Barron found multiple receivers to get first downs. Running back Josh Davis, though, was injured during the drive and never returned for Weber State.
Daniel Wright Jr. stepped up big time for the Wildcats when he rushed for 13-yards and then another 2-yard rush to get the Wildcats to the Southern Utah 4-yard line. Barron then found Dallin Jamison for a 4-yard touchdown pass to tie the game. Later in the third quarter, Southern Utah took the lead when Justin Miller rushed for a 1-yard touchdown ti give the Thunderbirds a 16-9 lead.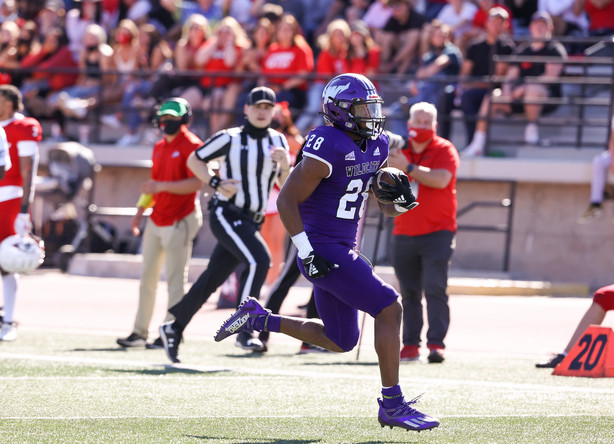 With starter Davis out for the Wildcats, the running back position became a run-by-committee type of play. Dontae McMillan eventually tied up the game for the Wildcats at 16-all after a 43-yard touchdown run.
"When I get on the field I just always think positively," McMillan said. "Because I know what I can really do, I like to show my abilities out there."
McMillan finished the game with 138 yards on 13 carries and one touchdown; he averaged 10.6 yards per carry. Davis left the game with 68 yards, and Wright finished with 45 yards.
Thompson gave the Wildcats the win with a 19-yard field goal with 10 minutes left to play.
Defensively, the Wildcats came up big in the final 10 minutes of the game. They held the Thunderbirds to only 55 yards rushing and 181 yards passing. In his first game back, Barron went 13-of-23 on 167 yards and threw for one touchdown.
"I just sit there and watch play after play where the players had to battle and mentally be tough," Hill said. "I thought they handled it outstandingly. I couldn't be more proud of them. That's a good team we just beat and we know that. This team we have right now is battle tested, we've been through a lot of wars right now and we still have yet to play our best football and I'm excited when that day happens."
Weber State will play its final home game of the regular season next week against Idaho State on April 10 at 1 p.m.
×
Photos
Related Stories
More stories you may be interested in