Brigham Young Cougars linebacker Ben Bywater (33) calls a play after a tackle during the Vegas Kickoff Classic in Las Vegas on Saturday, Sept. 4, 2021. (Jeffrey D. Allred, Deseret News)
PROVO — Maybe Ben Bywater would've always ended up suiting up for BYU.
But after growing up in the predominantly pro-Utes Salt Lake suburb of Holladay and attending Olympus High School, where red blood runs thick, one can be forgiven for thinking this was a story about the one who got away.
Bywater always grew up a BYU fan, the son of BYU graduates despite the mix of red-and-blue that came together on Friday nights to bleed green for the Titans. But members of his Latter-day Saint bishopric were always Utah fans, and Utes defensive coordinator Morgan Scalley was in his home stake, making for occasionally awkward but usually good-natured interactions on Sunday.
But when Bywater missed his junior season of high school — the most important one, according to most recruiting analysts — offers from his dream school looked bleak.
Good thing he played rugby.
Bywater will line up at the mike linebacker position Saturday night when the Cougars (3-0) host South Florida at LaVell Edwards Stadium (8:15 p.m. MT, ESPN2).
But were it not for his film and acumen in rugby, he might've been forgotten by the No. 15 Cougars.
"They offered me off my rugby film," Bywater recalled earlier this week of the first time he met with defensive coordinator Ilaisa Tuiaki. "I got injured my junior year, and didn't get to play. It's a good fit, though; I love playing for BYU, in rivalry games and with a great schedule. It's been a huge blessing to be at BYU."
Tuiaki is also glad he took a look at Bywater's rugby film — he himself has a background in the sport, as well as mixed martial arts — after the Olympus grad will be the proverbial "next man up" following the loss of the Cougars' leading tackler Keenan Pili for the season with an ACL injury after last week's 27-17 win over then-No. 19 Arizona State.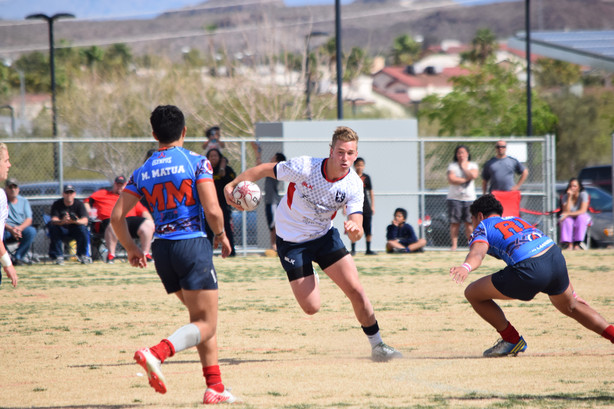 But Bywater has been starting all year, just at the wild-card "rover" linebacker where Bountiful graduate Max Tooley will take on a heavier role in Pili's absence. Freshman Josh Wilson and redshirt sophomore Drew Jensen are expected to play behind Bywater, who could also see time at rover behind Tooley.
"There's a skillset you look for, and he (Bywater) was a phenomenal running back, too," Tuiaki said when asked about his linebacker's recruiting days. "He was a tall athlete that could run, and that's one of the things we look at. He filled both of the main requirements for us — and then he was always really smart. He had aspirations to serve a mission, which checked another box for us, as well."
Bywater returned home from a two-year mission for The Church of Jesus Christ of Latter-day Saints in Guatemala with the Cougars' 2019 signing class, a highly touted group that also featured Pili from Timpview, Payson's Tyler Batty, and little known, future breakout tight end Isaac Rex. It's also the same class that signed backup quarterback Jacob Conover, the four-star freshman from Arizona, among others.
Bywater played in three games while redshirting in 2019, and added three more games during the coronavirus-impacted 2020 season while missing time with a shoulder injury.
The 6-foot-3, 230-pound linebacker has taken the biggest step in what is officially his third freshman year, though, breaking out for 18 tackles, including 13 solo stops and a career-high seven tackles in the season-opening win over Arizona in Las Vegas.
"Ben has worked hard all offseason, and gotten a lot bigger and stronger," Tooley said. "There's not much drop-off, to be honest (in the linebacker room). We should have it under control.
"We're going to miss Keenan out there … but Keenan trusts us, and we trust in the process."
[embedded content]
Bywater also has the mental capacity to step into two roles on the field, if needed, Tuiaki added. A finance major in the university's esteemed Marriott School of Business — where he studies with standout punter Ryan Rehkow and several other teammates — Bywater has been studying for this moment for a while, even if he didn't always know it while he was coming back from a shoulder injury last year.
"You have a young guy who's fighting through an offseason, and when their number is called, it's their time," Tuiaki said. "I know he's ready for the challenger, and Keenan is going to be alongside him the whole way. Ben certainly deserves and has earned the right to try to step in for Keenan."
More reps also means more chances for one of Bywater's favorite new traditions at BYU: the turnover belt, a prop fashioned after Miami's now-infamous turnover chain that has been adopted by most every program around college football.
Some players aren't fans of the props — Tooley could take it or leave it, he says. But others — like Bywater — live off the theatrics on game day for a team that is currently plus-2 in turnover margin, and has won 17 consecutive games whenever or ahead in the turnover battle.
"I need to have the turnover belt over my shoulder on Saturday," Bywater said with a laugh. "I'm all for it. I'm a big fan of it."
If he earns the belt Saturday, a lot of fans will be big fans of him, too.
How to watch, stream and listen to the game
No. 15 BYU (3-0) vs. South Florida (1-2)
LaVell Edwards Stadium, Provo
Kickoff: 8:15 p.m. MT
TV: ESPN (Beth Mowins, Kirk Morrison, Dawn Davenport)
Streaming: WatchESPN
Radio: BYU Radio Sirius XM 143, KSL Radio 1160 AM/102.7 FM (Greg Wrubell, Riley Nelson, Mitchell Juergens)
Series: USF leads, 1-0
First time, eh?: The Bulls won't just be playing their first-ever game in Provo, but will also be playing in their first-ever game that kicks off after 10 p.m. ET in the program's history. USF is coming off a 27-23 win over BYU in the series opener in 2019 at Raymond James Stadium in Tampa, Florida.
Big 250: A win over South Florida would give BYU 250 wins all-time at LaVell Edwards Stadium, dating back to 1964 when the then-Cougar Stadium was constructed. The Cougars are 249-80 at the venue, a .757 winning percentage that includes a 94-31 mark since it was renamed in honor of the college football hall of fame before the final home game of the 2000 season.
×
Photos
Related Stories
More stories you may be interested in