SANDY — Keith V. Loeding stood as the Minuteman Brass Quintet played the U.S. Air Force anthem, fellow service members scattered across the rows of seats neatly lined up beneath a tent.
With one arm Loeding leaned on his cane, as the color guard retired the colors his veteran hat held in his other hand. Stitched in red thread across the brim was "Korean War Veteran." Loeding enlisted in the Korean War when he was just 17 years old. Loeding laughed when he recalled the memory, saying that his mother didn't know he had enlisted. When his mother found out, she sent the American Red Cross to find him and bring him back.
When the American Red Cross contacted him, Loeding was almost a year into his service and nearing his 18th birthday. After some debate the military allowed him to stay.
Loeding was just one of a number of veterans present at Larkin Mortuary's annual Memorial Day program. Where military members couldn't be present, family and friends were. One man wore his father's hat, the U.S. Navy insignia stitched on the front, in a touching tribute.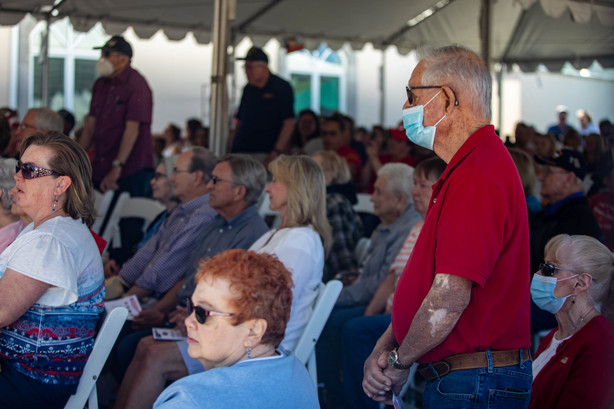 The Memorial Day program was held at Larkin Sunset Gardens in Sandy. The event featured Gail Miller, owner of the Larry H. Miller Group of Companies; Col. Jenise M. Carroll, commander of the 75th Air Base Wing at Hill Air Force Base; the Hill Air Force Base Guard; Minuteman Brass Quintet and the Utah Firefighters Emerald Society.
Larkin Mortuary created the annual event 22 years ago as a way to help people honor their loved ones and military veterans who have passed.
Miller said that honoring your loved ones on holidays like Memorial Day can help prepare the way for the next generation.
"It's our duty to connect the chain of history and teach our family to love and revere those who came before us," said Miller.
Miller reminisced on her own childhood, remembering the way her family would pick the best roses from their garden and place them into tin cans to take to the cemetery on Memorial Day.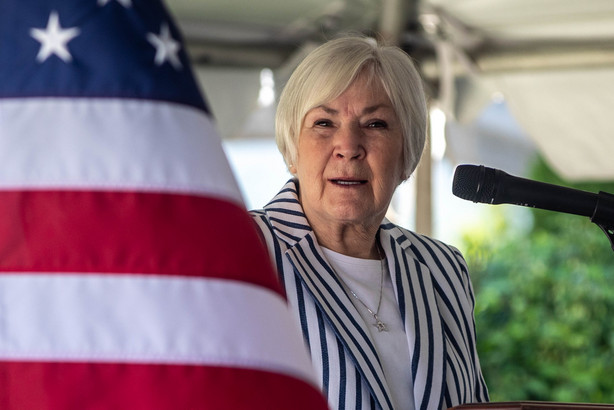 She said she placed the flowers on the graves "with the hope that as each time we placed a flower there was a connection made between us and our loved one."
More presently she remembered her sister, son and her husband who have died.
The holiday is often marked with a remembrance of the military and loved ones who have died, but the Memorial Day following the COVID-19 pandemic carried additional significance.
"Today is the time for our nation to reflect and honor the airmen, soldiers, sailors, marines, coast guardsman, and merchant mariners and civilians who have paid the full measure defending our nation and our democratic ideals. It is because of their sacrifices we are allowed our freedoms to express ourselves and worship without fear of retribution," Carrol told the audience.
But this year the colonel said it was more than honoring members of the military, it was also about remembering the 600,000 Americans "whose lives were cut short due to this pandemic."
This sentiment was echoed by Miller who recognized frontline health care workers, law enforcement providers, first responders, and government officials who worked to keep the state safe during the pandemic.
"I am grateful for good people everywhere who respect this country and the opportunities that are unique to us in the form of freedom. I am especially grateful for our heroes of our pandemic who have faced the frontlines during the past year and sacrificed their health, safety, and well being so my family and I could stay well and so those who were unfortunate enough to suffer from COVID could receive the care they needed," said Miller.
Miller went on to talk about the history of memorial day and the recognition of the Tomb of the Unknown Soldier at Arlington National Cemetery.
"Today we honor the dead of our wars, we recall their valor and sacrifices, we remember that they gave their lives so others might live," said Miller.
Part of that recollection included Maj. Brent Taylor and Senior Airman Elizabeth Loncki.
During her speech Carroll shared two stories of these fallen service members with the audience, saying that the stories of courage would hit home in Utah.
---
Today we honor the dead of our wars, we recall their valor and sacrifices, we remember that they gave their lives so others might live.
–Gail Miller, owner and chairwoman of the Larry H. Miller Group of Companies
---
Carroll recognized former North Ogden Mayor and Utah National Guard Maj. Brent Tayor who was shot and killed by an Afghan special forces trainee in Kabul on Nov. 3, 2018. Brent had an "undeniable passion to serve" and took a leave of absence as mayor in 2018 and deployed to Afghanistan as a combat advisor to the Afgan Border Police.
A little closer to home at Hill Air Force Base, Carroll spoke of Senior Airman Elizabeth Loncki who was 23-years-old when she was killed in Baghdad. Loncki joined the airforce in 2003 and was later stationed at Hill Air Force Base. Loncki was on an Explosive Ordnance Disposal team when she was killed in 2007 while investigating a vehicle-born explosive device. She was the first female Air Force EOD technician killed in action since Sept. 11, 2001.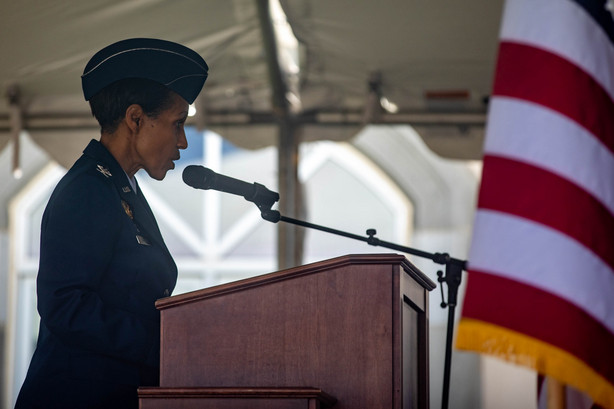 "Many servicemen like Maj. Brent Taylor and Senior Airman Elizabeth Loncki made the ultimate sacrifice for their country, leaving behind family and friends and colleagues. All of us have known someone that have left behind a family or friend. Our service members and our families often say service before self. For those who wear the uniform today and of the past and those that will serve in the future, we understand what it means to serve our country," said Carroll.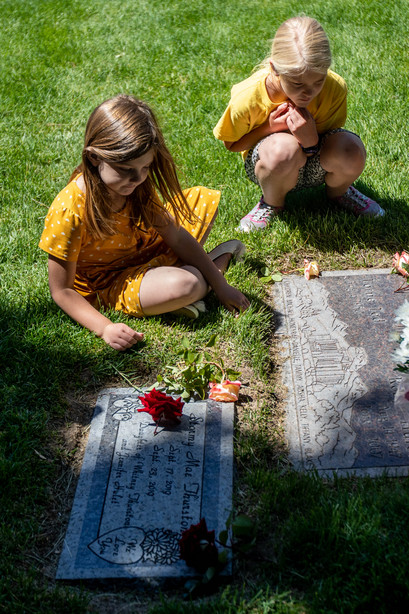 The event was one of many across the state and was well attended with approximately 500 people present. Other events included a ceremony held by the Utah Department of Veterans and Military Affairs and the Utah National Guard at the state capitol.
According to the Utah National Guard, the ceremony also honored veterans who died over the last year during the pandemic who were unable to receive full military honors at their funerals. The ceremony included the playing of Taps, a 21-gun salute, and a flag display representing the number of veteran deaths during the pandemic.
×
Photos
Related Stories
More stories you may be interested in