There's no shortage of flooring options on the market today. From carpet and traditional hardwood to luxury vinyl plank, hand-painted cement tile or ceramic mosaics, your floor isn't just your constant underfoot companion—it's the aesthetic foundation of your home.
That said, choosing a single type of flooring for your entire home isn't always an option. For example, if you have a single room in need of new flooring, you're probably not keen to replace your entire floorplan.
Additionally, with so many options available, you may want to mix and match flooring around your home. If that's the case, an eclectic and stylish mix is certainly possible—just make sure you follow a few ground rules.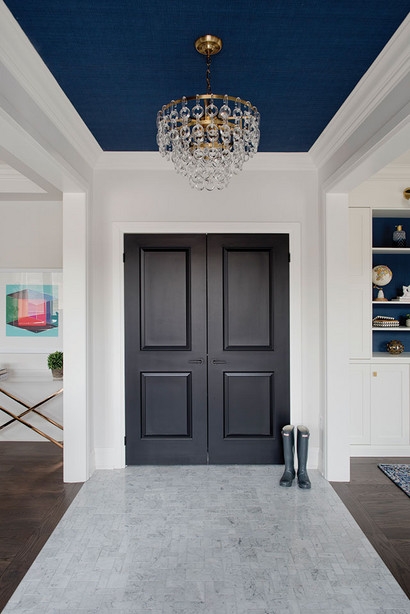 Find natural transitions
Mixing and matching flooring types and styles can feel intimidating, especially if you have an open floorplan that requires transitions to take up more real estate than just a doorway. Of course, if you're changing the flooring in an enclosed room, a simple transition strip can serve as a natural break from one room to the next, according to this Houzz expert.
However, for great rooms and open spaces, you'll want to look to your walls and fixtures as your guides. For example, a tile kitchen may transition to a hardwood living space just beyond the kitchen island or dining room table.
Don't get too matchy
When it comes to choosing different flooring types for your home, don't be tempted to play a matching game. Complementary floors will look much more cohesive than matching floors that aren't actually the same.
For example, don't transition from one type of wood floor to another type of wood floor, or from one type of carpet to another. Instead, look for a tile that complements your existing wood, or a carpet that pops with your current stone.
Make it safe
It may seem like a no-brainer, but when you're mixing and matching flooring, the thickness of the flooring types really matters. For example, if you have a thick tile in one room, and a thin laminate in the hallway, you'll likely have an awkward—and possibly hazardous—step from one area to the other.
Of course, for any room-to-room transitions, you'll want to use flooring transition strips or moldings that act as a mini-ramp from one elevation to the next, but keep in mind that, for flow and safety, these should be used to join floors of similar heights. The Spruce says there are different transitions for different types of flooring, so make sure you consult an expert for your specific situation.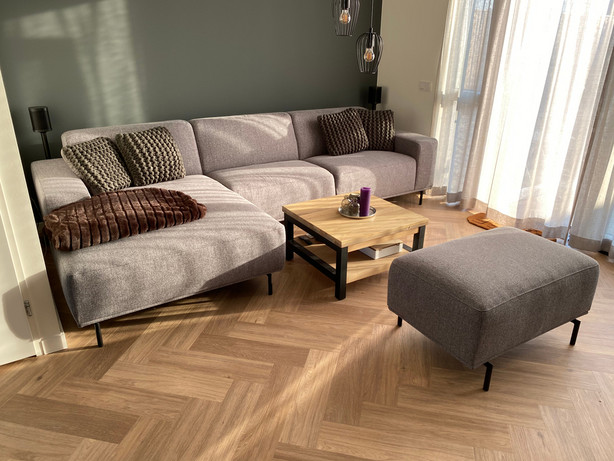 Consider use and durability
Your floors say a lot about your home—whether it's classic and timeless, modern and sophisticated or cozy and comfortable. But flooring should also match the use of the space for which it's intended—and that's why mixing and matching different varieties can be advantageous in the long run.
For example, you may love the look and feel of hardwood in living areas and hallways but want the durability and look of tile in your bathrooms and kitchen. A mudroom or entryway might call for slate or stone flooring, while a luxury vinyl plank might be just the right blend of classic and indestructible for kids' bedrooms.
Opt for creative transitions
While it's easy – and natural – to transition flooring from room to room, today's open floor plans can make transitions tricky. But done well, your flooring transition can be a stylistic effect rather than the means to an end. Houzz shares several ideas for creatively transitioning flooring types and patterns – for example, following the live edge of a wood plank as the transition to a tile floor in a bathroom. Or you can try letting one flooring type bleed into the other, says Build Direct.
Create opportunities for tie-ins
Mix-and-match flooring can be an art of its own, and you'll want to find opportunities to create cohesion among various patterns and colors. For example, if your entryway features a beautiful porcelain tile floor, but your living area is a rustic engineered wood plank, you can create some cohesion by bringing a section of tile into your dining room or kitchen—around the island, for example, where tile makes a lot of sense. This tactic is perfect in open floorplans since an alternate flooring style can look and act like an area rug, grounding and separating a specific space while keeping everything open and airy.
Mixing and matching flooring doesn't have to be intimidating. The professionals at Giant Carpet One are ready to help you find the perfect floors for your entire home or just part of your home. Find a showroom at Giant Carpet One.
×
More stories you may be interested in