CEDAR CITY — The coronavirus has provided unique challenges for multigenerational families living under the same roof. A Cedar City family has found ways to keep their grandfather healthy and meet the social and emotional needs of their children.
When Susan Merrill moved her family to Utah two years ago, she took her 84-year-old father, Richard Lyon, out of an assisted living facility and brought him with them.
"It would have been really lonely for my dad. We were concerned that he wouldn't have anybody, any family nearby," she explained.
She was grateful to have her dad under her roof when COVID-19 hit, given his age and health challenges.
"(He) has an abdominal aortic aneurysm. He's had cancer, both skin and prostate. He has a heart condition, and has had at least two heart attacks that we're aware of," she said. Simply put — he's considered high-risk.
The Merrill family takes extra precautions to keep their grandfather safe. All three kids do most of their school work virtually through their school district.
It's appealing to some of their kids, like 9-year-old Zach: "I just like this better because I don't have to take the bus!"
When asked if 6-year-old Kenzie missed going to school in person she replied, "No!" and pointed to her mom. "She is my teacher! The best teacher in the world."
But it's also challenging.
"It's kind of hard not having any social interaction," Susan's oldest son, 15-year-old Aidan Roustan, said. "But my bigger focus is to keep my family safe."
He used to host some of his best friends for games in person on Saturdays, but has moved those activities to a virtual platform since the start of the pandemic.
Merrill says her family only goes out when they absolutely need to. She usually orders her groceries online. "I do a meal plan on Saturday and then I come up with my list and I order online and then we pick it up on Sundays," she said.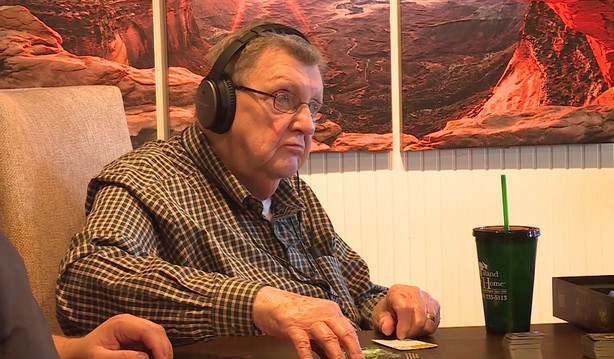 When Susan Merrill moved her family to Utah two years ago, she took her 84-year-old father, Richard Lyon, out of an assisted living facility and brought him with them. (Photo: KSL TV)
"We wear masks when we go out. We try not to let anybody come in, so we haven't seen extended family or friends really since it started," Merrill added.
While Merrill believes these are measures her family must take to keep her father and family safe, she admits it's been difficult.
"It's hard. It's not easy. It's not something that we would choose to do if we didn't feel like it was necessary," she said.
But Merrill has tried hard to find creative ways to meet both the emotional and social needs of her children at home.
"We do things fun here! We haven't gone to the movies, but we brought in movie theater popcorn. We do bring in takeout, but we don't go to restaurants. We have gone on hikes, we hike around the neighborhood, but we don't go to playgrounds or parks," she explained.
They've been making their way through the entire Star Wars canon. "We do that every night. We try to make it as fun as we can!"
They even got a new dog during the pandemic! "We actually had been talking about getting an animal for a while and made it happen … honestly, because of the pandemic. We just needed something else and she's been a great fit," Merrill said.
She says it's helped their family get out of the house to take the dog for a walk. "She's brightened all of our days!" she said.
Intermountain Healthcare's Dr. Angel Lybbert, a geriatrician at the Utah Valley Senior Care Clinic, says now is the time to be cautious. "You want to act as if you yourself are a vulnerable person, if you have a vulnerable person living with you. You're awareness and precaution should just be heightened as if it was you yourself," she explained.
She encourages people to send their least-vulnerable family member to the grocery store and to always wash and sanitize their hands when they get home. She also urges families to reduce the amount of caregiving responsibilities the older adult has for children if possible. "Having them not to be as directly involved in feeding the kids or bathing the kids," she said.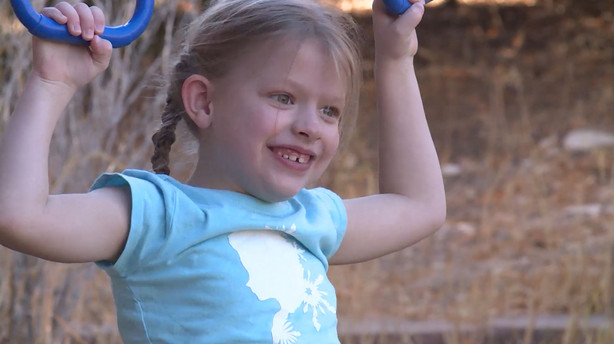 Six-year-old Kenzie Merrill says she is grateful the coronavirus has brought her closer to her family and allowed them to spend more time together. (Photo: KSL TV)
Lybbert tells older people to not feel guilty for asking their family members to take these extra precautions. "The family, I think, is going to be willing to make those sacrifices if they know it's important to the person themselves too," she said.
She said it's important for parents to explain to their children why they are making some of these adaptations so they can feel like they are helping the family.
"You kind of are in a different group than perhaps a lot of your children's friends' families, so you have to explain that to your child," Lybbert said.
She says children are adaptable and resilient. "Kids can learn how to wash their hands, they can learn how to wear masks. You can make it fun — make it a game," she suggested.
"You can start family traditions that are new, especially around the holidays," she added. The Merrills are already starting new traditions; they've scheduled a virtual visit with Santa this year.
But she also encourages parents to take time to help the children process the change.
"If they're angry, or they have a huge outburst, it's not usually about whatever it is. It's that they're upset that they can't see their friends or that they're scared. They're very scared that they're going to get the virus and give it to grandpa," she said.
For Merrill, it's all about being there for her kids. "It's just a lot of cuddles and a lot of a lot of listening and a lot of redirecting," she said.
Lybbert says it's just as important to care for the mental and emotional wellbeing of your older loved ones. "A lot of people are missing senior centers, they're missing going to the rec center, they're missing church," she said.
She said it's important to help them make safe connections, whether that's helping them touch base with a friend via Zoom or another way. "You want to substitute what you're taking away so they don't have a big void in their life," she said.
At the end of the day, the Merrills says they have grown closer during the pandemic.
"One night at dinner, my 6-year-old daughter said, 'You know what's great about the coronavirus? We're all home now — we get to eat dinner together as a family and we spend time together as a family and we didn't do that before,'" Merrill recalled.
For families looking for extra support during this time, call 211 to reach the United Way or call Intermountain Healthcare's Emotional Health Relief Hotline at 833-442-2211.
×
Photos
Related Stories
More stories you may be interested in