SALT LAKE CITY — Ten years after South Salt Lake bookstore owner Sherry Black was stabbed to death, prosecutors have charged a Utah man with murdering her.
Salt Lake County District Attorney Sim Gill announced the criminal charges Monday at a news conference in Salt Lake City.
Gill said DNA evidence — including a sample investigators collected secretly — played a key role in solving the case. But he declined to give details about how exactly police zeroed in on Adam Durborow, 29, of Orem.
Unified police arrested Durborow Oct 10 this after matching DNA they collected from him to DNA found at the scene of the killing, Gill said. Durborow is now charged with aggravated murder, a first-degree felony and capital offense, and is being held without bail in the Salt Lake County Jail.
On Nov. 30, 2010, Black, 64, was killed inside B&W Billiards and Books. She and her husband, Earl Black, owned the shop at 3466 S. 700 East.
Gill revealed publicly for the first time Monday that an autopsy revealed Black had injuries of a sexual nature, although Durborow has not been charged with any sex crimes based on that evidence.
For years, Black's family members have held onto hope that an arrest would be made in her death. Her son-in-law Greg Miller is the former CEO of the Larry H. Miller Group that includes the Utah Jazz, car dealerships and entertainment companies.
Investigators collected the new DNA from Durborow Oct. 7 and the Utah Bureau of Forensic Services found a match, according to police.
Durborow confessed to the homicide after he was notified of his Miranda rights, a police affidavit states.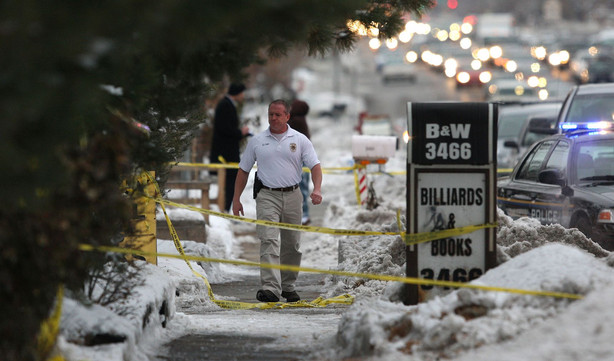 An investigator walks through crime scene tape where Sherry Black, 64, was found stabbed to death inside B&W Billiards and Books, 3466 S. 700 East, on Nov. 30, 2010 in South Salt Lake. (Photo: Tom Smart, KSL)
Previously, the only pieces of evidence investigators had shared with the public over the years were an Armani Exchange men's belt found at the crime scene with a waist measurement of approximately 36-38 inches and a sticker on the back of the buckle with the number "323," and blood that was collected from the scene.
DNA testing determined the blood came from a male. That DNA was run through a national criminal database, but as of a report issued several years ago by investigators, no match was found, meaning the killer had not committed another violent crime since Black's death, had fled the country or was dead.
Court documents show that Durborow pleaded guilty to shoplifting charges on two occasions, once in the fall of 2010 just weeks before Black's death and again in early 2011 a couple months after the murder, but the offense wasn't considered serious enough to require DNA collection.
This story will be updated.
×
Related Stories
More stories you may be interested in