ST. GEORGE — Sam Houston State capped off the first-ever spring season in the Football Championship Subdivision with a perfect record as it bids farewell to the Southland Conference.
The next time we see the Bearkats, it will be as members of the Western Athletic Conference — alongside Dixie State, among other schools.
Eric Schmid threw for three touchdowns, including a 10-yarder to Ife Adeyi with 16 seconds left, and Sam Houston wrapped the longest and most unusual college football season with its first FCS national title, beating top-seeded South Dakota State 23-21 in front of a limited-capacity crowd of 7,840 at Toyota Stadium in Frisco, Texas, on a rain-drenched Sunday.
Jequez Ezzard caught two touchdowns for No. 2 seed Sam Houston (10-0). He also had a 5-yard catch on fourth-and-3 to extend the final 16-play, 65-yard drive, after Schmid converted an earlier fourth-and-1 with a 9-yard run.
South Dakota State (8-2) went ahead 21-17 on Isaiah Davis' third touchdown run, an 85-yarder with 5:41 left. Davis, who finished with 178 yards rushing on 14 carries, went down the sideline in front of the Jackrabbits bench, eluding half of the defense before breaking free to the end zone.
"It just showed such character by our kids. You're talking about the ultimate game and you have to make one last drive," Sam Houston coach K.C. Keeler told the Associated Press. "It's really a special group when you consider this thing started in June and we had no idea when this thing would ever end. You know, we decided not to play a fall season. … It's been an emotion draining year, a physically draining year."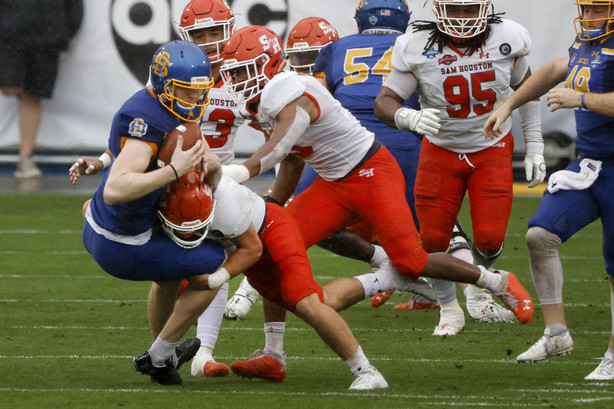 The Bearkats are one of four new Texas schools that will join the WAC in most sports beginning July 1 — Abilene Christian, Lamar and Stephen F. Austin are the other three — as the league reinstates football ahead of the 2021 fall season. Southern Utah will join the WAC on July 1, 2022, joining in-state rival Dixie State and Tarleton State — another school making the jump from Division II to Division I — to form a seven-team league for football (fellow in-state rival Utah Valley will continue to compete among the non-football schools in the WAC's new 13-team league).
In the meantime, however, the WAC's six schools — with only four of them eligible for the FCS playoffs — will fall below the NCAA's threshold to award an automatic bid to the annual playoffs. Instead of adding more schools, the league's members determined a better way to clinch at least one AQ for the 2021 season — a pseudo-merger with the Atlantic Sun, now called the ASUN Conference.
The WAC-ASUN Challenge will allow the league's four Texas institutions, plus Central Arkansas, Eastern Kentucky and Jacksonville State from the ASUN, to host a revised schedule where the champion of the seven schools will automatically earn a playoff spot. The challenge is only scheduled for the 2021 football season, according to a league release.
Dixie State and Tarleton State will not be eligible for the challenge, because they are ineligible for the playoffs as transitioning Division I members. But as part of the agreement, the Trailblazers will face Tarleton State (Oct. 16), Stephen F. Austin (Oct. 23) and Sam Houston State (Nov. 6) in a separate version of the challenge.
Pair it with an Oct. 2 road trip to Brookings, South Dakota to play South Dakota State, and the Trailblazers will face both FCS national finalists in their second season of Division I football. In all, Dixie State will play five playoff teams from the spring season, including a Sept. 11 home contest with in-state rival Weber State and the Nov. 20 season finale against Missouri State.
The Trailblazers, who went 2-3 against a schedule re-made on the fly during the spring 2021 season, open the fall Sept. 4 against Sacramento State.
Dixie State 2021 football schedule
Sacramento State, Sept. 4, 7 p.m. MT
Weber State, Sept. 11, 7 p.m. MT
UC Davis, Sept. 18, TBA
South Dakota State, Oct. 2, TBA
Montana, Oct. 9, TBA
Tarleton State, Oct. 16, 7 p.m. MT
Stephen F. Austin, Oct. 23, 7 p.m. MT
Delaware, Oct. 30, TBA
Sam Houston State, Nov. 6, TBA
Fort Lewis, Nov. 13, 7 p.m.
Missouri State, Nov. 20, 7 p.m.
Bold = home games
Italics = future WAC opponents
Contributing: Associated Press
×
Photos
More stories you may be interested in