SALT LAKE CITY — The value of a good libero or defensive specialist can be overlooked in modern volleyball.
Usually the smallest player on the court, the DS doesn't always see the highlight-reel hits or stifling blocks that many of their teammates do.
But if defense is the key to a championship, then Wisconsin looked every bit like a championship contender.
Molly Haggerty had 14 kills with no errors, but perhaps more importantly, Lauren Barnes had 16 digs and seven assists as top-seeded Wisconsin held No. 16 BYU to just .152 hitting en route to a 25-20, 25-17, 25-12 win Saturday afternoon that booked a spot in the Monday's NCAA Tournament regional finals.
Kate Grimmer led BYU with nine kills, and Erin Livingston added seven kills. Whitney Bower dished out 22 assists and 11 digs with three kills for the Cougars, and Madi Allen added 14 digs.
"It's never fun to end feeling this way," BYU coach Heather Olmstead said. "But I'm super proud of this group. I've seen a lot of growth, from the whole year, 2020 through this season — and more love developed on this team, for each other, for BYU, for volleyball. What a wild ride it's been, but we tried to appreciate all those moments.
"You've got the highest of highs two days ago, and the lowest of lows two days later. That's a lesson that's really hard to learn. But we're grateful for it."
Getting there provided plenty of lessons, too. Lessons about handling expectations for a team ranked in the top-20 nationally, about living up to a legacy of conference championships. Lessons about qualifying for the NCAA Tournament for the ninth straight season, with eight of them ending in at least the final 16. It's been an unbelievable ride — even if Saturday's result taints the overall experience for a moment.
"It's been the best ride ever," Bower said. "It's been such a fun experience, especially being here in Omaha. It's been an unforgettable experience."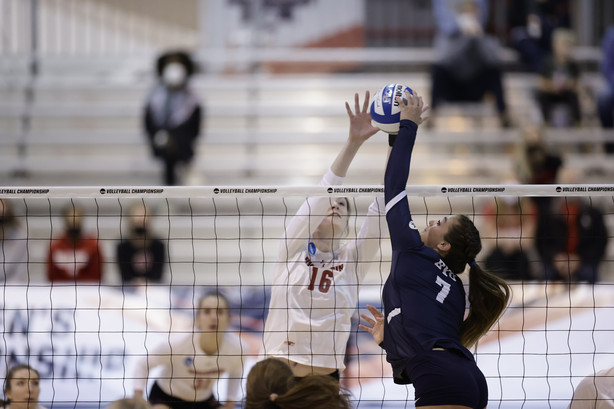 BYU (17-2) did well to hold down AVCA Northeast Region player of the year Dana Rettke, who had just three kills on her first 15 swings and struggled early. But the Badgers' depth sparkled — even with limited efficiency from the three-time All-American — with a deep attack including Devyn Robinson's 11 kills and eight kills and eight digs from Grace Loberg.
Rettke finished with six kills and six blocks for the Badgers (17-0).
But defensively, the Badgers were on point. Maybe the Cougars were trying to do it around the block, or through it, or just avoid the massive Wisconsin wall in front of them.
Almost every time they did, the Badgers' back row — led by Barnes — was right there to meet them.
"We were trying to take courageous swings and get kills," Olmstead said. "A lot of it is because we were out of system, and it's hard to score out of system. Kudos to them; they played well. I know that we can play better, but I'm grateful to be a part of this group."
Wisconsin caught fire from the service line early, as Giorgia Civita served two of the Badgers' three aces in the first set to pace an 18-14 advantage with a 4-0 run.
BYU held Rettke to just two kills in the first set. But the Badgers out-hit the Cougars .314 to .161 in the opening set to take the 25-20 win.
"They're a great serving team and a great passing team," said Bower, the WCC setter and player of the year. "We just tried to do the best they could.
"It caught us off guard, but we just tried to prepare and practice early, and just play our ball."
In a match played on Saturday instead of the previously scheduled Sunday to accommodate BYU's longstanding no-Sunday play policy, the Badgers caught the early breaks and the early momentum — and never let up.
Who doesn't love a long rally? 😎#NCAAVB x @BadgerVBpic.twitter.com/a8AqeG1gjA

— NCAA Women's Volleyball (@NCAAVolleyball) April 18, 2021
Not even a pair of successful challengers from Olmstead could slow Wisconsin's momentum. The Cougars struggled to string together points against a Badger defense that posted eight blocks and 43 digs.
By the time the Badgers led 8-2 early in the second set, the momentum felt more like a mountain than a molehill. BYU never led in the second set, hitting as low as -.111 and falling 25-17 on Robinson's kill to put the Badgers up, 2-0.
Haggerty smacked her 11th kill of the match — without an error — to give Wisconsin a 12-3 lead in the decisive third set. The Badgers opened the set with an error-free eight kills on their first 18 attempts, and cruised to the third-set win to become the first team to punch its ticket to Monday's regional finals.
Wisconsin will face the winners of No. 8 Ohio State and No. 9 Florida. BYU will head home, to an offseason where they will return every player from the COVID-19-impacted season and add another strong recruiting class.
Still, Olmstead will remind them of this night: about how Wisconsin handled them, how they looked like a top-seeded team should look, and how the Cougars need to get better — even if they have won seven West Coast Conference titles since joining the league in 2011 and rose to become a consistent top-25 team every year under both Olmsted and her brother Shawn before her.
The Cougars will remember this tournament. But they won't settle on it. Quite the contrary, Bower said.
"It gets us really excited," the sophomore setter said. "It shows us our strengths, and our weaknesses. We're able to build off that, and grow, to get better — especially for next year."
×
Photos
Related Stories
More stories you may be interested in