SALT LAKE CITY — In geometry, the closest distance between two points is a straight line.
Unless that line has to cross Kennedy Eschenberg or the block from the BYU women's volleyball team in the second round of the NCAA Tournament.
Eschenberg was one of three players with double-digit kills, netting 11 kills and a season-high-tying eight blocks, to help No. 16-seeded BYU sweep UCLA, 26-24, 31-29, 25-17, in Thursday night's second round of the NCAA women's volleyball tournament at the CHI Health Center in Omaha, Nebraska.
Taylen Ballard-Nixon had 13 kills, nine digs and five blocks, and Erin Livingston added 12 kills and three blocks for the Cougars, who out-hit the Bruins .256 to .115 and out-blocked the Pac-12 foe 16-7.
Whitney Bower dished out 38 assists, 11 digs and three blocks for BYU (17-1), and Madi Allen supplied 13 digs for a dominant defense that held the Bruins as low as .083 hitting in the decisive third set.
"Our coaching staff did an excellent job on the scout," BYU coach Heather Olmstead said. "We had a ton of time preparing for two opponents, but we were able to put together a plan and our guys knew it. They felt like we knew what UCLA was going to do.
"We got some stops on McCall and May early, and I think they had to think about it. Not only did we have 16 blocks in three sets, which is incredible, but even more block touches that were just fabulous and great touches off the block that Whitney got a great touch on."
The Cougars advanced to face Wisconsin, which swept Weber State in the top-seeded Badgers' tournament opener, in the regional semifinals. Because of BYU's policy restricting Sunday play for religious reasons, that match will be played Saturday night (6 p.m. MDT, ESPN3) — the only regional semifinal of the day.
Most didn't think BYU would make it to the regional semifinal to have to make the switch — at the very least, the official predictions on NCAA.com didn't.
"We loved it," said Eschenberg with a smile, moments after the Cougars were the last of four teams from Utah standing, "and we knew that UCLA was a really good team. They're aggressive, tall and physical. But we loved that challenge, and it motivated us, gave us a lot of energy."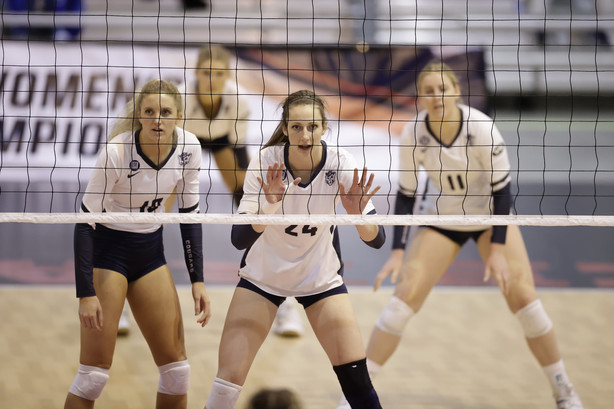 But to get there, the Cougars needed a jolt of energy, especially against a ranked opponent playing with the momentum and swagger of a team playing its second match in as many days — and Eschenberg was more than happy to oblige.
"We knew that UCLA was going to go on a run, and then we'd have a turn," Eschenberg said. "All of us trusted it was our turn to go on that run, and it would come if we stayed focused on our jobs. It was awesome.
"Our coaches had a really good game plan, we looked at it, and I thought we executed it really well and got some great touches. That brought a lot of energy, and then everyone converted, which was really huge."
Mac May had a match-high 18 kills and seven digs to lead UCLA (15-6), and freshman Kate Lane added 16 assists and eight digs for the Bruins.
Fresh off a first-round sweep of Rider, UCLA jumped out to the early lead in the first set. The Bruins — arguably the best unseeded team in the tournament and ranked one spot behind BYU at No. 15 in the AVCA coaches poll — held the Cougars to just .100 hitting en route to a 14-10 advantage in the opening frame.
The Cougars had just seven kills with five errors on their first 20 swings, but regained the lead with a 4-0 run capped by back-to-back points by Eschenberg to go up, 18-17.
The former Bountiful High two-sport star had three kills and five blocks in the first set, and the Cougars rallied from a four-point deficit to take an extra-point win, 26-24.
"You could just see the fight in Kennedy's eyes," Olmstead said of her senior star. "She wanted the ball. I think momentum settled in that first set.
"It took a minute to get familiar with that court. It's a new environment. It's different. It's exciting. But it took a little bit to get going. Kennedy definitely turned the tide in that first set, and then we just took off from there."
[embedded content]
BYU led from the start of the second set, until UCLA tied the match at 10-10 on back-to-back kills by Emily Ryan. The Bruins took their first lead as Sabrina Smith and Elan McCall capped a 4-0 run with a block to go up 15-12, and led by as much as six before taking a 23-19 advantage.
Eschenberg capped a 3-0 spurt with a solo block, and forced the Bruins to take a timeout. The senior then tied up the set with a kill following a 6-1 spurt, 24-24, before a run of set-point attempts by both sides.
UCLA had four chances to win late in the second set as both teams battled through nine combined set points. But the Cougars finished on a 3-0 run, capped by freshman Leilani Dodson's block to take the 31-29 win and a 2-0 advantage.
UCLA had eight set-point tries in the first two sets — and trailed 2-0. Every time the Bruins went for the finishing blow, Eschenberg, Dodson or Livingston — or sometimes, a combination of all three — were there to block it.
It had to be frustrating for the volleyball team from Westwood. At several points, it was for BYU, as well.
But the Cougars kept fighting. Grinding. Battling. All the cliche words that coaches like to use, but the second set was the epitome of each.
"I don't even know where to start," Olmstead repeated of the second set. "They just stayed focused and stayed in the present. They never gave up. I'm so proud of them.
"I'm so happy and excited for them. We believed we were still in that second set. We were in a deficit, but we believed we could just start making plays. I hope people appreciated what they saw tonight; it was some good volleyball."
UCLA was spent by the third set, when it hit just .083, finishing off 11 kills on 36 swings with eight errors.
Livingston capped a 4-0 run to give BYU a 10-7 edge in the third set, and the Cougars led wire-to-wire. The Bruins cut the deficit as low as four, 20-16 before back-to-back attack errors gave BYU a 22-16 edge to help clinch the match.
"What I saw tonight was just magical," Olmstead said. "I'm so proud of our team. Every single person was a part of this win — on the bench, on the court, the fans that supported us. We had great energy. It was just super fun."
×
Photos
Related Stories
More stories you may be interested in