OGDEN — For the first time in school history, Weber State is the outright Big Sky champions.
After trailing 15-14 late in the fourth quarter, the Wildcats did what they've done all season long: battled back to claim a 20-15 victory over the visiting Idaho State Bengals.
Weber State quarterback Bronson Barron finished the day throwing for 258 yards and one touchdown on 15-for-24 passing to lead the Wildcats to an undefeated season and the outright conference title.
"Proud of the players, the coaches," Weber State head coach Jay Hill said. "First outright conference championship in the school's history; it's a big deal. We just set a new record for consecutive wins, home wins. There's so many good things going on and I'm just happy where the program is heading still."
The game got off to a slow start for both teams, with the first points scored in the second quarter on a fumble by Randall Johnson that later resulted in a 35-yard field goal by Idaho State to give the Bengals a 3-0 lead.
Weber State got its offense moving later in the quarter when Barron found Ty MacPherson for a 60-yard catch. Two plays later and the Wildcats found the end zone. Dontae McMillan rushed for a 2-yard touchdown to give the Wildcats its first points and lead of the game.
Idaho State kicked another field goal to keep the game close heading into the halftime break.
BIG TOUCHDOWN @TrulyWright23 💪#PurpleReign#WeAreWeber#BigSkyFBpic.twitter.com/0p2HrJ6bf0

— Weber State Football 🏈 (@weberstatefb) April 10, 2021
"We keep em' close, which you guys know," Hill said. "I don't know why we do that, but we do. Tons of credit goes to Idaho State. I thought they came in and played a really good game plan, executed it well. We did not do a good job of finishing drives in the first half, too many turnovers, just too many issues."
Early in the fourth quarter, the Wildcats' offense got the spark they needed. After deciding to go for it on fourth-and-1, McMillan found an opening at the last minute to get Weber State a fresh set of downs. Barron found Justin Malone for a 35-yard touchdown pass to give the Wildcats a 14-6 lead.
But the Bengals didn't go down without a fight. Ty Vander Waal, who had previously left the game do to injury, came back in on the following drive to led his team down the field to find Christian Fredrickson for a 10-yard touchdown pass. Idaho State attempted a 2-point conversion, but it was unsuccessful. On the Bengals' next possession, Ryan kicked a 23-yard field goal to give Idaho State a 1-point lead (15-14) with 5:25 left in the game.
Weber State's offense got to work and put together a 76-yard drive that resulted in a 6-yard touchdown run by Daniel Wright Jr. to give the Wildcats a 20-15 lead with just two minutes left in the game.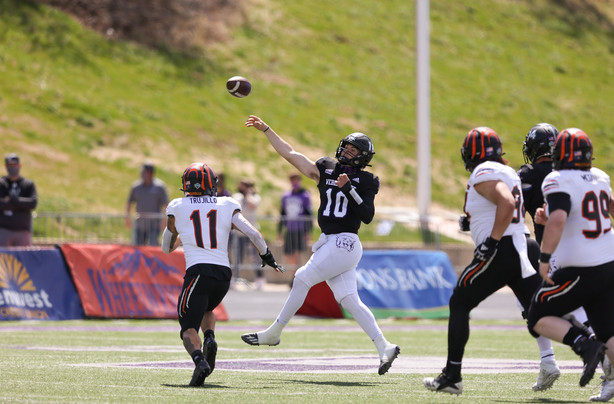 "I don't know if I have enough to say about them," Barron said. "Daniel and Donny played great. Stepping up and taking over for Josh, not having him in this game. Daniel and Donny did fantastic. I'm very proud of those guys because they ran the ball so well it opened things up for me. Very proud, very impressed with their performance."
With the game on the line, the Wildcat defense was tasked with stopping Idaho State — and they didn't disappoint. Marque Collins came up with arguably the biggest interception in Weber State history to give the Wildcats the ball, the win and an outright title.
"We're so tight on defense," Connor Mortensen said. "We all want to see each other succeed, and Marque, he's been battling injuries all year, so to see him make that play — he deserved it. It's fun watching each other make plays. Everyone is flying around, everyone is just hungry. Our defense is always hungry and it's a party."
Weber State will be celebrating Saturday night, but next week it's back to work. The Wildcats have a bye week in preparation for playoffs and will learn their postseason fate during the FCS selection show on Sunday, April 18.
INTERCEPTION@marquecollins2 made the play when we needed it ‼️#PurpleReign#WeAreWeber#BigSkyFBpic.twitter.com/DUmKeIEcRk

— Weber State Football 🏈 (@weberstatefb) April 10, 2021
×
Photos
More stories you may be interested in