SALT LAKE CITY — Don't call it a comeback, the Red Rocks have been here for years.
Entering the final rotation of the second session of Friday's NCAA gymnastics nationals meet in Fort Worth, Texas, the No. 6 Red Rocks were solidly in third place and in need of a prayer to land a spot in Saturday's finals. Only the top two teams qualified.
"I think we were all a little down — maybe just kind of not trusting ourselves going into the last event, and one of our captains, Sydney Soloski, is like, 'We are fighters. We're gonna fight. We still have one more event left, so let's show them what we're worth,'" sophomore gymnast Maile O'Keefe said. "And I really think that pushed us over the edge and we just had one of our best bar rotations of the year."
In the leadoff position, Abby Paulson opened up the uneven bars event with a strong routine and a stuck landing on an event that has been a bit of a roller coaster ride for the Utes this season in their landings. She recorded a 9.825 score to set the tone.
After five more stuck landings and consecutive increased scores by Alani Sabado (9.875), Alexia Burch (9.8875), Emilie LeBlanc (9.90), O'Keefe (9.950) and Cristal Isa (9.90), the Red Rocks compiled a season high 49.5125 score. But after all that — giving everything the team had — Utah still had to wait for Alabama to finish floor to see if it was enough.
Utah sat in the No. 2 spot and looked primed for a finals appearance, but the waiting game remained as LSU was out with a 197.5625 score. Suddenly the final score for Alabama was in and the Crimson Tide finished with a 197.575 score — a mere 0.025 short of second place.
The Red Rocks were in the finals.
"Well, you're holding your breath the whole time," Utah head coach Tom Farden said. "Our motto for the weekend was nobody's going to out tough us and we were going to be the toughest team here. We know that there's a lot of talent in the NCAA and we were going to come in here and be as mentally tough and as strong as possible, and they showed that. We gathered around and said nobody out toughs us."
The Red Rocks were joined by No. 2 Oklahoma, who won the meet with a convincing 198.0875 score. But the story was the last-ditch effort by the Utes to steal the final spot. O'Keefe, in her first-ever nationals appearance, also became a two-time national champion as she won the title on bars (9.950) and floor (9.9625).
IT AINT OVER TILL ITS OVER… FINAL FOUR BOUND BABY !!!! @UtahGymnastics 😈😤

— Sydney Soloski (@Sydney_soloski) April 17, 2021
O'Keefe said head coach Tom Farden told the gymnasts going into the final rotation: "We get one more chance, and this is why we work to out tough everyone because going into that last rotation we should not have been in second — we shouldn't have made it to day two. But we weren't going to let that happen, and we were just going to be strong and be tough. And he said you out toughed everyone, and that's what this was about, and now you get one more chance."
Coming into the meet, the Red Rocks knew the slightest thing could be the difference against a tough slate of competition. But with the team starting on beam, its strongest event of the season, everything appeared to be in Utah's favor to start the meet out on the right foot and establish the tone.
The beam was anything but a strong suit for the Red Rocks, who struggled to put together competitive scores, including the always consistent O'Keefe who entered as the No. 2 athlete on beam this season. No gymnast scored higher than Burch and Isa's 9.875. The tough opening event led to the Red Rocks falling to last place with a low 49.250 score on beam.
The Red Rocks had to do it the hard way.
"I think we were all a little nervous, me included," O'Keefe said. 'I have a really good beam routine. I wobbled on some dance and didn't necessarily stick my landing and I got a little frustrated and upset, but there wasn't anything I could do about that."
"Believe it or not our start on balance beam was less than desirable," Farden said. "We brought them together and just told them that we've got three events to go and everybody's got to do all the events, and you don't know where this is going to go so why don't we give it our best shot. And then we just kind of built from there."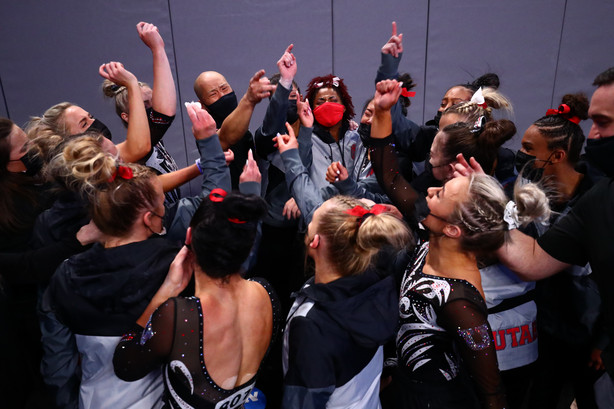 The opening rotation disappointment wasn't enough to shake the Red Rocks, though, who rallied back on floor to capture a near season-high 49.600 score to make up some ground and locked the Red Rocks into the third position — beating out Alabama — after the second rotation.
Isa set the tone in the leadoff position with a team's first 9.90 score before Jaedyn Rucker landed a 9.9125, O'Keefe scored a meet- and career-high 9.9625 score, and Sydney Soloski rounded out the group with a 9.9375. It was exactly what the Red Rocks needed to remain in competition despite some still stacked odds.
Vault, the teams third event of the meet, was good enough to keep the Red Rocks within striking distance, but no gymnast scored higher than a 9.875 by Cammy Hall, who has struggled as of late to stick her landings. Her effort, alone, was good enough and all Utah needed heading into the final rotation.
BYU's Miner-Alder wraps up All-American season on floor
BYU's Abbey Miner-Alder scored a 9.5875 competing as an individual on the floor exercises in the morning session of the NCAA championships earlier Friday.
The senior who is ranked No. 10 nationally on floor scored a 9.944 earlier in the season to qualify for the national meet, and added a 9.900 at the Morgantown Regional back on April 2.
But when it came time for her event Friday at Dickies Arena in Fort Worth, Texas, the MRFC floor specialist of the year who rotated with No. 8 Minnesota finished outside of a qualifying spot for the second day of nationals.
"Abbey's our all-arounder and our ace in the hole. Overall, she handled it beautifully," said BYU coach Guard Young, who watched his second All-American as a head coach and first since Shannon Evans in 2018. "She had a great warm-up and great preparation for the tournament. I think she just thought that she had to be too perfect. That does not take away from her All-American status and everything that she has accomplished during her career as a gymnast here at BYU."
Contributing: Sean Walker, KSL.com
×
More stories you may be interested in