OGDEN — Eighteen people were arrested in a prostitution sting led by Weber County Sheriff's Office during the week leading up to Christmas, police said.
According to a statement released by Weber County Sheriff's Lt. Cortney Ryan, the Weber County Investigations Bureau conducted the operation in western Weber County to "identify and help victims of human trafficking, identify and arrest individuals who are involved in, patronize, or promote the underground sex trade."
Ryan said that detectives utilized social media and the internet to conduct the operation. On Dec. 22, ads were placed and those who were looking to participate in the activities advertised were arrested. The sheriff's office said that it is looking to help those who are victimized by the sex industry, often at-risk teens who are taken against their will and forcefully put into situations.
To help protect at-risk teens, the office advised parents to monitor what children are doing online, who they're speaking to, and where they are at. Ryan said to be aware of scams like fake modeling agencies that would place children in dangerous situations under false pretenses.
"Be active in your kids' lives and pay attention to what they're doing, we do not want to see any child be victimized by this industry," Ryan said.
The 18 individuals who were arrested and charged met with undercover detectives at a local motel to exchange money for sexual acts, police said. Those arrested are facing various charges including patronizing a prostitute, solicitation of a prostitute, prostitution, and possession of a controlled substance.
"Unfortunately it's one of those things that nobody really likes to talk about. It's an industry that is huge in our country. The sex industry, unfortunately, is not a victimless crime and you know a lot of people are forced into this industry and forced to travel the country and are taken from their homes and perform sex acts," said Ryan.
He continued, "That is the biggest target we're looking for is to bring awareness that it is here, it's present, and we're watching it, we're paying attention to it and we won't tolerate it here in Weber County."
Those arrested included: Zackary Patridge, 32, of Kaysville; Todd Cordner, 58, of Brigham; Andres Tenorio, 25, of West Haven; Justin Bagshaw, 37, of Ogden; Richard Parkinson, 42, of Syracuse; Clint Costley, 47, of Plain City; Cesar Bustamante, 32, of Destin, Florida; Julio Cesar, 30, of Ogden; Shane Arbogast, 39, of Layton; Matthew Russon, 36, of Clearfield; Stanley Bird, 59, of Hooper; Daniel Avila, 38, of Ogden; Troy Larson, 53, of Ogden; Kaylee Minor, 32, of Pleasant View; Gage Picard, 22, of Fruit Heights; Angel Penaloza-Durate, 41, of Riverdale; Brian Lillehaug, 29, of West Valley; Jeffery Garcia, 57, of Roy.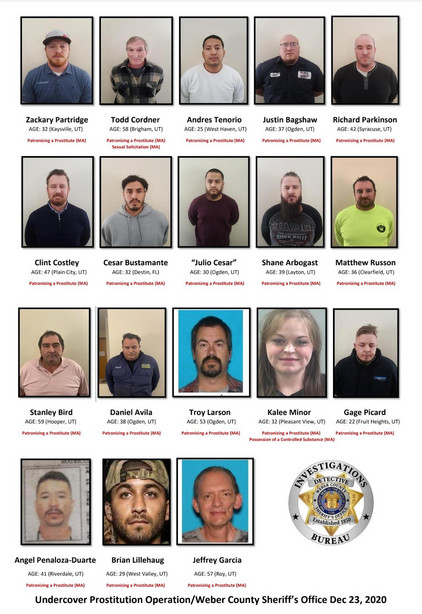 Photo: Weber County Sheriff's Office
×
More stories you may be interested in