BYU quarterbacks, from left, Jaren Hall, Baylor Romney and Jacob Conover answer questions during BYU Football Media Day at the BYU Broadcasting Building in Provo on Thursday, June 17, 2021. (Kristin Murphy, Deseret News)
PROVO — In the first college football media day of the year, BYU had the floor and several microphones all to itself as eyes turned toward the 2021 football season.
And every one of those microphones wanted to capture the answer to one question: Who's going to be the Cougars' starting quarterback in the fall?
One year removed from an 11-1 season, a No. 11 ranking in the final Associated Press Top 25 poll, and the emergence of quarterback Zach Wilson as the No. 2 overall pick in the 2021 NFL draft to the New York Jets, the question remained similar to what BYU fans are asking every year.
Who's going to be the starting quarterback in the fall? And will that answer be revealed Thursday?
At least one question had an answer — and to the latter, the answer was "no."
Entering the annual event that was made virtual a year ago due to the COVID-19 pandemic and re-emerged Thursday afternoon, three quarterbacks are still in the running to lead the post-Wilson BYU squad into the season opener Sept. 4 against Arizona in Las Vegas.
"I don't know if I want to put a deadline. I think that creates a lot of stress and anxiety on the staff, moreso than it does the players," BYU coach Kalani Sitake said. "I know the deadline is before the game; we need to have a starter before the game, however long it takes.
"Ideally, I think the sooner, the better. Everyone wants to say that. But I don't think we can put a deadline on it, because it's not going to be as far as it could be."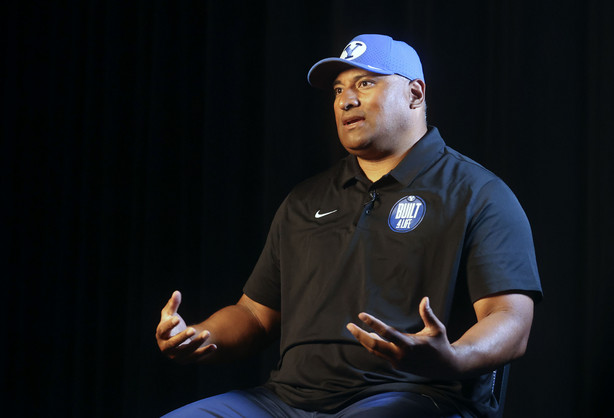 Sitake then laughed, preparing one of his now-famous dad jokes that hasn't been delivered with the same pinache over the last year because of the pandemic and social distancing protocols.
"If you're asking me right now," he said. "I can tell you one thing: It's going to be one of the three."
Those three are redshirt sophomores Jaren Hall and Baylor Romney — the two most experienced quarterbacks — and four-star freshman Jacob Conover, the Chandler High (Arizona) product who committed to BYU with a bevy of offers including Arizona State and Alabama before serving a two-year mission for The Church of Jesus Christ of Latter-day Saints in Paraguay and returning in time to run the scout team during the 2020 season.
Hall and Romney may have the edge in experience — but it's barely an edge, and the competition is still lively, offensive coordinator Aaron Roderick said. Conover, as well, maintains his own competitive edge, as well.
"Jacob Conover is just a really good passer. He's got a great arm, lots of confidence," said Roderick, who compared the Arizona native to former BYU great and current Texas head coach Steve Sarkisian in personality. "He's got a lot of swagger. He's just got that infectious enthusiasm and confidence in himself that sort of bleeds into others.
"He's a freshman, and already knows the players. And he's won a lot — you don't do that just by being good. You've got to have that other stuff to win so many games."
That's not a slight on Hall or Romney, either. Quite the contrary.
Each quarterback is the biggest fan of the other two. After all, one quarterback will start Game 1 — but Hall and Romney are both well aware that their time up could come as little as one snap later, depending on injuries, illness, or the like.
At the end of the day, though they're competitors now, each are teammates. They're still able to hang out, go to dinner, or watch as their spouses and significant others become best friends, too.
BYU QB Coach @CoachRoderick makes a case for each of the 3 QBs as the competition for the starting position continues. #BYUMediaDay#BYUFOOTBALLpic.twitter.com/pCWzl0cKHl

— BYUtv Sports (@byutvsports) June 17, 2021
"That's what's special about BYU and the quarterback room," Hall said. "We're a bunch of mature guys who love the game of football and want to be professionals. But off the field, we're also professional, understanding that we're still brothers and we spend all day together. It's a pretty fun dynamic."
Hall is entering his fifth season with the program, including a medical redshirt season a year ago and a true redshirt in 2018. In his lone season of health in 2019, the Maple Mountain product played in seven games, with two starts, and completed 31 of 46 passes for 420 yards and a touchdown while also running for 139 yards and three scores.
"The times that we've seen Jaren play, he's played as well as I've seen any quarterback play in my career," Roderick said. "Unfortunately, he's had a tough time staying healthy. But if he's able to do so, he's going to be a tough kid to beat out."
Romney has four years of experience at BYU, including seven games as Wilson's primary backup in 2020, when he threw for 261 yards and a touchdown with an interception. A native of Mexico who attended high school in El Paso, Texas, Romney also completed 64% of his passes for 747 yards and touchdowns in 2019, leading the Cougars to a 3-1 record that included a 28-25 win over then-No. 14 Boise State in his first career start.
"He's a fearless guy, a great competitor, and no moment has been too big for him," Roderick said of Romney. He's also a very accurate passer."
Then there's Conover, the one-time Arizona prep phenom who ran the scout team in 2020 — and by all accounts, did as good of a job as possible for the 11-1 Cougars.
"He torched them," Hall said. "I had some chances to look over and watch while I was hurt, and he looked good. He definitely got our defense ready.
"He might've been the best quarterback that our defense saw all year. In practice, he was giving them all they could handle."
×
Photos
Related Stories
More stories you may be interested in