Pac-12 Commissioner George Kliavkoff giving his opening remarks at media day in Los Angeles, CA. (Don Liebig, Dig Magazine)
HOLLYWOOD — His comments were measured, calculated and wide-ranging, but the overarching message was clear and succinct: The Pac-12 is a "football conference."
That phrase, a "football conference," was a common and intentional one used by George Kliavkoff during Tuesday's media day, who didn't mince words in his first public address as the new commissioner of the Pac-12. And while he said the conference will "continue to invest in the success of all sports," the decisions surrounding the makeup of the conference and how it will be guided will be based around the highest-profile sport.
"The Pac-12 will be hyper-focused on greater success in football and men's basketball," Kliavkoff said. "It's not a secret, but these are the two most impactful sports, and that revenue generated from football and men's basketball often funds our overall athletic programs."
On the surface, Kliavkoff's push to highlight football doesn't sound controversial or odd, but it's a clear shift in focus from that of predecessor Larry Scott, who wanted to see parity in all sports — and most notably Olympic or non-revenue sports. And while Kliavkoff doesn't want to shy away from improving these sports, football (and basketball) will be his priority.
And that means looking at the current structure in place: the conference's profile, its media rights, and even how the conference puts together a schedule — everything.
"I can confirm that every decision the conference makes related to football is on the table for discussion," he said. "We will look at our conference schedules, including the number of conference games that we play, and the start time of each game. We will look at our nonconference scheduling. We will evaluate whether having divisions does or does not make sense."
The most immediate and lowest-hanging fruit for Kliavkoff is increasing the conference's profile when it comes to the College Football Playoff, where the Pac-12 has been absent since Washington's bid in the 2016-17 season (the league has just two berths overall in the seven-year history of the four-team playoff). While the commissioner can't force the playoff selection committee to pay more attention to his teams, it's all in how these teams are set up to succeed on the field.
"Unlike conferences with a single dominant team, we often have multiple top teams and significant depth in the conference and a nine-game conference schedule," Kliavkoff said. "While this has led to greater parity, it has historically hurt us in the ratings, and it has certainly cost us CFP invitations.
"I want to be 100% clear that going forward, the Pac-12 Conference will make all of our football-related decisions with the combined goals of optimizing CFP invitations and winning national championships," he added. "This is a decision fully supported by all 12 of our athletic directors."
Conference expansion?
While getting the Pac-12 into the playoff is of utmost importance to Kliavkoff, the recent news that Texas and Oklahoma are pursuing an invitation into the Southeastern Conference will have ramifications nationwide, including in the Pac-12.
The conference has already received "inbound interest" from outside programs, according to Kliavkoff, and he says it's an "opportunity to once again consider expansion." Kliavkoff, though, added that there isn't "any risk at staying at 12 teams."
"We have a stable, highly successful, and well-positioned membership with a high bar to entry," he said. "Given our investments in football and men's basketball, our historic domination of other sports, we do not think expansion is required to continue to compete and thrive. That said, the fallout from Texas and Oklahoma gives us an opportunity to once again consider expansion."
"I did not say that expansion is not a priority," he added when pressed. "I said we didn't think it was necessary in order to continue to be strong and strive as a conference. It is a priority to consider all of the alternatives that have been presented to us, and we will do that in a very timely manner."
When considering expansion, Kliavkoff said the conference will not have a set bar or membership requirement needed to be invited into the conference. Several media reports related to expansion around the country have suggested that an AAU membership, one which the University of Utah recently received, will be a requirement for conferences like the Big Ten and Pac-12. But Kliavkoff rejected that notion.
"There is no reset requisite about a specific accreditation," he said. "We are very proud of the schools that have that accreditation within our schools. You may remember when Utah joined us, they did not have that and they received that accreditation after they joined us. But there's no prerequisites."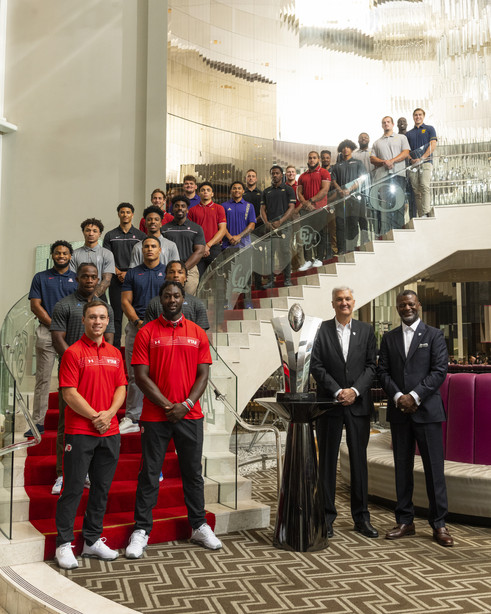 Vaccination and games
The Pac-12, like every other conference in the country, will still have to manage the ongoing COVID-19 pandemic during the 2021 season. Kliavkoff said the conference hasn't set in place a policy about whether a team will forfeit a game if they can't field a team due to a virus outbreak, but a policy will be made in the coming days.
Still, the conference is encouraging its teams to get vaccinated to help slow and minimize the prevalence of the virus in college football. Kliavkoff said "two-thirds" of the teams in the conference have "achieved more than 80% of their players getting vaccinated," with half of the teams above 90%. "We're very proud of that," he added.
Among the programs with the least amount of vaccinated players is Washington State, which is somewhere around 75%, according to head coach Nick Rolovich. Rolovich said he'll continue to preach the importance of getting the vaccine to his players, even as he has chosen not to get vaccinated.
"The reasons for my individual choice will remain private," Rolovich said. " … As I go forward, I plan on adhering to all policies that are implemented for the unvaccinated at the state, local, campus, conference level. I'm not against vaccinations. I wholeheartedly support those who choose to be vaccinated, including our players, staff, coaches."
"We will continue to educate the remaining players on the benefits of it," Rolovich added. "I think we all know this virus is deadly, and these vaccines are free. I urge everyone to consider being vaccinated. I do."
Does the Pac-12 have a ref problem?
If you ask Merton Hanks, who oversees football operations for the Pac-12, the conference doesn't have a problem with its refs.
Hanks believes the perception that Pac-12 officials have been unfairly criticized for on-field calls is a "misnomer," he said.
"That's a misnomer, quite frankly. In 30 years of playing football at the highest levels across every division, so to speak — from high school, college, professionally — we've got a very good officiating program led by David Coleman," Hanks said. "We're getting better, literally daily. We're improving our training. We're going to make great strides. We're going to be fine as far as the officiating piece."
Every fan feels the refs are against their teams, but the conference has had to overcome outside individuals overruling calls on the field. So it remains to be seen if Hanks is overstating the conference's position or if the product has (or will) improved.
×
Related Stories
More stories you may be interested in