SALT LAKE CITY — About 100 people gathered in Salt Lake City to call for Utah Sens. Mike Lee and Mitt Romney not to vote on an election year replacement for Justice Ruth Bader Ginsburg hours before President Donald Trump named his nominee on Saturday.
"Even though she is more than a seat, it's what the seat represented. And equality for men and women, civil rights for LGBTQ people, for straight people, for everyone. That is what that seat represented. That is why she held on for so long, because she knew that if something happened to her what was going to happen," Darlene McDonald, a prominent community activist, told KSL.
"And we are fighting, fighting, fighting. And it's a dying shame that we are fighting the same fights that my parents, and their parents fought for, but here we are again fighting. That's what that seat represents, and that's why we are here fighting."
Protesters met at the downtown Federal Courthouse and marched to the Federal Building, chanting phrases including "We dissent" and "Vote him out." Some carried signs accusing the U.S. Senate of hypocrisy.
"If we must be Ruth-less, we must be ruthless," one sign read.
As expected, Trump on Saturday evening nominated Amy Coney Barrett, a conservative Indiana federal judge, to fill the U.S. Supreme Court vacancy.
"I'm already resolved that it's going to happen. I'm preparing myself for when and if she's seated, because I know he's going to nominate her, that's going to happen. I haven't prepared myself yet for if she actually is seated because I think that is an absolute afront to what RGB stood for, and I haven't emotionally prepared myself for that yet," McDonald said.
Protester Zach Fullmer expressed concern for what might happen should Barrett take the seat.
"That's Supreme Court precedent being set for the next half century maybe," Fullmer said. "She's pretty young as far as Supreme Court picks go. That could be pretty bad. She's one of the most conservative Supreme Court picks in a very long time, and this is potentially very bad for our future," Fullmer told KSL.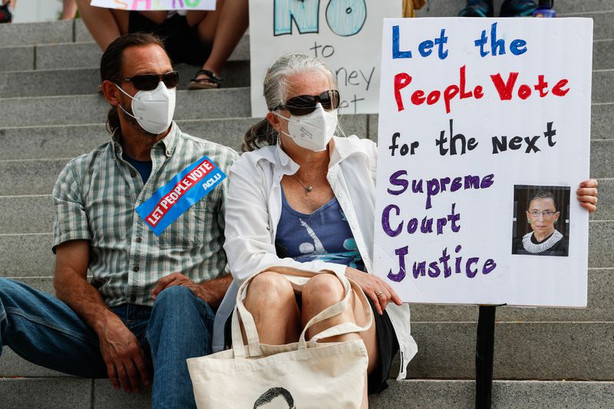 Pete Duffin, left, and Deb Plasman participate in a protest at the Federal Courthouse in Salt Lake City on Saturday, Sept. 26, 2020. (Photo: Yukai Peng, KSL)
He said he will ask Romney and Lee "to be consistent to the principles that they claim to hold."
Protester Joan Draper said she believes Bader deserves more respect for her work.
"When you think about it, when she went on the court, equal justice for women wasn't even a concept. She had been doing her cases all through the 70s … so then she gets to the court and she forces them to look at the issue. And she has a hard bench, and she doesn't always win, but she developed the concept. So she deserves respect, that's it," Draper said.
But Draper said she's optimistic for the future.
"I think it's that saying the arc of justice, but it bends very slowly. But I do think, especially with this younger generation, they're not going to be able to go back. It's going to be a debate, but that's what we do in this country," Draper said.
Lee, a member of the Senate Judiciary Committee, said earlier this week he would "wholeheartedly" support a Barrett nomination.
Romney also said earlier this week he will vote on Ginsberg's replacement on the Supreme Court should a nominee reach the Senate floor. He said his decision regarding a Supreme Court nomination is not the result of a subjective test of fairness which, like beauty, is in the eye of the beholder. He said it is based on the immutable fairness of following the law, which in this case is the Constitution and precedent.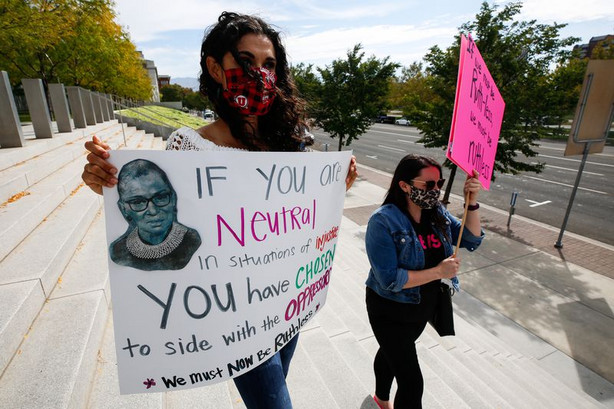 Zoraya Gappmaier, left, and Melissa Stirba participate during a protest at the Federal Courthouse in Salt Lake City on Saturday, Sept. 26, 2020. (Photo: Yukai Peng, KSL)
The Constitution gives the president the power to nominate and the Senate the authority to provide advice and consent on Supreme Court nominees, Romney said on Tuesday.
Romney said Saturday he looks forward to reviewing Barrett's record "thoroughly and carefully evaluating her qualifications."
After the march, organizers encouraged the group to call the two senators and to keep calling them "every day" to convey their opposition.
×
Photos
Related Stories
More stories you may be interested in