LAS VEGAS — Depending on who you ask — the media or the coaches — Utah State center Neemias Queta was either the best defensive player in the Mountain West Conference or the best overall player this year.
He made a strong case for the latter Friday night.
Queta had 18 points, 13 rebounds and nine blocked shots; and Justin Bean added 13 points and 10 rebounds to help Utah State pull past Colorado State, 62-50, late Friday night and advance to their third consecutive Mountain West Tournament championship game at the Thomas & Mack Center.
Brock Miller added 11 points and two assists for the Aggies (20-7), who likely dramatically boosted their NCAA Tournament resume with the win. Marco Anthony supplied 7 points, five rebounds and five assists, and Alphonso Anderson tallied 8 points and five rebounds off the bench for Utah State.
Isaiah Stevens led Colorado State with 15 points and seven rebounds, and David Roddy added 12 points and 10 rebounds for the Rams.
"We just got a really deep group," said Queta, whose nine blocks set a school record. "We don't rely a lot on one person; the last few years, we had Sam Merrill and he was a great player for us. But this year, we're the definition of a team. Everybody can step up every game.
"We're a lot more balanced as a team. We can just play basketball, and find whoever is in their groove."
It is Queta's world and we are just living in it@USUBasketball | @MW_MBBpic.twitter.com/vETZGgIakU

— CBS Sports Network (@CBSSportsNet) March 13, 2021
The 7-foot Portuguese gentleman had double-digit rebounds before scoring, though, when he collected his 11th board while sitting on just 9 points.
A walking double-double who recorded his eighth straight Friday night, Queta is first a rebounder and shot blocker who finds offense from there.
On Friday night, he found plenty of offense. But it started with defense.
"He's a big-time presence down there," Utah State coach Craig Smith said. "The nine blocked shots, but to hold a team like that to 29% from the field … and then offensively, we played pretty well, too."
Take one play midway through the second half, for example. The Aggies had a 15-point lead when CSU forward David Roddy drove to the rim on a fast break. Queta trailed significantly with 8:41 remaining, and could've just let Roddy go for a quick two — Utah State would make it up on the other end, right?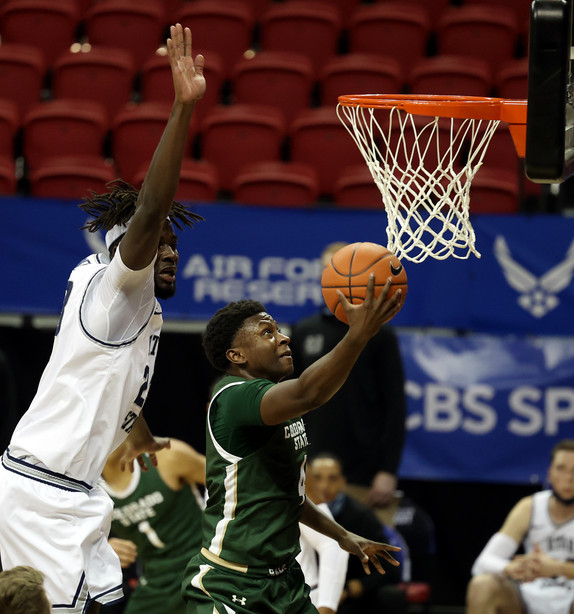 Utah State Aggies center Neemias Queta (23) takes a swipe at a shot by Colorado State Rams guard Isaiah Stevens (4) as Utah State and Colorado State play in the Mountain West Tournament at the Thomas & Mack Center in Las Vegas on Friday, March 12, 2021. (Photo: Scott G Winterton, Deseret News)
Instead, Queta sprinted back and leaped at Roddy from behind. He slapped the ball as it left the Colorado State leading scorer's hand, and slammed it into the backboard for his third block of the night.
The junior never gave up on the play, much like his team has never given up on the season.
Now the Aggies are one game away from a three-peat Mountain West Tournament title. They'll face familiar foe San Diego State at 4 p.m. MT Saturday (CBS).
Miller hit back-to-back 3-pointers to help the Aggies to a 19-15 edge with 9:24 left in the first half, a lead the Rams took back one minute later.
That helped give Utah State just enough balance to take a 32-28 halftime edge
The Aggies shot just 37% from the field before the break, but that was 3 percentage points better than Colorado State. Meanwhile, Utah State outrebounded the Rams 23-17, led by a 7-point, six-rebound effort from Queta and 10 points and four boards from Bean.
.@nemi1599 gets a basket and draws the foul!@USUBasketball and @CSUMBasketball are in a tight game on @CBSSportsNet#MWMadnesspic.twitter.com/neSpA4H6yl

— Mountain West (@MountainWest) March 13, 2021
Indeed, the Aggies were simply dominant inside, scoring 15 second-chance points on nine offensive rebounds to give their shooters breathing room while holding CSU to just 1-of-8 from three.
The Aggies opened the second half on a 7-3 spurt with a similar state of mind: Anthony's three set up a pair of scoring trips inside by Worster and Queta — and a third, if you count the rare missed dunk by Queta just before a timeout at the 16:44 mark that saw Utah State lead 39-32.
Miller's third three of the night stretched the Aggies' lead to 10 points, 42-32, with 15:07 remaining, and Utah State held the Rams scoreless for 4:58 of the first 5:44 of the second half.
"In March, you've got to win a lot of different ways," Smith said. "Tonight was ugly, but it was effective. Defense travels, and we're going to see another one like that tomorrow against San Diego State."
With Queta and Bean working inside, the Utah State shooters were allowed to space out and flourish. That was good news for Miller, but also for Anderson, who hit a pair of second-half treys to help extend the Aggies' lead. It was also good news for Worster, who hit a 3-point and dished out three assists for a USU side that assisted on 15-of-21 made field goals.
Colorado State held the Aggies scoreless from the field for more than two minutes during a 10-2 spurt that pulled the Rams within 57-50 with as little as three minutes remaining. But Utah State's 50-43 rebounding margin — not to mention 11 blocks — was too much to overcome down the stretch for the Rams, who didn't score for the final 4:01.
×
Photos
More stories you may be interested in