Raindrops fall in a puddle during a rainstorm in Salt Lake City on Wednesday. Heavy rain from thunderstorms that moved through Utah caused issues throughout the state, including power outages, traffic delays, school closures and temporary evacuations. (Kristin Murphy, Deseret News)
MAPLETON — Heavy rain from thunderstorms that moved through Utah on Wednesday caused issues throughout the state, including power outages, traffic delays, school closures and temporary evacuations.
Northern Utah flooding
The National Weather Service advised Mapleton police that an approaching afternoon storm posed a flash flood threat over the Ether Hollow burn scar area, leading to evacuations in predetermined areas for a short time, but those evacuations were lifted at about 5 p.m.
Mapleton police still asked the public to avoid travel on 1600 North east of 1700 East.
Meanwhile, "significant" flooding on I-215 at 3300 South near West Valley City caused the Utah Highway Patrol to close the freeway just before 3 p.m. The right two lanes remained closed Wednesday night and were expected to be cleared by 10 a.m. Thursday.
Salt Lake County Emergency Management is monitoring the weather conditions, rain is likely to continue through the night. Thousands of sand bags have been deployed in areas of the valley. Remember, don't attempt to drive through flooded roadways. pic.twitter.com/yYlnz8BwtH

— SLCo Emergency Mngt. (@SLCoEmerMngt) August 18, 2021
Cottonwood Heights and Salt Lake City Emergency Management both announced that sandbags would be available to the public amid the flooding and as the storms continued.
Weather conditions earlier in the day caused a semitruck hauling food to crash on northbound I-125 to westbound I-80, Utah Highway Patrol Sgt. Cameron Roden said. The truck slid off the road and hit the barrier on the right, leaving the cab of the truck hanging over the east side of the structure. The driver did not sustain injuries. UHP closed the ramp from northbound I-215 to westbound I-80 while it cleared the road.
Midas Creek water levels and flow continue to increase and our poor trail has been washed out again.

What in the past was a rare occurrence has now happened twice in a month. pic.twitter.com/DjwPXLocdJ

— Herriman City (@HerrimanCity) August 18, 2021
Central Utah flooding
Delta and the surrounding towns were also hit hard by flooding amid the storm, prompting the school day in Delta to be canceled.
The National Weather Service reported a verified 4.39 inches of rain from 5 p.m. Tuesday to 5 p.m. Wednesday in Delta, shattering the previous 24-hour record of 1.45 inches.
Three Delta schools have some water damage, Superintendent David V. Styler said.
The city's sewer systems and drainage systems are also overwhelmed, he added, and some streets have flooding between 8-10 inches deep.
Between 20 and 30 district employees experienced flooding in their homes and the power was out in surrounding towns, including Sutherland, Hinckley, Deseret and Oasis.
"And the kids in town are being asked not to use the sewer system — so no shower and things along those lines — so just so much general chaos in the homes and the families, as well as the damage in our schools," Styler said.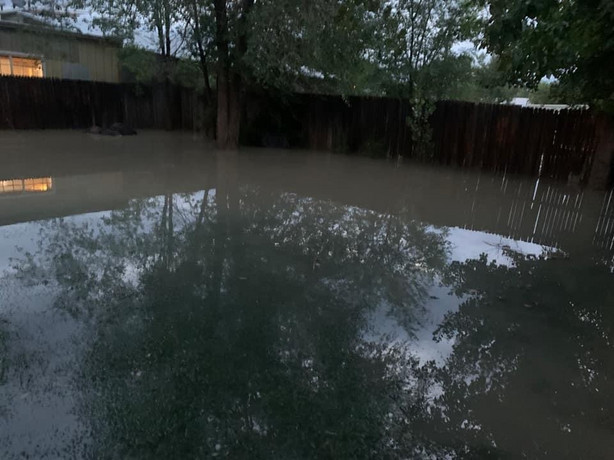 The roof on Delta North Elementary was being replaced and the work wasn't quite done, the superintendent said. That allowed some water to come into the building.
While district officials initially planned for a late start Wednesday, they decided to instead give everyone time to deal with the storm-caused issues.
It's disappointing to cancel the first day of school, as many were excited and had "high expectations," Styler said, but they expect to resume Thursday if the city isn't hit by a substantial amount of rain Wednesday.
The district has asked employees, parents and students to check on their neighbors and see who needs help. Officials will use that data to "regroup" and return to work on Thursday, Styler said.
Our Delta COOP observer reported a verified 4.39 inches of rain from 5pm last night to 5pm tonight, smashing the previous 24-hour record of 1.45 inches! #utwx

— NWS Salt Lake City (@NWSSaltLakeCity) August 19, 2021
Southern Utah flash flood warnings
Flash flood warnings have been issued for Iron, Garfield, Kane and Washington counties, according to the National Weather Service.
Cedar City Mayor Maile Wilson-Edwards said on social media it's "all hands on deck" as residents work to clear large rocks and debris that traveled down Coal Creek.
"With the extensive rain on the mountain and throughout the county we are again experiencing flooding. We remain under flash flood warnings," she said.
About 9 p.m. Wednesday the National Weather Service said that the flash flood watch for Utah will continue into Thursday morning. The western Uintas and Uinta Basin areas were removed from the watch but thunderstorms with heavy rainfall remained a concern for southern Utah, the weather service said.
Power outages
The state also experienced significant power outages from Ogden to Fillmore. Most of the outages were centered in Weber and Davis counties, according to Rocky Mountain Power. There were about 6,000 households without power to start the day. That number fluctuated throughout the day, but as of 10 p.m. outages across Utah had decreased to 440 customers.
In Bountiful, city officials said a tree branch toppled a power line in the area of 200 West to 500 West from 1000 North to 1400 North, causing a power outage; power was restored later Wednesday.
The Utah Transit Authority announced that FrontRunner trains were stopped early Wednesday due to a downed power line between Woods Cross and North Temple stations. A bus bridge was established between Woods Cross and North Temple, and travelers suffered "significant delays" in both directions but had resumed regular routes by 11 a.m.
Get the weather forecast at the KSL Weather Center.
×
Photos
Related Stories
More stories you may be interested in