WEST VALLEY CITY — The last time the Red Rocks were in the regionals, a 2019 appearance in Baton Rouge, Louisiana, it was top-seeded LSU that came out on top to win the event.
But on Saturday, with the Red Rocks getting an opportunity to sleep in their own bed and with LSU in their own territory, it was Utah's night to claim the top prize.
The No. 6-seeded Red Rocks were unstoppable and never trailed as they recorded a season-high 197.925 to edge out the top-seeded No. 3 LSU Tigers (197.750) Saturday night in the Salt Lake City Regional at the Maverik Center. The two teams edged out No. 11 Arizona State (197.600) and No. 14 Kentucky (197.600) to advance to nationals.
The win, which was propelled by a vocal 2,500 fans in the arena mostly dominated by the Utah faithful, gave the Red Rocks their 45th consecutive appearance at nationals while narrowly missing out on the elusive 198 score this season.
"I'm pretty pleased with the night. I thought the athletes came here to compete," Utah head coach Tom Farden said. "What a difference — I know the Red Rock nation showed up tonight. … We really felt like it was a big tailwind for the program in terms of going out there and competing in front of a live crowd.
"This crowd was lively and bought a lot of energy. I know our athletes really relished in that and appreciated it and missed it. From the first athlete that went on bars, we knew they came here to compete, and they did a heckuva job."
Utah set an incredible standard on the uneven bars, seizing momentum for a meet that was incredible close between all four programs in the regional final.
Abby Paulson set the tone early for the Red Rocks with 9.850 score in the first of five straight stuck landings to claim a season-high 49.475 score on bars — an event that has been difficult for the Red Rocks to be consistent on for much of the season. But once Paulson stuck her landing, the momentum kept building from there and nothing could stop Utah.
Alani Sabado recorded a 9.875, Alexia Burch a 9.825 before Emilie LeBlanc upped the score with the first 9.90 score of the night for the Red Rocks. Maile O'Keefe, who went on to finish in second in the all-around competition with a near season-high 39.700 and won bars and floor, kept the momentum going with a 9.950 score before Cristal Isa closed out the event in the anchor position with a 9.90 score.
Maile O'Keefe with ANOTHER 9.95 😱😱 It's her third of the night!

💻 ESPN3 pic.twitter.com/uCoaYJt1w7

— Utah Gymnastics (@UtahGymnastics) April 4, 2021
The score, which shattered the team's season high of 49.325 ahead of the meet, was good enough to finish with a top 10 score on bars this season.
"It was super fun," Sydney Soloski said. "Starting on bars we really started off with a bang. I think that was our best bar rotation I've ever seen in intersquad or in a meet, so we carried momentum through."
But even after a season-high score on bars, Utah was tied with LSU, who opened up with an equally impressive floor event. The Red Rocks used the opening event momentum to build the lead up to a .450 lead after the third rotation. The Red Rocks scored a 49.600 on beam and a 49.625 on floor to give them enough cushion going into the final event.
And the Red Rocks needed it as the vault was far from perfect.
Isa went first for Utah but stumbled on the dismount and fell forward on the landing, which gave the Red Rocks a 9.575 score to start the final event. Cammy Hall went next and recorded a 9.825 and O'Keefe scored a 9.850 before Lucy Stanhope was forced to accept a 9.725 score in the aggregate score. The Red Rocks went from a large lead to potentially sweating out a finish.
Enter Jaedyn Rucker.
The sophomore gymnast knew Utah needed a more respectable score and delivered. Rucker stuck her landing and recorded a career high 9.950 score to keep the Red Rocks in it for the win. Alexia Burch added to the held with a 9.875 score to ultimately seal the victory for the Utes, who stood by and watched as the remaining teams finished their events.
The score remained and the Red Rocks claimed the regional crown. But it took a season-high score to top a highly competitive regional that went down to the final rotation to sort out the final standings. The win against a top competitor like LSU gave Utah the confidence it needed as it advances to nationals.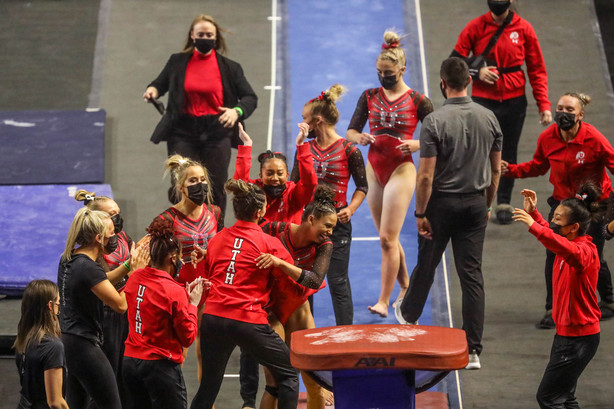 "I don't think it can hurt, so if you can make it out on this meet and win, it's not going to hurt us," Farden said. "I also know the respective staffs pretty well, and knew this was going to be the hardest region in the country — regional meet in the country — and that was probably, in recent memory, the hottest region I've been in. This new format is extremely difficult. We planned for this, we trained for this, and as coaches, you're just pleased that it worked out."
"I think this means more than you can, like as you see on paper. We went against Oklahoma earlier this year, and that was kind of a true test of hanging with the best in the country — not that we aren't — but we just don't necessarily see a lot of those top teams during our regular season," Soloski said. "So coming in here with LSU — and every other team showed up and they showed up incredibly strong — and so I think this is a great confidence booster for our team going into that postseason knowing our dreams are in our hands and we just have to put it all together."
The elusive 198 score, which was within reach Saturday night, is still hanging over the Red Rocks, and serves as added motivation when Utah joins LSU, Florida (197.700), Minnesota (197.425), Michigan (198.100), California (197.750), Oklahoma (198.175) and Alabama (197.575) in Fort Worth, Texas, on April 16-17.
"I mean, we still weren't perfect, but that's good," Soloski said. "You don't need to peak until April 17, so there's still a lot we can squeeze out — there's little tenths, there's quarter tenths everywhere. Some kids were as perfect as they're going to be, but that's not everyone from front to back, so I do think that a 198 is extremely reasonable and possible for this team."
"You've got to find anything you can to make them reach," Farden said. "Want a 198, then let's reach."
Utah Scores:
1st Rotation: Bars
Abby Paulson: 9.850
Alani Sabado: 9.875
Alexia Burch: 9.825
Emilie LeBlanc: 9.900
Maile O'Keefe: 9.950
Cristal Isa: 9.900
2nd Rotation: Beam
Alexia Burch: 9.900
Lucy Stanhope: 9.850
Cristal Isa: 9.950
Abby Paulson: 9.950
Adrienne Randall: 9.850
Maile O'Keefe: 9.950
3rd Rotation: Floor
Cristal Isa: 9.850
Abby Paulson: 9.900
Lucy Stanhope: 9.900
Jaedyn Rucker: 9.925
Maile O'Keefe: 9.950
Sydney Soloski: 9.950
4th Rotation: Vault
Cristal Isa: 9.575
Cammy Hall: 9.825
Maile O'Keefe: 9.850
Lucy Stanhope: 9.725
Jaedyn Rucker: 9.950
Alexia Burch: 9.875
×
Related Stories
More stories you may be interested in