SANDY — The record-setting snowstorm that passed through northern Utah this week has caused many snow creations to dot the Salt Lake Valley, but none like the one at the Royce home in Sandy. It stands 9 feet tall and measures approximately 10 feet wide — ear to ear, that is.
The giant Baby Yoda has affectionately named Snow Guru for the popular character from "The Mandalorian."
According to the Snow Guru's creator, J.R. Royce, the opportunity to build something like this is rare.
"It's not very often that you have enough snowfall to be able to create something like this," Royce said. "The last time I attempted this was in 2015 when I built Darth Vader, so it was fun to be able to get out there again and create."
However, along with ample snow, time is a major factor. Fortunately, Royce had the day off.
"I work in the health care industry, and I recently received my second dose of the COVID-19 vaccination, and I was a little sore the first round so I decided I would take the day off to recover," he said. "When the storm came I was feeling pretty good, so I decided to spend it making something fun."
Royce said he didn't plan on building Baby Yoda, but it just kind of came together — with the use of a lot of kitchen knives and, oddly enough, the collective use of his neighbors' snow.
"I don't have a lot of sculpting tools, so I just used kitchen knives to carve it out," Royce said. "We also didn't have enough packing snow, so I asked the neighbors if we could use their snow, and they were great to let us use it."
Royce said that his kids gathered the "good snow" with buckets to pack on for the base, and from there is where the magic happened.
"When you build something like this, you just start with a base of snow and see where it goes from there," he said. "My kids are big 'Mandalorian' fans, so it just kind of started going that way, and I went with it."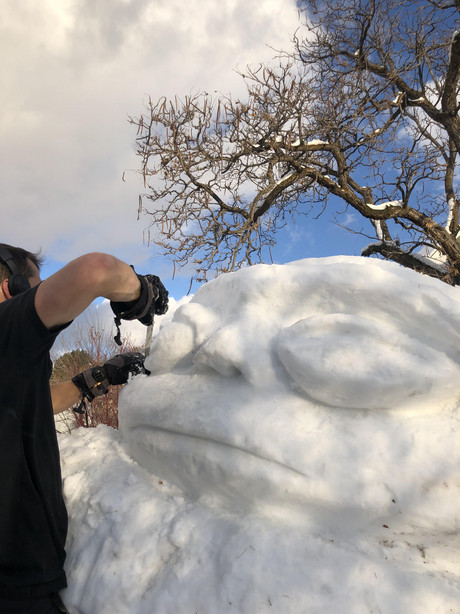 J.R. Royce builds Baby Yoda out of snow. (Photo: Royce family)
The process took the entire day. Royce said that when working on a project like this, you are racing the sun.
"Snow is hard to work with when it's dry, so you really have to be working when there is enough sunlight to keep it wet," he said. "Once that sun starts to go down, it turns to ice and you can't do much about it."
Royce said that some may see this as an "adult man wasting an incredible amount of time," but that doing it was a lot of fun and it brought happiness to others.
"My wife, Kristi, and I really enjoy creating things, and we want to pass that love on to our children," Royce said. "This has also been a really hard year for a lot of people, and doing things that make other people smile is really what it's all about."
In fact, the Royce family lives on a busy road in Sandy — along 1300 East — which allows for a lot of traffic to pass by. Several cars drove by slowly, with one stopping with a gift for the family just for making them smile.
"One car stopped and insisted we take $20 to buy pizza for making their day happy," Royce said. "I'm glad it was able to bring happiness to others."
Royce said that the Snow Guru is still standing strong, but he knows it will only be a matter of time before it succumbs to the elements.
Then again, perhaps just like its predecessor, Baby Yoda will remain in "force ghost" form — until next time.
---
×
Photos
More stories you may be interested in