PROVO — BYU's three seniors of Alex Barcello, Matt Haarms and Brandon Averette were a combined 0-for-11 in the first half of a college basketball game that can only be described as offensive in its lack of offensive efficiency.
That wasn't going to work for them, especially on senior night.
The senior trio combined to shoot 4-of-5 to open the second half, and Trevin Knell had a team-high 15 points and four rebounds to help BYU pull away from West Coast Conference rival Saint Mary's 65-51 in the regular-season finale Saturday night in the Marriott Center.
Averette finished with 11 points, two rebounds and three assists; Haarms added 11 points, a season-high 10 rebounds and five blocked shots; and Barcello had 8 points, five rebounds and five assists for the Cougars.
After the game, the three seniors took the mic to thank the crowd of around 1,700 fans in the build and their families. Even Haarms, who grew up in Amsterdam, was visibly surprised when his parents virtually strolled into the Marriott Center via Zoom during a pregame ceremony, and both he and Barcello, roommates, spent several moments after the game on the court — one last time — taking photos with their girlfriends and loved ones.
"It was special," Averette said. "I finally got a chance to thank all the people who embraced me since day one. It was definitely a great experience, and I love that coach (Mark) Pope put me on the spot. I didn't have any time to prepare anything; those words were all from the heart."
On a night where nobody could shoot well for more than 20 minutes, Knell often couldn't miss.
B 👏 Y 👏 U

Matt Haarms ❌
Alex Barcello 🎯
Trevin Knell 👌@ESPNU |@BYUbasketball#WCChoopspic.twitter.com/0rVdUSzglb

— WCC Basketball (@WCChoops) February 28, 2021
The sophomore from Woods Cross drained 5-of-6 shots from the field, including four 3-pointers, and was the first BYU player to reach double-digit scoring when his fourth three found the bottom of the net seven minutes into the second half.
That capped a 14-2 run that put BYU (19-5, 10-3 WCC) up 48-32 — its first double-digit lead of the game — and helped the Cougars pull away for good to cap a four-game winning streak in the regular-season finale.
"I'm going to be honest. I was really disappointed with Trevin last game; I felt like he came into the game worrying about the wrong things, like we all do sometimes," BYU coach Mark Pope said of the super sophomore. "I gave a long speech on Caleb Lohner worrying about the right things — and Trevin Knell got the message. It was awesome. He was awesome.
"He started out the game with two unbelievably great defensive possessions, came up with a huge rebound, was forceful playing off two feet — and when you do that, you make shots. He has a chance to be a really special player."
Knell hit the shots. But each one of them was for the seniors, only one of which (Haarms) has publicly stated he plans to turn pro after this season.
Pope made one final pitch — or maybe his first, or probably somewhere in between — to keep his three seniors and "recruit" them back for one more season. It was a pitch that struck all three seniors — Haarrms was nearly driven to tears, he admitted — but one that they won't think about.
Not yet, that is. They've got work to do. The West Coast Conference Tournament tips off next week, and Selection Sunday for the NCAA Tournament is just two weeks away. Next year's decisions will come — but not yet.
"This definitely was not the first time. But it was the first time he went public in front of Cougar Nation," Averette said with a laugh. "I love coach Pope. You'd rather have someone want you to come back than want you to leave. So I'll make that decision once the season is over. … I'll see what it is when the time comes."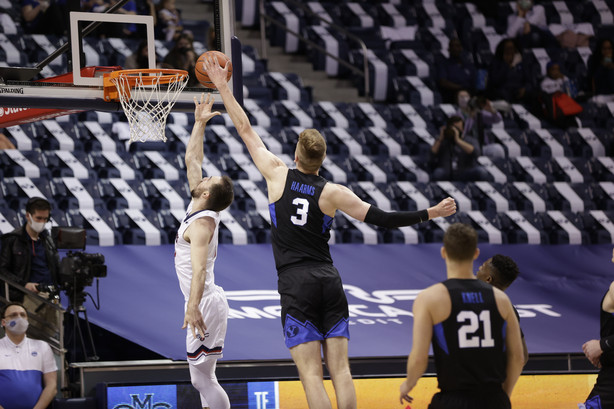 Matt Haarms blocks a shot during BYU's game against Saint Mary's, Saturday, Feb. 27, 2021 in Provo. (Photo: Nate Edwards, BYU Photo)
Gideon George had 11 points and four rebounds for BYU, including three 3-pointers, and Connor Harding supplied 7 points, his best game since Feb. 4.
Logan Johnson led Saint Mary's with 17 points and five rebounds, and Mathias Tass added 12 points and six rebounds for the Gaels (13-8, 4-6 WCC).
Two things that never went away, though: rebounding and defense. The Cougars outrebounded Saint Mary's 43-33, and Haarms' five blocks stuffed the Gaels, 5-2.
Saint Mary's had just four offensive rebounds, and was outpaced from the bench 22-8.
"Our main thing was physicality," Barcello said. "They're a really physical team, but we didn't want to lose that. It's something that has been working well for us.
"We didn't have the best shots, but we played really good defense and we were going to rely on that."
The Cougars struggled offensively early, but crept in front thanks to 3-pointers by Knell, George and Harding for a 14-12 advantage into the Under-8 media timeout.
The 3-point shot, and defense.
The Gaels opened making just three of their first 16 shots, including a pair of blocks by Haarms like the one that led to Knell's second 3-pointer in transition during a 6-0 start.
And yet, the two teams combined to score just seven field goals each — shooting 25% or worse in the first half — as BYU took a 23-18 edge into halftime. A rare beacon of defense, Haarms' five blocks in the first half were more free throws (4), 3-pointers (0) or offensive rebounds (2) had by the Gaels before the break.
📍 Matt Haarms Block Party @BYUbasketball | @ESPNU#WCChoopspic.twitter.com/9DArO7PAIK

— WCC Basketball (@WCChoops) February 28, 2021
Aside from Knell, who shot 2-for-3 for a team-high 7 points, two rebounds and an assist in the first half, no Cougar could make a shot until the seniors rallied the troops.
Averette, Barcello and Haarms combined to shoot 4-of-5 to open the second half — and the lid was off the basket.
After the seniors forced their way into the offense, Knell drained his third triple to cap a 12-2 run and put BYU up 39-30 with 13:12 remaining. The former Cal signee was the first Cougar to reach double digits when his 3-pointer found the bottom of the bucket just under seven minutes into the half, and the Gaels never threatened again.
And in the end, if it was the last time on that court of those three seniors, it was fun. One year after the Cougars had their breakout season — and likely return to the NCAA Tournament — unceremoniously canceled, and six months after there was doubt a college basketball season would be played, BYU finished a 24-game regular season and even managed to squeeze a few fans into the building during the final week to enjoy it.
"It was extremely, extremely fun," Barcello said. "That's probably the best word that I could describe, to go out there and play my last regular-season game and get a win for this team. It means a lot to me, and to see how excited the team was for us seniors … so they could send us off with a Dub in the Marriott Center.
"I feel really blessed to be able to come to BYU and play these last two seasons. I'm excited for the postseason now."
×
Photos
Related Stories
More stories you may be interested in