Perhaps like me, you're at a crossroads of fuel efficiency and utility. You like the gas mileage you get in a smaller car, but love the places a bigger, more adventure-geared car can take you.
If you find yourself in this seemingly impossible crossroads, there's finally a solution—the Honda CR-V Hybrid. I didn't really know what to expect with this test drive, as a hybrid can be a bit of a wild card. Fortunately, I was pleasantly surprised in every way.
The car rides very smoothly—almost too smoothly. (Just kidding, there's no such thing.) But going from a slow residential road to the speed of a freeway isn't jolting or difficult to transition. Additionally, stopping at a light and then going again is seamless. In my sedan, I can feel the automatic transmission shifting gears whenever I start going faster or even begin driving after sitting at a light. I kept waiting for the jolt of gears shifting in the 2021 Honda CR-V Hybrid, but it never came.
For the specifics about the engine and transmission, I'll let the experts at Car and Driver explain.
"Honda did its homework planting its first turbocharged engine—a 1.5-liter unit that makes 190 horsepower—in a CR-V and pairing it with one of the best continuously variable automatic transmissions (CVTs) available—praise we don't give lightly."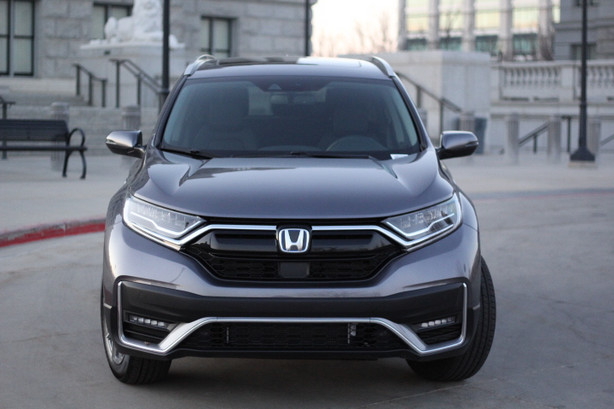 Gas mileage is something that's important to me—my dad is always concerned about getting the best mileage and I guess that rubbed off. According to US News, the 2021 Honda CR-V Hybrid can get 40 miles per gallon around the city.
Additionally, the range between fuel-ups is really impressive 440 highway miles.
I don't have much experience with hybrid cars as I previously mentioned, but I did like the features the Honda CR-V Hybrid has. You can choose when to use the battery power stored in the car by pushing a button, so if you know you'll be driving around town where you wouldn't get ideal gas mileage, you can opt for electric-only.
Perhaps the best part of the hybrid model is how it charges the electric battery. When you brake, you automatically start charging the battery, so if you're going downhill, you'll give your battery quite the boost. Think driving from Park City to Salt Lake City—some say you can charge your entire battery on that drive.
I drove my mom to the airport in the 2021 Honda CR-V Hybrid, and one of the first things she noticed about the car is how roomy it is. There's tons of legroom for both the passenger and those in the back seat. Plus, there's plenty of cargo space behind the back seat, making this an ideal car for road trips, outdoor adventures, and anything else you want to do.
While these aren't dealmakers or dealbreakers, I loved these couple of features on the car. You can choose to turn both of these features on or off, so if you like a feature but your spouse doesn't, you can turn it off later.
Walk away locking system
As a highly forgetful person, this feature is so reassuring for me. As long as you have the key with you, all you need to do is walk away from the car—it will lock itself. For an added measure of security, it will beep at you when it's locked up. This feature saved me a few extra trips to the car to make sure I actually locked it.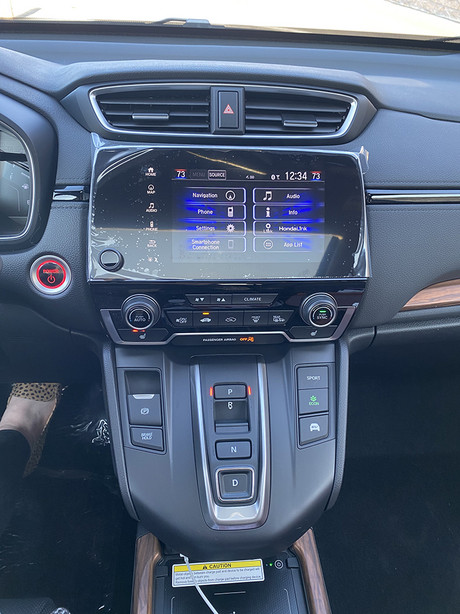 Brake hold at lights
If you've ever driven through the Fort Union area in Cottonwood Heights, you know how long you can be stuck at a stoplight before it turns green again. To save your foot the annoyance of holding the brake for what feels like eternities, you can use the brake hold function.
By pushing a button, you can brake at a light, let the feature engage, and then take your foot off the brake. Once the light turns green again, just gently press on the gas and you'll glide into the intersection. Not only was it really nice to let my leg stretch out a little bit, but it was shocking how smooth the transition from brake-hold to drive was.
These are just a few of my favorite features from my weekend test drive. For more information on everything the 2021 Honda CR-V Hybrid packs, visit Honda.com or check out your local Honda dealer.
×
More stories you may be interested in