The last F-150 I owned was a 1996. Back then it was America's most popular vehicle and had been since 1981, during Ronald Reagan's first term as president, notes Business Insider. Mine was pretty spartan with a vinyl bench seat and painted metal for the interior roof. Still, it was a big improvement over what I'd had before with an air-conditioned cab and hubs that didn't require you to get out of the truck to lock in the 4-wheel-drive.
The 2021 Ford F-150 was completely redesigned and a panel of 50 automotive journalists named it Truck of the Year, according to J.D. Power. After driving the 2021 version, it's easy to see why it won the title and why it remains the most popular vehicle in the U.S. after all these years.
I've driven many new vehicles over the past few years—many of them very nice. Still, I was highly impressed by the features on the Ford F-150 XLT version Utah Ford dealers provided for this test.
Every truck I own is treated like a truck. I have a mini-farm, so I haul hay, fence posts, dirt, rocks, lumber and anything else I need to move from one place to another. I like to explore Utah's backcountry, so I actually use the 4-wheel-drive in off-road situations. And sometimes I tow boats, camp trailers or anything else someone in the family needs me to pull.
I can't use test-drive vehicles quite the same way I use my own. I don't want to risk scratching up the bed or putting brush stripes down the side. But I don't hesitate to take them on some rougher roads where the 4-wheel-drive is needed and some mud gets thrown.
In this case, I drove the F-150 on dirt and rock roads on the west side of Utah Lake. It wasn't too wet, but I did feel the need to take it to a car wash before I returned it to the dealership. I also did some driving on I-15 and around the Salt Lake and Utah valleys.
The performance of everything I tested was flawless. Here are some of the things I liked most.
Interior comfort
It's been a while since I rode in a vehicle with cloth seats. So I was a little surprised to see them in this truck. But I actually liked the look and feel. I can't attest to their durability after 15 years, but the fabric seemed high-end. Every other aspect of the interior of this vehicle was primo.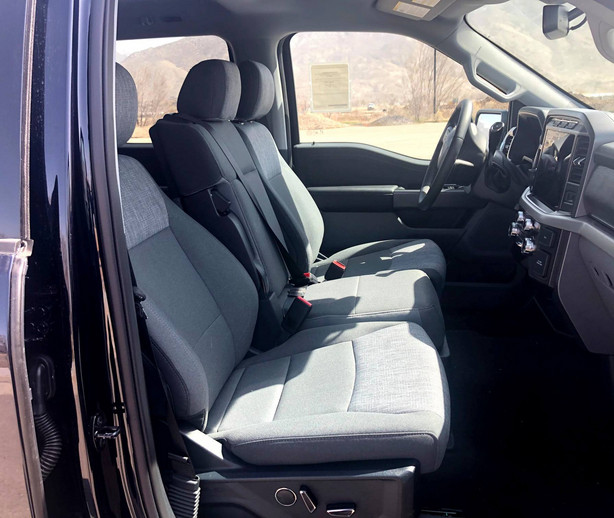 The front had a divided bench seat so you could fit three passengers if needed. The front driver's seat was as comfortable as anything I've sat in for years. (The next closest would be an Alfa Romeo Giulia Quadrifoglio.) My wife loved the passenger seat and wouldn't stop talking about it anytime she rode in it over several days.
I sat in the back seat and had plenty of legroom. The rear seat was not quite as comfortable as the front but was still better than the rear seats of almost all other vehicles I've been in.
Display and safety features
I've come to expect a nice display. Last year I drove a brand new Jeep Wrangler rental that had a 5-inch screen. It was very disappointing. In contrast, my F-150 test model was equipped with an optional 12-inch touchscreen that made it seem as if a laptop were built into the dash.
And if you're wondering why anyone would need such a large screen, the truck also provides a 360-degree view with cameras on every side—an amazing feature when you are trying to negotiate a tight parking spot or if you are hooking up a trailer.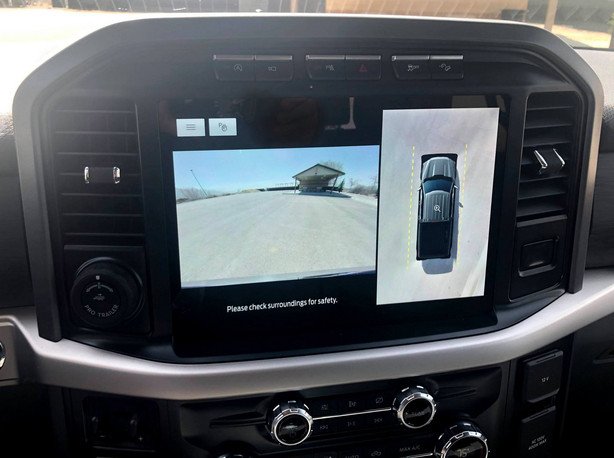 The safety features on today's new rides are incredible. If your vehicle is a few years old and you haven't experienced what's available, you really owe it to yourself to take a few test drives to see what you are missing.
The F-150 comes standard with automatic emergency braking and pedestrian detection. Available options include lane departure warning with lane-keeping assist and adaptive cruise control.
Economy, fuel consumption and power
Base model F-150s start at just under $29,000. But let's be real—no one really wants the base model. The XLT version I tested starts at $35,050. The sticker price on the truck (which included numerous upgrades) was $58,515.
When it comes to fuel efficiency, the F-150 outshines all its competitors. The EPA estimates the 2021 F-150 with the turbocharged 2.7-liter V-6 will get as much as 20 mpg city and 26 highway. That's better than many mid-size SUVs.
The Ford F-150 comes with six available engines, including a V6 hybrid. Most of those configurations offer best-in-class power for towing and payload.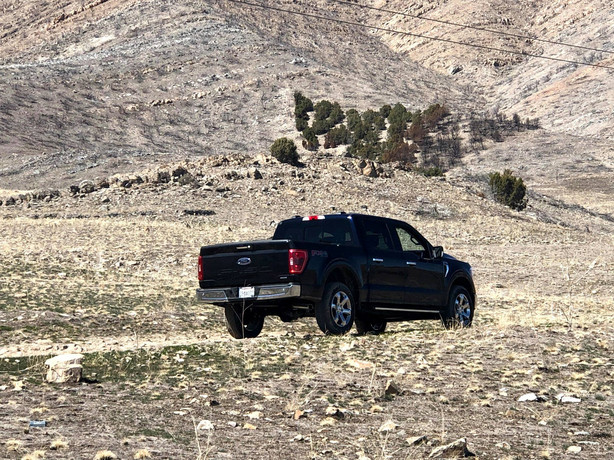 Other unique features
It would be difficult to list all of the available options across the F-150 lineup, but here are some that stand out.
The test drive truck had 360-degree zone lighting, which allows you to turn on exterior lights for specific sections of the truck including the bed. The lights are controlled from the infotainment screen or the FordPass smartphone app.
One option that can be added to some top-end F-150 models are new max-recline seats. In redesigning the new F-150, Ford studied how people used their pickups in real-world settings. They noted that many people who use their trucks for work also sometimes use them for naps during downtime.
[embedded content]
I'm a big fan of naps and on more than a handful of occasions I've had to sleep overnight in a vehicle, including an uncomfortable night in a Corvette with a seat that didn't recline even an inch. While I didn't get a chance to test this particular feature, if I were buying a new Ford F-150, it would definitely be on my wish list.
Another feature you won't find on other brands is Ford's Pro Power Onboard. Located in the bed, it allows you to use your F-150 like a mobile generator. Whether you want to power a reciprocating saw out in the field or run a CPAP machine on a camping trip, it's certainly something that will come in handy.
This is just a taste of the many features you'll find on the new F-150. I don't even have space to elaborate on the new flat interior workspace that allows you to essentially have a desk in your truck or the additional locking storage that you won't find on any other truck.
U.S. News ranked the Ford F-150 No. 1 among full-sized trucks, writing "The Ford F-150 is an excellent full-size pickup truck. It has a diverse lineup of potent powertrains, including V6, V8, and diesel engine options, as well as a brand-new hybrid. The F-150 has poised handling and a smooth ride, and none of its classmates can tow or haul as much. Inside, you'll find a well-crafted cabin, spacious seats, and easy-to-use tech features. This Ford even earns a great predicted reliability rating."
With so many vehicle experts putting the new F-150 at the top of the full-size truck class, there are obviously a plethora of reasons. If you're in the market for a new full-size pickup, you owe it to yourself to check out the 2021 Ford F-150.
×
Photos
More stories you may be interested in