SALT LAKE CITY — Utah finally got it done.
Not only did the Utes break their 13-game losing streak on the road in Pac-12 play, they dominated from the moment the ball was tipped off Thursday night until the final whistle blew to the tune of a 71-56 win over Washington State.
"We're happy that we finally got one out on the road and not just at home — kind of got out of that drought," said sophomore center Branden Carlson, who got his first road win in his time with Utah. "We just need to keep up this pace and this energy."
Utah (6-6, 3-5) got it done Thursday with a high-powered offensive performance that was made possible by a strong passing night by Rylan Jones. The sophomore guard, who has taken a bit of a backseat this season after a stellar freshman season, put together a passing clinic that set up his teammates for quick buckets to help the team score at a high clip.
In short, he was the floor general that Utah needed to be consistent throughout the duration of the game.
"I know he wants to see more shots going in, but for him to do the floor general role that he had tonight and get as many assists, I'll take it," Utah head coach Larry Krystkowiak said. "He ran the club for us, took a charge, made some big plays defensively."
In the first half alone, the Utes shot 67% from the field and had 12 assists on 18 made baskets, and had three players in double figures. Carlson, who was added back to the starting unit for the first time in five games, had 12 of the team's 26 points in the paint in the first half and was a key contributor to a Utah team that jumped to a quick lead that included an 11-0 run en route to a 17-point halftime lead.
Carlson finished the night as the team's leading scorer against Washington State (9-5, 2-5) with 14 points, 10 rebounds and two blocks, and Jones finished with 5 points and 10 assists.
"I think he's playing with a lot of energy," Krystkowiak said of Carlson. "He hit the first bucket of the game — a little 10-footer, which we got a nice road bounce that went in. And sometimes it's strange … when a guy sees their first shot go in, sometimes that's a boost."
But for Jones and Carlson, it was a breakthrough for the season. The two got their "mojo" back, as Jones said, and used a dominant pick-and-roll operation against the Cougars to help Utah to a 38-point performance in the paint.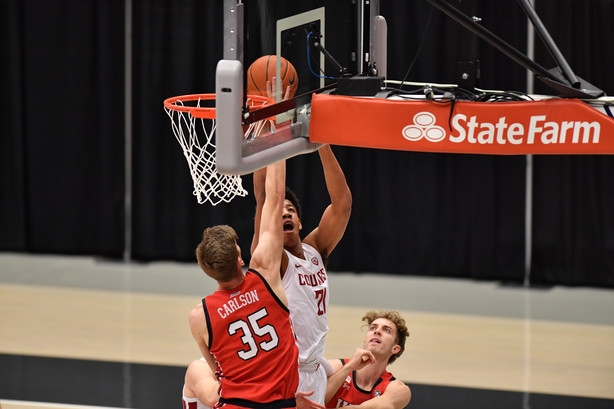 Utah's Branden Carlson blocks a bucket against Washington State on Jan. 21, 2021. (Photo: Photo Services, Washington State University)
Utah cooled down a bit in the second half, but still finished with a high shooting percentage, 55% from the field, as Jones continued to set up his teammates for easy buckets. The Utes eventually built up a 21-point lead, their largest of the game, before coasting to the win and calling on the bench to finish the game with just under a minute left to play in regulation.
Not everything was perfect for Utah, though, which finished with 16 turnovers, including nine in the second half that led to 12 points for Washington State. But the Utes made up for it offensively, which has been something Utah has struggled with for much of the season.
"I thought the guys did a good job sharing it — just a few of those turnovers late I thought were costly — but it's a good win for the Utes; a really good win — a little feel-good medicine," Krystkowiak said.
Utah had five players score in double figures, including 13 points from junior forward Timmy Allen, who also added six rebounds and two assists. Alfonso Plummer and Riley Battin, who came off the bench, added 12 points apiece and Mikael Jantunen added 10 points in the win.
[embedded content]
And though the offensive performance helped lead Utah to a 15-point win on the road, it was equally their defensive stand that helped the Utes keep the Cougars from making a second-half run.
Washington State's Isaac Bonton finished with only 4 points in the loss, 3 of which came in the first half, on a night where Utah limited the Cougars to 38% shooting from the field. Bonton averages 18.9 points per game as the team's leading scorer, but the Utes frustrated the guard all night and limited his impact on the game.
Noah Williams was a bright spot for the Cougars as one of the only players that could get a bucket to drop. He led the Cougars with 17 points before he checked himself out of the game for a time in the second half due to an injury.
"I'm just not going to get too high and too low, and I'm not gonna make it a statement that this is the jumpstart you need; it's a marathon, we're in the middle of miles, early miles, and we're going to keep grinding and keep trying to make plays and very much stay in the moment," Krystkowiak said. "I know it's nice for our guys. Winning a game is medicinal; it makes you feel good, you get out on the road."
×
Related Links
Related Stories
More stories you may be interested in