LAS VEGAS — BYU was just about perfect in the first half of its West Coast Conference Tournament final against No. 1 Gonzaga.
Not perfect enough, though.
Jalen Suggs had 23 points, five rebounds and five assists, and Kispert scored 14 of his 17 points in the second half to help Gonzaga overturn a 12-point halftime deficit and rally by BYU, 88-78, to clinch the West Coast Conference Tournament title Tuesday night at Orleans Arena.
Joel Ayayi added 18 points and nine rebounds for the Zags, who improved to 26-0 with their program-record 30th consecutive victory dating back to last season. They'll be the first team since Kentucky in 2015 to enter the NCAA Tournament with an unbeaten record.
"We finally can acknowledge that this is a big deal," Gonzaga coach Mark Few said. "It puts us in some great company.
"It's really a heck of an accomplishment in these atmospheres that are so stale and sterile, and lend themselves to defensive efforts like we had in the first half. What a perfect effort to go through 2021."
But Tuesday's game was anything but easy for Gonzaga. In fact, it was the second-lowest margin of victory by the Zags this season.
Trevin Knell had a career-best 20 points, including five 3-pointers, to lead BYU; and Alex Barcello added 15 points, six rebounds and four assists; and Matt Haarms supplied 13 points, four rebounds and a blocked shot for the Cougars, who led by as much as 14 in the first half.
"Like everybody on our team, he can step up and make big plays for us," BYU coach Mark Pope said, "and he did tonight."
"Gonzaga's a great team," Pope added. "They're clearly super talented, well coached, and they did everything they needed to do to win. I couldn't be more proud of my guys.
"We addressed a lot of the concerns we had coming into the game. Our guys addressed it really well; we just couldn't get it done. Super disappointing, but I'm really proud of our team and proud of our guys."
Brandon Averette had 11 points and four assists for the Cougars (20-6), and Gideon George added 11 points and five rebounds.
. @trevin_knell = 🪣 pic.twitter.com/2jyEEHYUb5

— BYU Basketball (@BYUbasketball) March 10, 2021
The Cougars played about as perfect of a first half as can be played against top-ranked Gonzaga. They shot 68% from the field, including 82.3% in effective field goals, outrebounding the Zags 17-13 with a 15-9 margin on the defensive glasses, and asserted themselves in the paint 18-16.
BYU opened the game by making 10 of its first 15 shots, including five 3-pointers, to put Gonzaga behind 26-19 midway through the first half. Knell buried three triples as BYU shot an unconscious 72% from the field en route to a 45-37 lead with 3:55 left in the half.
Knell drained 4-of-5 3-pointers before the break for a game-high 15 points, and the Cougars shot 68% from the field en route to an 82.3% effective field-goal percentage in the first half. Just two games after tying his career-high with 15 points in a 65-51 win over Saint Mary's in the regular-season finale, the Woods Cross product matched that output in the first half alone — and against the No. 1-rated team in the country.
"I thought we started out great," Barcello said. "Our mindset was great. … It's hard to beat a team three times, and we knew if any team's going to beat them, we were going to be the team. We were locked in, coming out of last night. Guys were really focused on being physical, on rebounding, and Gonzaga responded in the second half."
If everyone knows how good the Zags were, they are and will be until someone proves them otherwise, many notice of how good BYU can be. The Cougars have quietly received 93 votes in the Associated Press Top 25, an unofficial ranking of 26th nationally, and rate 19th in the NCAA's NET ratings and 23rd in KenPom.
The computers love BYU basketball — and in many ways, so does Gonzaga coach Mark Few.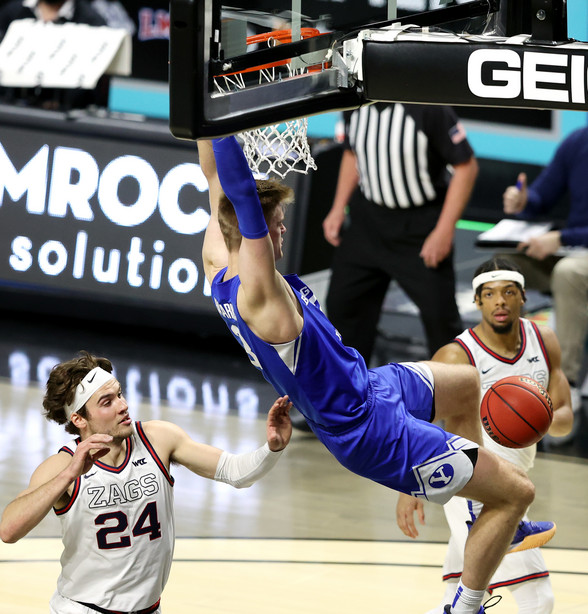 BYU forward Matt Haarms (3) dunks over Gonzaga forward Corey Kispert (24) as BYU and Gonzaga play in the finals of the West Coast Conference tournament at the Orleans Arena in Las Vegas on Tuesday, March 9, 2021. (Photo: Scott G Winterton, Deseret News)
"This was a great game for us," Few said. "We got punched in the face, and I hope everybody took notice of just how good this BYU team is. They have rim protection in Haarms, shooters on the perimeter, excellent ball screen readers and decision makers in Barcello and Averette; that's a very, very good basketball team.
"They pushed us to the brink tonight, and I give them a lot of credit."
It all amounted to a 53-41 lead at the break. But the Zags weren't down.
Especially not Kispert.
The senior forward hit three 3-pointers out of the break and tied the game at 57-all from the free-throw line with 13:49 remaining. Then, while BYU was missing its first nine 3-point attempts of the second half, Kispert led another 12-0 run that put the Zags up 71-68 with just six minutes left.
"I thought we played with great composure. Clearly, Gonzaga started to get to us and we were trying to punch our way inside," Barcello said. "We hit big shots in the first half, and the ball didn't bounce our way in the second half. We just kept battling. … Gonzaga did what they do, and they made a run."
Suggs hit back-to-back threes to key a 23-5 run late and helped the Zags pull away for good en route to their second consecutive WCC Tournament title and eighth in the last nine years.
Look out, here comes @ZagMBB!

55-52 BYU early in the 2nd half.

📺 ESPN
📍 @UCU_LA#WCChoops Tournament pic.twitter.com/Whiyso2YjU

— WCC Basketball (@WCChoops) March 10, 2021
"We couldn't stop them," Few said. "They had us on roller skaters, and were just out-competing us and beating us to balls — but also executing their offense and making big shots. I think they showed themselves to be a heck of a team, a top-25 level team.
"We need a game like that. We got punched in the face, and got back together at halftime then came out sticking to the plan. Our offense got going because of our defense, and we were able to get a good win."
Now both teams will await Selection Sunday, where both are projected to comfortably make the field of 68. Gonzaga is likely to be the No. 1 overall seed, the country's only undefeated team, and the favorite to win its first national title in school history.
But BYU? They proved they belong, answering every question from a few rare stumbles during the regular season and an ugly semifinal win over Pepperdine. Even in defeat, the Cougars looked like an NCAA Tournament squad — something no BYU team has done since 2015 (thought the 2019-20 team was projected to be before the coronavirus pandemic canceled the tournament). ESPN's Joe Lunardi projects the Cougars as a No. 7 seed, with a first-round matchup against Rutgers or some similar Power Five opponent.
Even though they didn't leave with any hardware — marking 20 straight years since BYU basketball has won a conference tournament — the Cougars leave the Southern Nevada desert successful.
It was almost a perfect trip for BYU. For Gonzaga, it was perfect.
For both teams: next stop, March Madness.
"I've been dreaming of playing college basketball in March since I was playing on my Little Tikes hoop," Suggs said. "A lot of the credit goes to my guys, to the coaching staff. They ran with me. Everybody made plays; neither one of us could've done it without the other.
"It's such a special group, and to be a part of it, I'm blessed, honestly."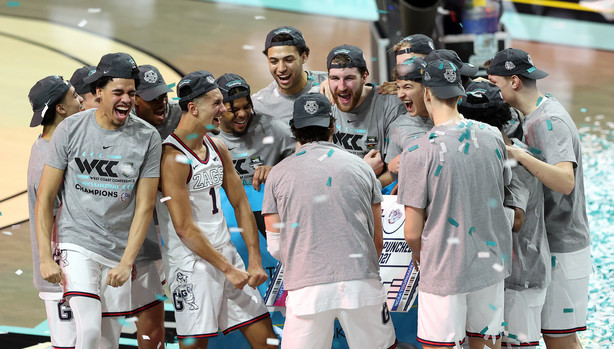 Gonzaga celebrates after defeating BYU in the finals of the West Coast Conference tournament at the Orleans Arena in Las Vegas on Tuesday, March 9, 2021. Gonzaga won 88-78. (Photo: Scott G Winterton, Deseret News)
WCC All-Tournament Team
Corey Kispert, Gonzaga
Drew Timme, Gonzaga
Alex Barcello, BYU
Colbey Ross, Pepperdine
Most Outstanding Player: Jalen Suggs, Gonzaga
×
Photos
Related Stories
More stories you may be interested in