Delivery services aren't a new concept. Grubhub started serving up fast food to your door in 2004, Amazon Prime debuted its 2-day delivery window in 2007, Uber started delivering people to their destinations in 2009 and Walmart began delivering groceries nationwide in 2018. But now there's a new delivery service on the scene: PonyEx, which made its big entrance to the delivery world in May 2021.
PonyEx founder, Dave Nelson, looked out into the world of delivery services and realized that while there was already a service for people, groceries, fast food and online goods, there wasn't a service for, well, everything else. That's where PonyEx comes in.
PonyEx has a team of drivers, much like an Uber driver, to deliver goods nearly anywhere in Utah.
How delivery on-demand works
The process is simple. Anyone with a smart device (tablet or phone) can order a delivery vehicle to pick up and drop off their items anywhere within the PonyEx service area. Prices are based on the size of the goods to be delivered, ranging from items small enough to fit on the front seat of a passenger vehicle to loads big enough to fill a box truck. For example, you could have someone deliver a game of Scrabble to your mom, or you could have a vintage table set delivered from that estate sale down the road.
During checkout, you note the pick-up and drop-off addresses, time of pick-up, delivery window, contact information for each location and any additional information necessary to explain how the pick-up and drop-off should go. Goods can be delivered in as little as two hours or scheduled as far as 7 days ahead. Customers have expressed how PonyEX has saved them in desperate situations—at times delivering items even within the hour.
For a fee, customers can also request load or unload assistance be included in the delivery.
[embedded content]
Customers have already been coming up with creative ways to use the service. Mary Bevan, COO at PonyEx, mentioned one customer who requested a delivery vehicle to drop items off at the dump. Another customer used the service's tracking and communication feature to coordinate with their driver a pick-up of a chair from Costco.
Other ways customers could utilize the service include:
Delivering a free dresser found on KSL Classifieds
Having a prescription brought directly to their home
Getting more wooden beams from Home Depot or Lowe's
Delivering a gravel, dirt, or bark order from a local nursery
Taking a truckload of donations to Goodwill
Picking up that new dresser from IKEA that comes in three different boxes
Small businesses discovering new ways of delivering their goods
Small businesses are also benefiting from PonyEx. With on-demand delivery now a staple service expected of most businesses, some small companies have struggled to maintain a service with reliable delivery times in addition to paying additional staff hired to drive delivery trucks. As a result, some customers choose to shop elsewhere or online where direct-to-home delivery is included.
PonyEx was designed to make delivery easy for small businesses. The convenient features of working with PonyEx include:
Real-time tracking and photo proof of delivery
Specific delivery windows
Improved customer rapport by allowing users to save "favorite" drivers
7-day customer support
Lower operational expenses by removing the need for delivery vehicles and additional personnel
Inventory repositioning services
Buy online, deliver from store capabilities
Effortless onboarding and API integration (coming soon)
Bevan has seen firsthand small businesses utilizing PonyEx Delivery's services, including a carpet company in Ogden which used the service to transfer its inventory. In a separate interview, one prospective customer said he hadn't been able to find a way to transport furniture from a local furniture store to his apartment. PonyEx made it possible for him to go forward with the purchase.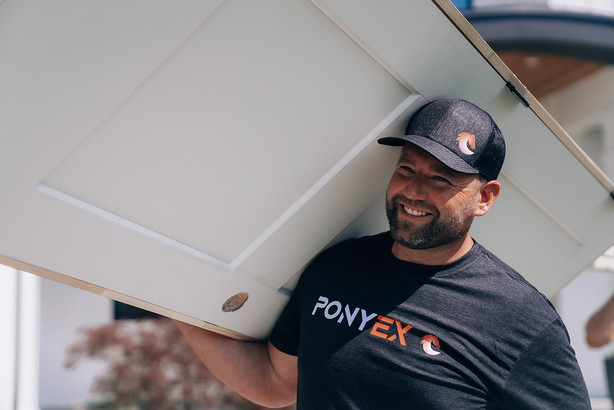 API integration is a new feature coming soon to PonyEx. With API, customers can make their purchases through a small business's website and their delivery information will be sent seamlessly to PonyEx during checkout, cutting out the middleman.
PonyEx Delivery is setting the stage to send a disruption through the delivery service market once more. Customers and small businesses can visit ponyex.com or download the app today to find out more about its delivery services or to place their first delivery order.
Interested in driving for PonyEx? They're hiring! If you're over age 18 with a driver's license, own a car or truck and can provide your own car insurance you can apply. Drivers are independent contractors, which means you make your own schedule and you get to choose which deliveries to take. Get paid weekly through direct deposit and earn up to $40 an hour. For more information, visit the PonyEx website.
×
More stories you may be interested in