AROUND THE SHIELD — One player enters Sunday's Super Bowl LV with the most league titles, and it isn't the quarterback of the defending champion Kansas City Chiefs.
On the other side of the field stands Tom Brady, the 43-year-old Tampa signal caller with six Super Bowl championships. But for the first time in his career, "Tampa Tom" will lead a different franchise into the NFL's marquee game.
After 19 years in New England and a lifetime of memories with the Patriots, Brady can become only the second quarterback in league history to win a franchise with more than one organization. A surefire Pro Football Hall of Famer when (or if, at this point) he decides to retire, Brady will look to join an exclusive club Sunday inside the Buccaneers' home stadium in south Florida.
So even if the Chiefs are defending champions, and return virtually their entire team from last year's title (including quarterback Patrick Mahomes), it's easy to see why some might consider them underdogs.
Kansas City, for its part, certainly knows the enormous task in front of it.
"This is the biggest game of our lives, and we're playing against one of the best quarterbacks of our lives. The pressure's on," Chiefs defensive back Tyrann Mathieu said. "Obviously, it's going to be a great challenge. I can't speak highly enough of Tom Brady, and all the great things he's done and accomplished in his career.
"I know we're in for a four-quarter game. It's going to be tough, it's going to be a big one. But we'll be ready for it."
[embedded content]
While much of the country will be rooting for Brady to win his seventh Super Bowl and third in a different decade, the Beehive State will likely be decidedly pro-Chiefs. It's not just because of head coach and former BYU offensive lineman Andy Reid, either; Kansas City's roster includes three players from the state of Utah — BYU's Daniel Sorensen, Utah State's Darwin Thompson and Layton High's Marcus Kemp — as well as two assistant coaches in Utah's Alex Whittingham and Wayne County native and BYU grad Porter Ellett.
Former KSL TV broadcaster Jim Nantz will also be in the booth, calling his sixth Super Bowl and second of the past three years.
If you need another reason, here are four reasons why Utahns may watch the Super Bowl, as well as how to tune into this year's game.
Another for Andy
Reid's success last year finally proved he can win "the big one" as a head coach, though it was actually his second Super Bowl. After winning Super Bowl XXXI as an assistant with the Packers in 1997, the 62-year-old BYU graduate has his team on the precipice of a rare repeat championship.
A win Sunday would make Reid just the 14th coach in league history to win multiple Super Bowl titles, and just the seventh to capture repeat championships.
Among those who have completed the feat before: Vince Lombardi, Don Shula, Jimmy Johnson and Bill Belichick.
Not bad company for the devout member of The Church of Jesus Christ of Latter-day Saints.
On the other side, Tampa coach Bruce Arians could become the oldest Super Bowl-winning coach in league history. The 68-year-old Arians didn't become a head coach until he was 60, but he was the Steelers' offensive coordinator during a win over the Cardinals in Super Bowl XLIII in 2009.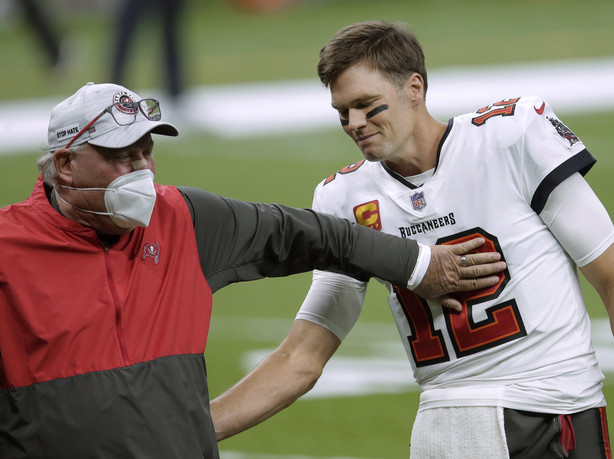 In this Jan. 17, 2021, file photo, Tampa Bay Buccaneers coach Bruce Arians, left, speaks with quarterback Tom Brady before the team's NFL divisional round playoff football game against the New Orleans Saints in New Orleans. Both Andy Reid and Arians are considered players' coaches, though they do it in different ways. It's a quality that's helped them reach the Super Bowl. (Photo: Brett Duke, Associated Press)
GOAT-maker
Of course, to accomplish history, Reid and the Chiefs will have to make it past Brady and the Buccs.
Brady, Peyton Manning and Eli Manning are the only quarterbacks who have won a Super Bowl in multiple decades, and Brady would stand alone as the only signal-caller with a ring in three separate decades Sunday.
His three-in-four-year run from 2001-04 stands as one of the more dominant runs in NFL history, perhaps topped only by the three-in-five-years he won from 2014-18. Brady is 6-3 all-time in Super Bowl competition ahead of his 10th title game.
[embedded content]
Super Bowl-19
Naturally, one of the biggest storylines on Super Bowl Sunday won't be seen at all. It will be the microscopic virus known as COVID-19 that has upended the world over the past year — and the NFL has been no exception.
From playing in empty stadiums without fans to protocols that have suspended games and shuffled rosters more than anything in the NFL's modern history, the league still managed to play every single game scheduled among all 32 teams over 17 weeks, plus a four-week expanded playoff. Many of those games looked different, but so will your Super Bowl watch party this year.
The NFL will allow 25,000 fans into Raymond James Stadium to watch the Super Bowl, and that group will include 7,500 fully vaccinated frontline healthcare workers from the league's 32 markets (in addition to a group of attendees that includes Tom Brady's parents).
"These dedicated health care workers continue to put their own lives at risk to serve others, and we owe them our ongoing gratitude," NFL commissioner Roger Goodell said when he announced the attendance plans. "We hope in a small way that this initiative will inspire our country and recognize these true American heroes. This is also an opportunity to promote the importance of vaccination and appropriate health practices, including wearing masks in public settings."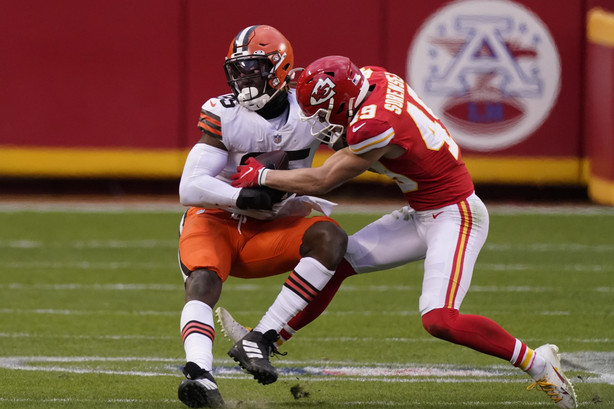 Cleveland Browns tight end David Njoku, left, is tackled by Kansas City Chiefs safety Daniel Sorensen, right, after catching a pass during the second half of an NFL divisional round football game, Sunday, Jan. 17, 2021, in Kansas City. (Photo: Charlie Riedel, Associated Press)
Dirty Dan does it again
Among the Chiefs' attempts to "run it back" is former BYU safety Daniel Sorensen. The undrafted free agent in 2014 has spent his entire professional career with the Chiefs and currently leads the club with 68 tackles and three interceptions.
His dedication to Kansas City — the only franchise whose head coach called him as a free agent out of college — and tenacious play on the field has earned him the nickname "Dirty Dan" and endeared him to Chiefs fans for years to come.
Even if many still don't know what that nickname means.
"The nickname can mean a lot of things to different people," Sorensen explained. "A lot of people may not ever understand what it means. What it means to me is that when I step on the field, I play with a lot of heart and passion, a lot of grit, a lot of toughness.
"That's something I try to embody in the style of my preparation, my practice and the way that I play on Sundays."
How to watch, stream and listen to the game
It's hard to imagine anyone hasn't heard of how to watch or view the biggest sporting event annually on the North American calendar (though an entire industry of "Last Man" has sprung up of people who try to avoid the game every year).
But just in case you are still looking, here are the broadcast details.
Kickoff: 4:30 p.m. MT
TV: CBS (Jim Nantz, Tony Romo)
Streaming: CBS All Access and CBS Sports app
Radio: Westwood One (Kevin Harlan, Kurt Warner)
×
Related Stories
More stories you may be interested in