SALT LAKE CITY — Mike Conley remembers the moment well — even if at the time he didn't think much of it.
It was in the final 45 seconds of Utah's 105-104 loss to the Minnesota Timberwolves, when Conley scored 26 points with seven assists and nine rebounds in 32 minutes — a loss remembered for many different reasons than a tight hamstring for the veteran point guard — when he pulled up and felt something off on his upper leg.
Conley played through the issue, but took note of it. He let the team's medical staff know about it, too, and they promised to check it out after the game.
"It felt a little bit different than it had been," Conley told reporters after shootaround Friday morning before the club's upcoming game at Oklahoma City (6 p.m. MT, AT&T SportsNet RM). "That caused us to shut it down a bit. The last few weeks, I've been working on strength and conditioning; a lot of lifting, a lot of getting the body right for what's best for the team."
The 33-year-old guard was officially diagnosed with hamstring tightness, and he hasn't played since April 26. The injury seems mild right now, but at Conley's age and after 14 seasons in the league, it can easily devolve into something greater.
So the Jazz sat him on the bench and helped him recover, even if it led to an up-and-down run of games that coincided with Utah's other All-Star guard Donovan Mitchell, who had already been pronounced out with a lower-ankle sprain, sitting next to Conley on the bench. The two could only watch while their teammates put together some runs, some losses, and tried to keep hold of the No. 1 seed in the Western Conference for the playoffs.
Because that's what matters most: the playoffs. And Conley wants to make sure he's ready for that.
📹| "I think the best thing for me … at this moment I feel like it's the perfect time to get some time to run up and down the court."#ShootaroundInterviews | @ZionsBankpic.twitter.com/syANyZ22aB

— utahjazz (@utahjazz) May 14, 2021
"It's a decision I don't always like. I don't like to sit and watch," said Conley, who started in Friday's return to play but will likely be on a minutes restriction. "But I thought it did a lot of good for our team. A lot of guys stepped up in different roles."
The Jazz will closely watch Conley's minutes Friday, though how much the All-Star guard will play wasn't something head coach Quin Snyder wanted to discuss. He never does, and that's in part because the nature of basketball is a fluid game, and so is a recovering player's reaction to an increased workload.
But Conley will play — the question was never about if he'd come back before the end of the regular season, but simply "when" and "how much." He'll play Friday, and depending on how he feels, the Jazz will "ramp up" or down for Sunday's regular-season finale in Sacramento, as well as next week while waiting through the league's play-in tournament to determine Utah's first-round opponent.
"I think in this case, you're weighing a lot of factors," Snyder said. "That's been the case while Mike has been out, and that will continue to be the case. We're having that dialogue and those discussions routinely, daily; not just about Mike, but other guys who are healthy or facing things that are nagging."
Sitting on the bench hasn't been all bad. With more than a dozen years in the NBA and two in Utah, the former Ohio State point guard who averages 16.4 points and 6.0 assists per game has been active on the bench, an extra assistant coach for Utah's backcourt.
He's watched as seldom-used shooting guard Trent Forrest had an unexpected, career-defining game to help in a 106-102 win over the Toronto Raptors, and he's seen Georges Niang's role expand beyond what it may have ever been had Conley and Mitchell not gone down.
He saw Jordan Clarkson adapt to a (temporary) new normal, going from sixth man to one of the team's most important scorers, and he marveled when Bojan Bogdanovich busted out a career-high 48 points a few nights later before joining Mitchell and Clarkson in dousing the European sharpshooter with a water bottle shower during a postgame television interview.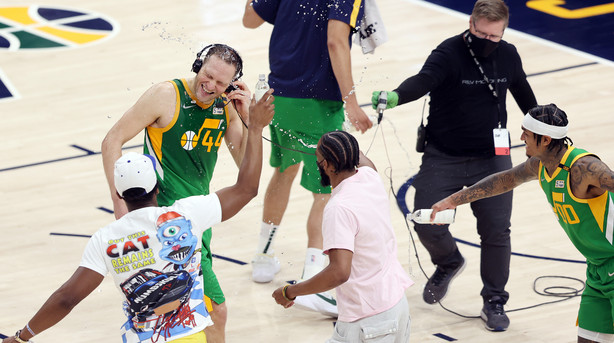 It's good to build momentum for the playoffs, which Conley hopes to do by returning for the final two-game road swing of the regular season. But with the Jazz sitting idle and awaiting the top two teams to advance from the NBA's new four-team play-in tournament, he also knows it's important for other players to find and expound on their roles.
"You want to be winning going into the playoffs," Conley said. "But it's also how your team benefits, overall. Obviously, without Donovan and myself, we've had to play with different lineups.
"I've been on teams where we lost three in a row going into the first playoff series, and we won the series. It's all about the guys focusing on being locked in and focusing on the task at hand."
Playoff update
The Phoenix Suns snapped Portland's five-game winning streak in crushing fashion Thursday night, when Devin Booker was sent to the free-throw line in the final seconds of the game to hold off Damian Lillard and the Trail Blazers, 118-117.
The win pulls Phoenix within one game of the Jazz for the top spot in the West. Of course, it will mean nothing if the Jazz win out, starting Friday against the Thunder and Sunday at Sacramento (7 p.m. MT, AT&T SportsNet RM).
For as much as Utah may have appreciated the help from Lillard's side to the No. 1 seed, the quickest path home-court advantage through the conference finals is buoyed in the immortal words of the late Raiders owner Al Davis: "Just win, baby."
Playoff tickets are 𝐇𝐄𝐑𝐄 🎟🎟🎟

Join us ⤵️https://t.co/r9q0dHKTMvpic.twitter.com/7Sf9JhoF9q

— utahjazz (@utahjazz) May 14, 2021
Postseason expansion
The Jazz will expand playoff seating to 13,000 across the lower bowl, upper bowl and suites for the upcoming playoff games, the team announced Friday in coordination with guidelines approved by the Utah Department of Health and the NBA.
Current NBA arena policies such as mandatory masks and health screenings for fans will remain in place. All guests and staff age 2 and up must were a face covering over the nose and mouth throughout the arena unless actively eating or drinking, the team said.
Playoff tickets are now available to purchase at utahjazz.com and through the team's mobile app.
×
Related Stories
More stories you may be interested in