SALT LAKE CITY — The dynamic playmaker Britain Covey returned a punt 64 yards to give Utah a 20-point lead to open up the fourth quarter as Utah looked poised to comfortably claim its first win of an odd 2020 season.
But just like the unpredictable nature of the year, Oregon State was not ready to pack up and travel to Corvallis with a loss just yet. The Beavers reeled off two touchdowns just six minutes apart in the fourth quarter to make it a one-score game with 5:07 to play.
Utah dominated the game in the prior three quarters, but in the fourth quarter it only managed 21 yards of total offense — all from the run game — and looked like a shell of itself. Utah head coach Kyle Whittingham called the offensive play-calling "vanilla" and "nonimaginative" as Utah stalled drive after drive.
"Just kind of got too vanilla and too nonimaginative," Whittingham said. "We knew we wanted to milk the clock. It makes sense to milk the clock in that situation, but when milking the clock there's no reason to not stay creative and get some production. And that was awful to have there, three-and-outs right in a row at the end of the game when we could have put the game on ice. But we couldn't do it. We had three, three-and-outs in succession, which is unacceptable."
The defense held strong, however, and stopped Oregon State short of a come-from-behind win as Utah claimed a too-close-for-comfort 30-24 win Saturday night at Rice-Eccles Stadium. It's Utah's first win of the season, and it comes in December.
Early on, Utah (1-2) primarily chipped away at the Oregon State defense with freshman running back Ty Jordan, who finished with 189 all-purpose yards — 167 rushing yards and 22 receiving yards — and one touchdown, and junior tight end Brant Kuithe, who added 76 receiving yards in the win over the visiting Oregon State Beavers (2-3).
The win wasn't necessarily pretty, though, and one Whittingham certainly has some critiques about despite a win.
[embedded content]
Utah opened up its first three drives with field goals after driving deep into Oregon State territory — to the OSU 15-yard line, the OSU 2-yard line, and the OSU 9-yard line. All three drives were easy touchdown opportunities, too. Quarterback Jake Bentley missed throws on two separate drives to Kuithe on third downs, and another to Cole Fotheringham on an attempt that was too high on a delayed throw.
It should have been 21-0. Instead, Utah led Oregon State 9-0.
"We didn't score, we got field goals — that's a whole different deal," Whittingham said, cutting off the question posed to him. "But that was extremely frustrating to have those first three trips in the red zone end in field goals. The game should have been blown wide open earlier, and it was our inability to function how we need to in the red zone, our ineptness in the red zone, and that game should not have even been close early on."
Utah did eventually find the end zone on its fourth drive of the game. Jordan, who had a dominate performance as the team's starter, found pay dirt in 1-yard rushing touchdown up the middle for his first career touchdown to give Utah a 16-3 lead.
"It felt amazing," Jordan said, trying to articulate the emotion of scoring his first collegiate touchdown. "I don't know, I don't know how to explain it. It was just — I can't explain it with words. It was just so amazing, so exhilarating. I grew up my whole life wanting and dreaming to be a college athlete, and now I'm here experiencing my first couple of games and my first touchdown — that was just amazing.
"I felt like I made my mom proud."
Oregon State closed out the half with a score of its own in what was a "gifted" touchdown, according to Whittingham, due to four penalties that all resulted in first downs and big gains — two personal fouls, a targeting foul against Malone Mataele inside Utah's 5-yard line, and a holding penalty to put the Beavers on the 1-yard line.
All it took was running back Calvin Tyler punching it into the end zone to cap off the 9-play, 75-yard drive.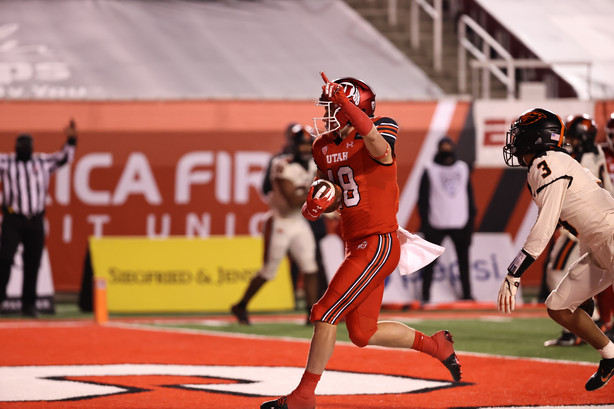 Utah answered back in the second half as Bentley, who finished throwing for 18-of-27, and passing for 174 yards and one touchdown, led Utah on a 14-play, 89-yard drive that was capped off with a 7-yard toss to Britain Covey for a score — his first touchdown since 2018. But most importantly for Utah, it was the team's first score of the second half in a game this season.
Covey added another score to start the fourth quarter on a 64-yard punt return; it was Covey's second career punt return for a touchdown — his last coming in 2015 as a true freshman.
"It was nice," Covey said, while referencing a string of injuries that have sidelined him for the better part of almost two years. "I came into this game more excited than any other game these past two years just because I knew that when I lined up I wouldn't be thinking about any injury or any part of my body — I could think about my assignment. So it felt great. To keep it short, it felt amazing."
A week after upsetting top-ranked Oregon in the Pac-12, Oregon State entered its matchup against Utah without starting quarterback Tristan Gebbia and starting running back Jermar Jefferson, the Pac-12's leading rusher this season. The absence of Jefferson, alone, was a big enough difference for Utah to have its way with Oregon State.
But Oregon State made it interesting late with a 21-yard toss from backup quarterback Chance Nolan that was caught by Kolby Taylor in the end zone for a touchdown, making it a 6-point game with just over 5 minutes to play. The throw went through three Utah defenders and landed in Taylor's hands.
Utah and Oregon State traded drives with little to show for it from either team, and Utah held on to secure a too close-for-comfort victory.
Nolan finished the night throwing for 202 yards and one touchdown on 20-of-38 passing as Oregon State amassed 335 total yards of offense. The Beavers managed 133 rushing yards in the loss, but became the first opponent this season to rush over 100 yards against the Utes.
×
Related Links
More stories you may be interested in