LOGAN — Utah State faced a must-win game as it returned to the Dee Glenn Smith Spectrum for its first home game since Jan. 21 amid a snow storm that hit Cache Valley.
Like the blizzard outside, Nevada hit the Aggies with force that threatened to hand Utah State only its second three-game losing streak under second-year coach Craig Smith.
But also like the storm outside, Utah State plowed through.
Justin Bean had 19 points, 10 rebounds, three assists and three steals, and Neemias Queta added 16 points, 17 rebounds and three blocks as Utah State held on for win over the Wolf Pack, 75-72, Friday night to keep pace with the top three in the Mountain West Conference.
Desmond Cambridge had a game-high 23 points for Nevada, and Tre Coleman added 10 points, five rebounds and three assists for the Wolf Pack. Grant Sherfield added 11 points and six assists for Nevada (14-8, 9-6 MW).
It wasn't always pretty; it was often ugly. But after going on the road and dropping back-to-back games against Boise State — the third and fourth loss in a six-game stretch, mostly away from the Spectrum — Utah State just needed a win. Forget NCAA Tournament resumes or Mountain West tournament seeding; they just needed to remember what it felt like to chalk a 'W' in the right column.
"Any time you lose two in a row, you're down in the dumps," said Bean, who posted his fifth double-double of the season and 22nd of his career. "We knew we had to get this ship moving in the right direction, even if it could be difficult.
"We want every game to be a must-win game, but it felt good to get back in the win column."
🔥 @USUBasketball has been on FIRE from deep

The Aggies are 4 for 4 from beyond the arc this half after this @justinbean34 make! pic.twitter.com/OhkRXfzaI0

— FOX College Hoops (@CBBonFOX) February 27, 2021
Alphonso Anderson had 10 points, two rebounds and two assists for the Aggies, Brock Miller added 9 points and three rebounds on three 3-pointers, and Steven Ashworth had 9 points and two assists, including three key free throws in the final 30 seconds before holding off Cambridge's desperation three that nearly tied the game at the buzzer.
Utah State (15-7, 12-4 MW) led by as much as 21 points just two minutes into the second half. But Nevada used a high-low game to creep back in during the second half, pulling as close as four on Cambridge's 3-pointer with 1:16 remaining to trail just 71-67.
Robby Robinson finished at the rim to force a two-point game with only 31 seconds left, following an 11-2 run by the Wolf Pack. But Nevada could get no closer as Ashworth led an 18-of-27 free-throw effort to secure the win.
The Wolf Pack shot 46.9% from the field in the second half, including nine of their 13 3-pointers, to rally.
"Winning is very hard in college basketball; we all know that," USU coach Craig Smith said. "I thought we played very well in a lot of stretches, but obviously did not finish the game out like we wanted to. Part of that, you have to credit Nevada; Nevada is very good team.
"Both teams got off to a slow start, but they're good. Their record isn't what it is by accident. This is a team that just beat Boise State twice in their last games out. We were able to find a way down the stretch."
After a lengthy delay to the start of the Aggies' first home game sine Jan. 21 due to technical issues, Utah State jumped out to a 6-0 run. The Wolf Pack battled back to pull within a point, but Ashworth's three from the left elbow kept the hosts in front until Coleman's trey with 11:38 to go in the half.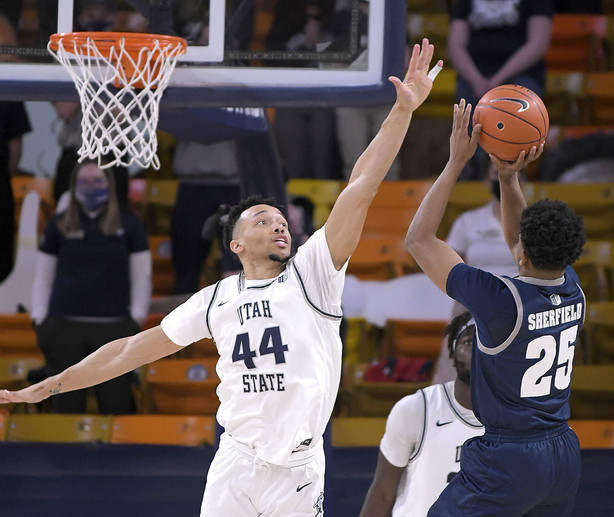 Marco Anthony defends a shot against Nevada, Friday, Feb. 26, 2021 in Logan. (Photo: Eli Lucero, The Herald Journal via AP, Pool)
But Ashworth found himself in the zone early and often.
The freshman who prepped at Lone Peak hit a pair of threes at crucial times for 6 points and added an assist to Max Shulga that helped spark an 11-2 run and give control back to the Aggies with a 25-16 lead with 4:58 left in the half.
"It was really fun and energizing," said Shulga, who had a career-high 7 points and two assists in 18 minutes. "Every time we would score, the fans would go crazy. Our energy went way up, and we just kept building on it.
"The ball movement was really good, really fast, and we got open shots a lot. They'd throw it to Neemi, he'd be double teamed, and he'd find the perimeter. It was really fun."
Anderson stretched the lead to 30-18 with a 3-pointer a minute later, and Queta added 10 points, eight rebounds and three blocked shots in the first half as Utah State outrebounded the Pack 20-15 en route to a 41-25 halftime lead.
44 ➡️ ➡️ 11 🔥#AggiesAllTheWaypic.twitter.com/q0kccwvRMG

— USU Men's Hoops (@USUBasketball) February 27, 2021
But the team ranked fifth in the conference that swept league-leading Boise State at home Feb. 5-7 — before a COVID-19 pause forced the postponement of a pair of series against San Jose State and Colorado State — just didn't give up.
Nor will they Sunday, when the two teams tip off again the Aggies' penultimate home game. Tipoff is scheduled for 5 p.m. MT on FS1 in what will certainly feel like another must-win game.
But this time, at least, it will feel that way for different reasons.
"Our mindset is every game is a must-win. We take a lot of pride in winning, especially at home," Bean said. "But we want to be peaking at the right time, not trending the other way. It's really important for us to focus on getting better each day."
×
More stories you may be interested in