OREM — Utah Valley men's basketball entered Friday night's Western Athletic Conference opener without a win over a Division I program.
It finished undefeated — at least in the frame that matters most for the low-major conference that is conference play.
J.J. Overton had 18 points, eight rebounds and three assists, and Fardaws Aimaq added 12 points and 14 rebounds to help Utah Valley roll to a 77-50 win Friday night over Cal Baptist to open Western Athletic Conference play.
Trey Woodbury supplied 11 points, three rebounds and three assists for the Wolverines (3-5, 1-0 WAC), who won their first game against a Division I opponent of the 2020-21 season in a game it led for all but 5:09 of game time.
Georgia Tech transfer Evan Cole had 8 points, eight rebounds and three assists in 29 minutes of play for UVU, whose game was marred by a second-half incident that led to a bench-clearing scuffle and multiple ejections from both teams.
Gorjok Gak had 14 points and seven rebounds to lead the Lancers (3-3, 0-1 WAC).
"Cal Baptist has a great team," UVU coach Mark Madsen said. "I hope no one misinterprets the final scorecard, because they do a great job.
"I was pleased with our guys; J.J. is one of the best defenders, really, in the country … and he gets better every day."
The Lancers hadn't played since a Dec. 12 home win over Division II Fresno Pacific. But it was CBU that got off to the fast start early, jumping out to a 7-2 lead in the opening minutes.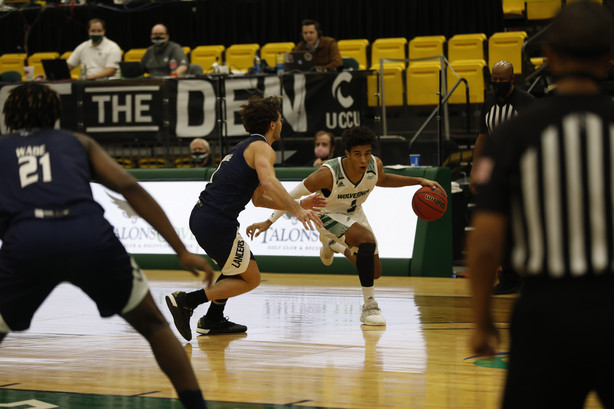 UVU guard Blaze Neild drives against Cal Baptist in a Western Athletic Conference basketball game, Friday, Jan. 8, 2021 in Orem. (Photo: Erik Flores, UVU Athletics)
Yet the Wolverines responded, going inside to Cole and Aimaq before BYU transfer Blaze Neild's 3-pointer capped an 11-2 spurt that gave UVU a 13-9 advantage with 14:24 to go.
The Wolverines didn't trail for the remainder of the first half, leading by as much as 19 on J.J. Overton's dunk with 5:45 on the clock en route to a 45-27 halftime advantage.
Utah Valley held the Lancers to just 32% shooting in the first half, including 4-of-12 from 3-point range. Although the Wolverines went just 2-of-8 from three themselves, the 30-11 rebounding disparity — led by the nation's leading rebounder in Aimaq, who had 12 points and 12 birds at the break — more than made up for the disparity from deep.
The Lancers cut the deficit as low as 11 with a 7-0 run to start the second half, capped by Gak's dunk with 17:40 left.
But UVU slammed the door on the comeback bid, responding with an 11-0 run of its own and Cal Baptist never threatened again.
The win proved cathartic for the Wolverines on the first day of conference play, following a start-stop nonconference slate that saw four games canceled, including the home opener against Madsen's alma mater Stanford.
J.J. Overton had 18 points, 8 rebounds and 3 assists — and got 🆙 ⬆️ on this dunk to lead @GoUVU to a 77-50 win over Cal Baptist in the Wolverines' @WACsports opener. https://t.co/XyyyDa810zpic.twitter.com/BAiPlQF0uf

— KSL.com Sports (@KSLcomSports) January 9, 2021
UVU went nearly three weeks between games, from a 75-67 loss to Utah on Dec. 15 to a 70-62 loss at Weber State on Jan. 2. The Wolverines haven't won a game since Dec. 2, when they held off Division II Westminster 79-71 in Orem.
"I know for all the teams in the country right now, it's hard," Madsen said. "We have players that aren't here, they have players that aren't here; that's going to be the challenge. We're just trying to adapt and handle it the best we can."
Yes, Friday's victory was Utah Valley's first against a Division I opponent, and that should've been the highlight of the game — but for an altercation that included seven technicals, including Aimaq for an emotional outburst that cleared both benches.
In all, eight players received a technical foul, and several — including Aimaq — were ejected.
"They played with such fire," Madsen said. "There was a situation on the court, but I thought both Cal Baptist and Utah Valley did a good job of de-escalating the situation.
"They were very good officials, and they studied the tape very carefully. They made one disqualification per team … I think we saw a situation where the official was right there, and my assistants were wrong to step on the court. But I would rather they err on the side of protecting the student-athletes."
The Wolverines will host the Lancers at 6 p.m. MT Saturday in the WAC's modified schedule of back-to-back, same-site games that will be the norm for seven of the next eight weeks.
"UVU had a good performance and got good execution tonight. But we need to follow that up with more good execution and another strong performance tonight to be able to compete," Madsen said. "Cal Baptist is a very good team, they're very well coached … it's a tremendous team, a tremendous program, and a tremendous university. But that's the nature of this season, and the challenge of any team this season."
×
Photos
More stories you may be interested in