SALT LAKE CITY — There's nothing more comforting than a nice, warm bowl of soup on a cold day. Since we've been seeing more snow and 30-degree days in Utah, it's time to make your cozy soup dreams come true with simple soup recipes that don't take a full day of simmering.
Here are 15 easy soup recipes from registered dietitians that will keep you warm and nourished.
I love this soup because it has lots of vegetables and super soft creamy beans. It's a great vegetarian soup for both vegetarians and meat-eaters alike. It's cooked in just 25-30 minutes, so it's a good option to make after a long day.
2. Lentil Potato Stew via KeyVion Miller of The Miller's Kitchen
KeyVion Miller's easy lentil potato soup recipe uses frozen kale and bouillon paste instead of chicken broth — both of which are fantastic ingredients to always keep on hand. This simple lentil potato stew is ready to go on your table in a half-hour.
3. Shrimp and Bok Choy Noodle Soup via registered dietitian Karman Meyer at The Nutrition Adventure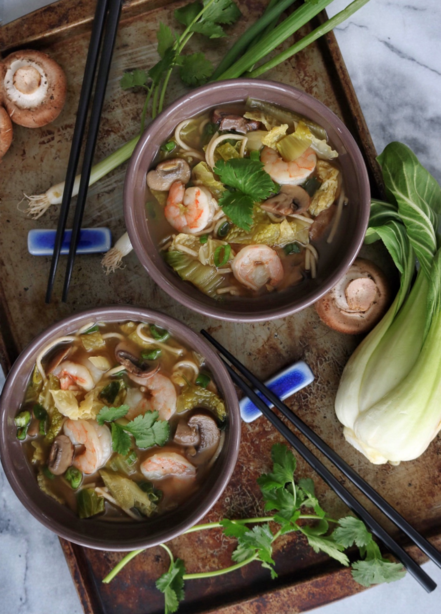 Shrimp & Bok Choy Noodle Soup (Photo: Karman Meyer)
Karman Meyer's noodle soup adaptation is perfect for a quick weeknight dinner. It's nourishing and super flavorful.
This chili recipe is so easy and packed with flavor. It's hard to believe it's done in just 30 minutes.
5. Vegetable Orzo Soup via registered dietitian Alena Kharlamenko at Alena Menko Nutrition
This veggie orzo soup is packed with vegetables, whole-wheat orzo and beans to fill you up with fiber. All you need is 5 minutes to prep the ingredients, and the soup is ready 25 minutes later.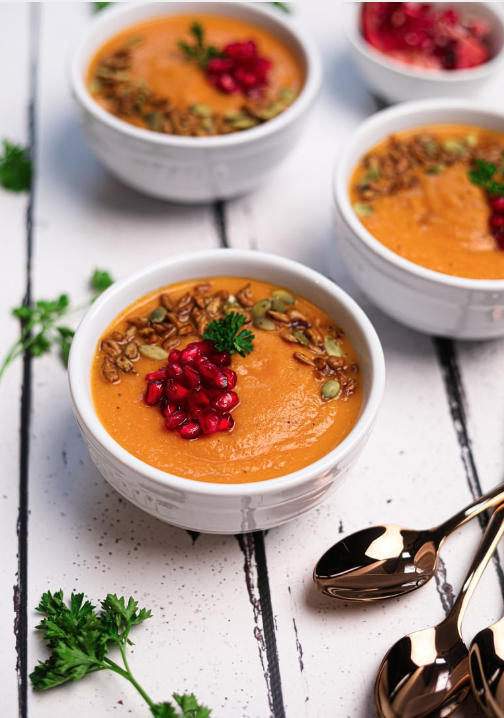 Instant Pot Tomato Soup with Fennel (Photo: Shahzadi Devje)
Shahzadi Devje adds fennel, cumin, sunflower seeds and pomegranate seeds to give this traditional tomato soup a delicious twist.
7. Creamy Chicken Enchilada Soup via registered dietitian nutritionist Melissa Macher at Grateful Meal Nutrition
Skip rolling and then baking enchiladas and just make this creamy, slightly spicy and veggie-filled enchilada soup. This soup is prepped in just 5 minutes and ready to eat in the same amount of time it takes to watch an episode of "The Office."
Thanks to a pressure cooker you can whip up this chicken noodle soup in no time. Chicken noodle soup is the epitome of a comforting soup, and the addition of kale makes for a great update on the classic recipe.
9. Instant Pot Miso Ginger Udon Noodle Soup via registered dietitian nutritionist Sarah Gold Anzlovar of Sarah Gold Nutrition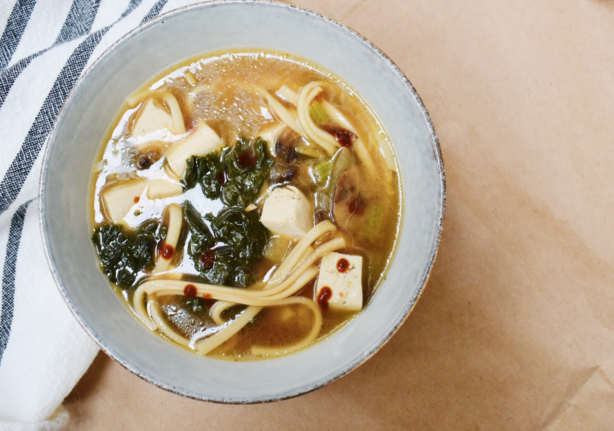 Instant Pot Miso Ginger Udon Noodle Soup (Photo: Sarah Gold Anzlovar)
There's something really comforting and cozy about miso soups. This miso ginger soup has thick udon noodles, tofu and vegetables to fill you up on a cold day.
This chicken soup is a great recipe to use up any pre-cooked chicken and rice. It can be done quickly and is packed with delicious Indian-inspired flavors.
11. Instant Pot Tomato Soup via registered dietitian Shannon Garcia of KISS in the Kitchen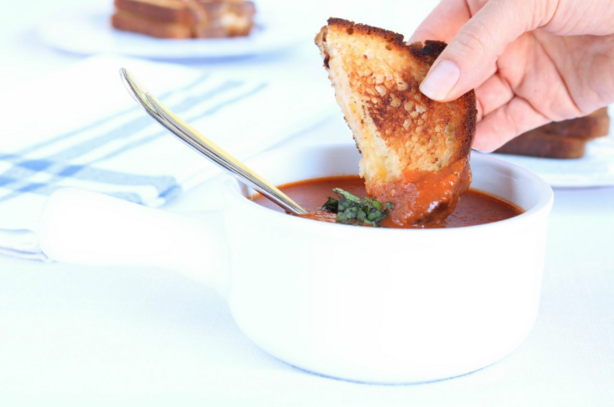 Instant Pot Tomato Soup (Photo: Shannon A. Garcia)
Shannon Garcia's tomato soup is dairy-free, made with pantry items, and takes just 5 minutes to prepare. This is the perfect soup to make when you need to go to the store but don't want to leave the house.
12. Vegan Lentil Soup via registered dietitian chef Abbie Gellman
Eating this soup feels like you're being wrapped in a big cozy blanket, according to Abbie Gellman. She has a way of adding in lots of flavor to simple recipes with easy-to-find ingredients.
13. Broccoli Cauliflower Soup via registered dietitian nutritionist Jodi Danen of Create Kids Club
Jodi Danen uses evaporated milk to make this soup extra creamy without the cream. With this recipe, you'll have a delicious veggie, cheesy soup in just 20 minutes — and the whole family will love it.
You can use leftover turkey to make this creamy turkey orzo soup. It's bursting with flavor and ready in no time.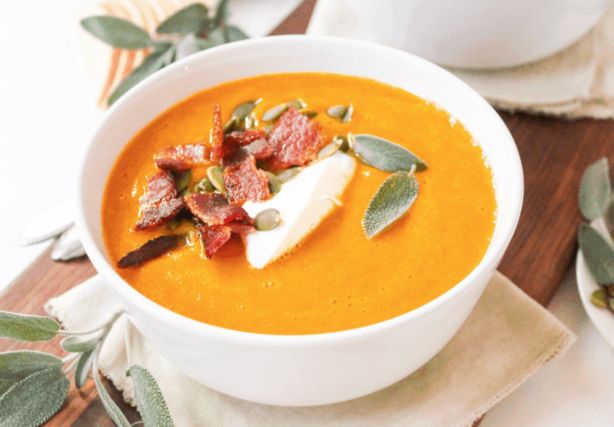 Instant Pot Butternut Squash Soup (Photo: Anne Mauney)
This 30-minute butternut squash soup can be made in your Instant Pot without much effort. Anne Mauney adds warming spices, an apple and apple cider to really bring up the flavor.
---
Now you've got a list of comforting soup recipes that you can make on a busy weeknight. For an extra satisfying and cozy dinner, serve any of these soups with some bread.
---
---
Editor's Note: Anything in this article is for informational purposes only. The content is not intended, nor should it be interpreted, to be a substitute for professional medical advice, diagnosis, or treatment. Always seek the advice of your physician or other qualified health provider with any questions you may have regarding a medical condition; Any opinions, statements, services, offers, or other information or content expressed or made available are those of the respective author(s) or distributor(s) and not of KSL. KSL does not endorse nor is it responsible for the accuracy or reliability of any opinion, information, or statement made in this article. KSL expressly disclaims all liability in respect to actions taken or not taken based on the content of this article.
×
Photos
Related Stories
More stories you may be interested in