BLANDING — Interior Secretary Deb Haaland stood shoulder to shoulder between Utah Gov. Spencer Cox and Sen. Mitt Romney on Thursday while staring out to the Butler Wash Ruins Overlook in the highly disputed Bears Ears National Monument area.
They gazed off at the cliff face, where beneath a shaded arch stood the ruins of cliff dwellings that were built and occupied by Anasazi Indians 700 years ago.
Haaland, the governor, the senator and Utah Rep. Blake Moore chatted privately among themselves, appreciating the history and geological wonders before them. The mood was casual and relaxed throughout the short hike to and from the ruins, as Haaland and her entourage toured one the monument designation areas in Utah that's been the focus of highly contentious debates across now three presidential administrations.
"My message is really very simple," Haaland later told reporters in a press conference at Edge of the Cedars Museum in Blanding following her hike with Utah's leaders. "I'm here to listen. I'm here to learn."
The big, outstanding question that continues to hang over Utah amid Haaland's visit is what President Joe Biden will do. Will he again toss the proverbial "political football," as Utah's GOP leaders have called it, and with another stroke of a pen restore and maybe expand — as Navajo Nation leaders have called for — the Bears Ears National Monument, which was drastically shrunk by former President Donald Trump in 2017?
Will he do the same for Grand Staircase-Escalante National Monument? Or will there be a legislative act of Congress to come up with a longer-term solution?
Haaland didn't have an answer, saying her job is only to report back to Biden.
"It'll be up to the president on what he wants to do," she said when asked if she plans to increase the boundaries of the monuments. "My job … is to be here to listen, to learn, to report back to the president of every single voice that I have heard on this trip to make sure he has all the information he needs to make a decision."
Haaland — the country's first Native American to serve in a Cabinet position and a member of the Laguna Pueblo with ancestral connections to the Bears Ears region — said she knows the "decisions about public lands are incredibly impactful to the people who live nearby."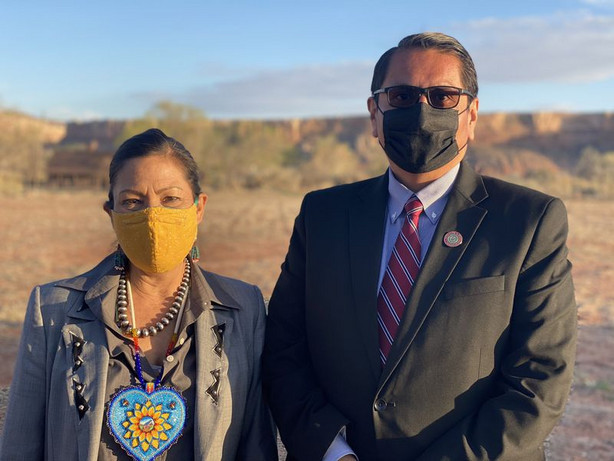 "So it's important that the president get this right," she said, going on to describe her visit to the Bears Ears area Thursday and Wednesday. "I spent time on the land. I looked at pictographs, vistas that take your breath away. I have spoken with other folks who have said this is an extremely special place. And so it's pretty clear that people everywhere have a feeling about this area, and know that the cultural heritage of this area belongs to all Americans."
What's also clear, is "we all want pretty much the same thing," Haaland said. "We want to protect land. We want to make sure it's there for generations to come."
Praising Haaland for visiting and listening, Utah's leaders, including Cox, Romney and Moore, called on Biden to be "collaborative" on a long-term, legislative solution with Congress for the future of the monuments rather than continuing a game of political "ping-pong" using a quick fix under the Antiquities Act they said would be the easier but wrong route to take.
"Ping-ponging is probably the wrong word because ping-pong is fun," Cox said. "There's nothing fun about what we've been arguing about over the past decade here."
Cox questioned: "Can we find the solutions? I believe so in my heart."
A permanent solution — and one that would bring more resources to the area that's grown increasingly popular ever since it was designated as a national monument — "can only be done through legislation and can't be done through an executive order," Cox said.
"But that's hard," the governor acknowledged. "That's hard work. If it was easy, we would have done it already. What's easy is with the stroke of a pen, making it bigger, making smaller — that's easy. And so we have an opportunity now to choose the easy way, which will ultimately be more divisive and this will continue on, or to try the hard way."
Asked if she has been able to focus in on what a compromise would look like, Haaland said, "We haven't zeroed in on that," adding that her conversations with Rep. John Curtis, R-Utah, has entailed legislation, but "I don't know exactly what that looks like."
"So I think that we'll continue to be in touch. We'll continue to talk. We'll continue to see how we can work things out," she said. "And of course, the president will make a decision and the legislation can always move forward, right? Regardless of what President Biden does, legislation can always move forward."
Romney said Biden has an "unusual opportunity" to end the "ping-ponging" while also looking to heal division between Native Americans and other residents of Blanding who remain split on monument designations.
"He can take a purely political course, and one side will be happy, and the other side will be mad. And then we go from having a permanent solution to a temporary one. And we go from uniting the American people to dividing us," Romney said.
Instead, Romney said he hopes Biden will "take action to bring us together and to find a permanent solution."
"I really do think there's an opportunity for people who want to be able to use this land, regardless of what we're going to call it, to use it for the purposes they intend for their families, and for their future," Romney said. Though he added it will take "hard work" from Washington, Native American leaders, and state and local political leaders, he's hopeful a solution can be found.
When a reporter noted Biden served as vice president under former President Barack Obama and perhaps that could give some insight into what approach he might take, Romney said, "I can't begin to predict what the president will do.
"But I do believe that he's an individual who will make his own decisions and will not be bound by the decisions of his predecessor in the Democratic Party, President Obama," Romney said. "So we'll see. … But I'm hopeful, particularly given his inaugural address looking for bipartisanship and bringing the country together, they'll see this as an opportunity to do just that, to work with Republicans and Democrats in Congress to to see if we can't work with tribal leaders and to say, how do we do something here that will last and not just exist as long as he's president."
But Haaland and the Biden administration are under pressure to not just restore the Bears Ears monument, but expand it.
Tonight I heard directly from Tribal leaders from the five Tribes in the Bears Ears Inter-Tribal Coalition tonight. I appreciate the important connection they and their people have to this land. pic.twitter.com/3gzLV74XzO

— Secretary Deb Haaland (@SecDebHaaland) April 8, 2021
A call to restore, expand Bears Ears
In a meeting with Haaland in Bluff on Wednesday, Navajo Nation leaders called for full restoration and expansion of the Bears Ears National Monument from about 1.35 million acres to 1.9 million acres.
The move would reverse former President Donald Trump's sweeping reduction of the national monument designated under Obama and add about 300,000 acres to the monument.
"It was truly a historic moment to have a Native American woman, serving in such a high position, at the head of the table discussing these important issues with leaders that represent the First People of this country," Navajo Nation President Jonathan Nez said in a prepared statement issued Wednesday night after the meeting.
"Her willingness to meet personally on this issue is meaningful and shows that she is willing to take time to meet with tribal leaders as well as other stakeholders in the Bears Ears region before providing her recommendation to President Biden."
Nez described the meeting with Haaland as an opportunity to share with her the "significance of Bears Ears to the Navajo people."
"This landscape is home to many historical and cultural sites, plants, water, traditional medicines and teachings for our people. It also provided refuge for our people in times of conflict. One of our most notable leaders, Chief Manuelito, was born there, but it is more than that. Bears Ears is sacred and it deserves to be protected."
In 2016, Obama designated 1.35 million acres of land under the Bears Ears National Monument. Trump later reduced the size of the designation by 85%, or to about 202,000 acres, which continue to be contested in court by several tribes including the Navajo Nation.
"When the Obama administration designated the Bears Ears National Monument, it involved years of careful and thoughtful discussions and consultations with various tribes and other stakeholders," Nez said. "However, the actions of the Trump administration to reduce the size of the national monument were politically driven and completely sidestepped the years of work and support of tribes and other supporters. I wholeheartedly support the restoration of the Bears Ears National Monument and the expansion of it to 1.9 million acres."
Navajo Nation Attorney General Doreen N. McPaul also expressed her support for the monument in a statement Wednesday.
"After more than three years of litigation against the federal government to reestablish national monument protections for Bears Ears, we certainly welcome the efforts of the Biden-Harris administration to prioritize this important matter," McPaul said. "Secretary Haaland's visit signals that the new administration treats our culture, history and way of life with dignity and honor, and respects the Nation enough to hear our views in how to protect Bears Ears going forward."
But not all want the designation.
Huge thanks to the Governor, Lt. Gov and Utah congressional delegation for meeting with me to discuss a path forward for the Bears Ears and Grand Staircase-Escalante National Monument. pic.twitter.com/JIQlLYWsrA

— Secretary Deb Haaland (@SecDebHaaland) April 8, 2021
'We already compromised'
Several cars lined the streets of Blanding Wednesday adorned with posters demanding "No monument." Some cars also sported anti-mask or anti-government mandate signs.
Some of those protesters, mostly white women and their children, showed up and demonstrated in the parking lot next to Haaland's press conference by the Blanding Museum. Some of their signs read, "The rights of the people shall not be infringed" and "Cox, we already compromised."
Several Native Americans, including a pair of Pueblo women who did not want to be identified, and Salt Lake City activist Carl Moore verbally sparred with the protesters, arguing about whether the Bears Ears national monument should be restored.
At one point, Moore challenged the protesters to acknowledge they "live on stolen land."
"Absolutely not," one woman yelled back.
Throughout the exchange — as the adults often interrupted and yelled over each other — a young boy holding a sign repeatedly exclaimed "I don't understand."
"It's the federal government. Get mad at the federal government!" one woman yelled at one of the Pueblo women as she tried to explain why "Manifest Destiny is not a valid concept," referring to the idea that the United States is destined to expand its dominion across the entire North American continent.
"Can you stop yelling at her, please?" the other Pueblo woman said, audibly frustrated. "She's really trying to educate you, so if you want to learn I would suggest you stop."
"Vice versa. Vice versa," another woman shot back.
Some of the protesters, including Emma Holliday of Blanding, stuck around long after the crowd dispersed to converse with Native American people there. She and some of the other women expressed a desire to sit down and spend more time with each other because they felt solutions and common ground couldn't be found solely through government officials.
"We're all human," Holliday said. "We want to try to teach our children better."
Next stop, Kane County
Haaland also met local elected leaders after her hike and press conference Thursday, including stakeholders representing a wide array of views, from ranchers, conservation organizations, local business owners, mining companies, outdoor recreation permit holders, paleontologists and archaeologists.
She's slated to travel to Kane County to meet with other stakeholders Friday, including local elected officials, ranchers, conservation organizations, local business owners and indigenous leaders. There, she'll discuss Grand Staircase-Escalante National Monument issues.
San Juan County Commissioner Bruce Adams, who favored the monument reductions, said the whirlwind trip has been short on details. He said he just received the official invitation from the U.S. Department of Interior on his meeting with Haaland Thursday morning.
"I wished that the administration would have taken more time to organize this visit and let her get her staff on board and do a little bit more planning," he said. "It would have been a lot more effective. … She has not been very public about what she is trying to accomplish."
Kane County Commissioner Andy Gant said he was in his hotel room at 2 a.m. Thursday when an email popped up in his inbox from the Interior Department advising him of an early morning meeting Friday at the Bureau of Land Management field offices in Kanab.
"I just happened to be awake," he said, adding he had planned to drive to Monticello for Haaland's visit but was now rerouting to Kanab. "I don't know who is going to be there, how many or any other details about the meeting."
He said his hope, if anything, is to impress upon Haaland that the two monuments in Utah are completely different from one another, with widely varying issues.
"My ask for them will be them to know that San Juan County is San Juan County and please don't combine the decision on Bears Ears with Grand Staircase. The folks in San Juan County have a very different attitude toward Bears Ears," he said. "We support our state and local BLM in their management of the Grand Staircase and want those management plans to stay. The other thing is: You guys, we are a pingpong ball. Every four to eight years we have to revisit this? It is getting old."
Haaland's visit this week is the third time in five years a U.S. Department of Interior secretary has come to Utah amid a debate over the two controversial monument designations. Frustrated that the monuments have turned into a political football that's tossed back and forth depending on which party's president is in power, Utah leaders — and monument proponents — have urged Haaland and Biden's administration to carve a more permanent solution for the lands.
Haaland's visit has brought the same optimism tribal leaders had when Obama's then-Interior Secretary Sally Jewell visited the remote Bears Ears region in 2016. Then, Utah's local and state elected leaders quietly complained that the event had been a waste of time and that the Obama administration had already made up its mind.
When Trump's Interior Secretary Ryan Zinke visited Utah, however, excitement and optimism was with local leaders from San Juan, Garfield and Kane counties. Trump later sliced Grand Staircase's boundaries in half and shrunk Bears Ears.
That same enthusiasm is absent from Utah's GOP leaders with Haaland's visit, but they're hanging their hopes on a different path forward so the land designations don't continue to be tossed back and forth as a political football.
Also on Thursday, former national park service employees and leaders urged Haaland to protect the monuments.
"Bears Ears and Grand Staircase-Escalante national monuments need protections now. Over the past four years, we have witnessed a relentless attack on our country's national parks and monuments; and we know what the impacts have been," Phil Francis, chairman of the Coalition to Protect America's National Parks, said in a statement.
Francis said while "protections have decreased" visitation to the areas "continues to increase. Overarching national monument protections must be restored to provide signage, maps, interpretation and active on-the-ground visitor management to better protect natural and cultural resources while also better serving the public."
Contributing: Amy Joi O'Donoghue, Deseret News
×
Related Stories
More stories you may be interested in