TAYLORSVILLE — Church members Chris and Aubre Bawden gathered with about 10 others Saturday morning atop the shared wall between their home and what will soon become the new Taylorsville Utah Temple for The Church of Jesus Christ of Latter-day Saints.
"They will have the blessing, those that we can see in their homes, of gazing upon the temple every day, and they'll be reminded of who they are and how they're loved," said Elder Dean Davies, a General Authority Seventy.
The couple, who have lived in the area for 12 years, said they are excited to soon have a temple right next to their home.
"We feel like we won the lottery with living right here and this being in our backyard," Aubre Bawden said.
The group excitedly waved and several participants, including Elder Gerrit W. Gong of the church's Quorum of the Twelve Apostles, waved back in what became a special moment.
"We're so glad that people want to part of it," Elder Gong later told KSL.com.
Under normal circumstances, a temple groundbreaking ceremony would most likely see a few thousand people in attendance to celebrate the exciting new addition to the city's landscape.
However, with COVID-19 health restrictions, Saturday's gathering for the Taylorsville Utah Temple was limited to about 30 with mask-wearing and social distancing precautions in place. Elder Gong and his wife Susan recently recovered from COVID-19.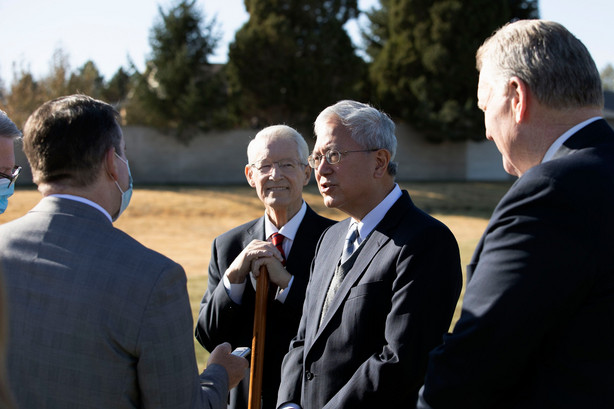 Elder Gerrit W. Gong of the Quorum of the Twelve Apostles and other Church leaders visit with the news media following the groundbreaking of the Taylorsville Utah Temple on Saturday, October 31, 2020. (Photo: The Church of Jesus Christ of Latter-day Saints Intellectual Reserve)
"We wish they could be (here) and I guess from a distance, they are," Elder Davies said. "And I don't think that distance takes away from what they're feeling."
With the site officially dedicated by Elder Gong, construction will soon begin.
Faithful Latter-day Saints consider the temple to be a sacred building where members believe they can participate in sacred ordinances and enter into covenants with God.
Bringing the temple to the people is a goal of the church, Elder Davies said.
"They have ready and easy access to the house of the Lord and it lifts every community," he said. "It doesn't just bless the church — there will be blessings in this city because people will see they have a temple. It just happens."
Temples in Utah
The temple, which was announced last October, will be built on a 7.5-acre site located at 2603 W. 4700 South — right at the southwest corner of the I-215 interchange in Taylorsville. It's expected to take 30-36 months for the entire project to be completed.
The grounds will remain open Saturday for anyone in the Taylorsville area to come ceremoniously break ground for the temple with a few turns of a shovel.
"Anyone who wants to come and be part — we hope they will all come and be part — we feel like this is a special day for them," Elder Gong said.
The three-story temple is expected to be about 70,000 square feet with a central spire, mirroring the design of the Provo City Center Temple.
According to an artist's rendering of the temple's design, it will not be topped with a statue of the angel Moroni.
With Saturday's groundbreaking, the Beehive State is on its way to housing more than 20 temples — construction is already underway on the Orem, Layton and Saratoga Springs temples, and new temples have been announced in Syracuse, Tooele Valley, Washington County and most recently Lindon.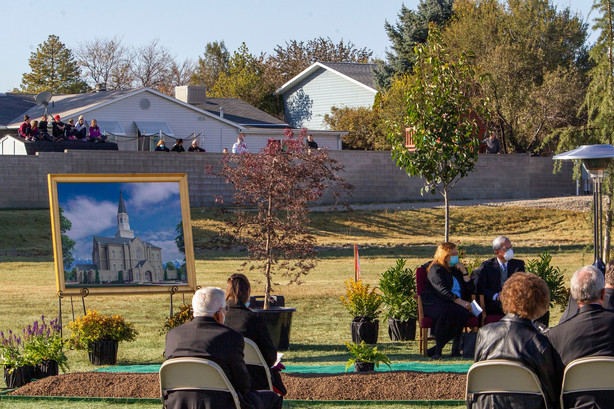 Neighbors look over the fence during the groundbreaking service for the Taylorsville Utah Temple on Saturday, October 31, 2020. (Photo: The Church of Jesus Christ of Latter-day Saints Intellectual Reserve)
It will become the fifth temple in the Salt Lake Valley, following the Salt Lake Temple, Jordan River Utah Temple, Draper Utah Temple and Oquirrh Mountain Utah Temple.
Utah is currently home to 17 Latter-day Saint temples, with the Salt Lake and St. George temples currently under renovation.
A generational connection
Saturday's ceremony was the first temple groundbreaking where Elder Gong has presided, something especially meaningful to the church leader who has roots in the area.
Elder Gong's wife Susan is a "Taylorsville girl," as her husband puts it.
Her father was the bishop who helped build the church meetinghouse that previously sat on the now-empty lot. It was demolished in preparation for the temple's construction.
"Our family has been so connected to this community for so many years that it's all so special," Elder Gong told KSL.com.
In fact, Sister Gong's heritage in Taylorsville dates back all the way to 1877.
Her father, grandfather, great grandfather and great-great-grandfather have all served as bishop in a Taylorsville ward, or local congregation.
"Her family has been rooted in this community for many years," Elder Gong said.
Max Harker, who spoke at Saturday's ceremony, is part of his family's sixth generation living in Taylorsville. His fourth great grandfather, Joseph Harker, is one of the city's founding settlers.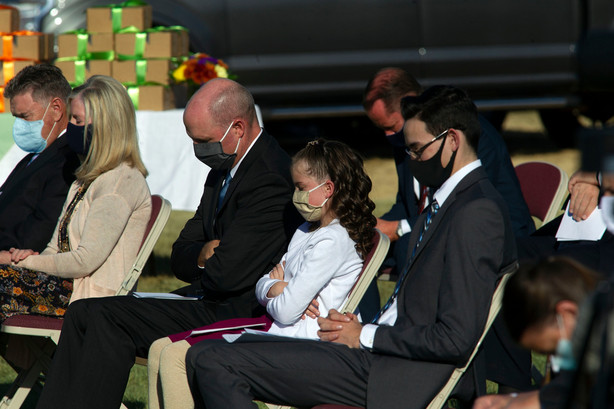 Invited guests pray during the groundbreaking service of the Taylorsville Utah Temple on Saturday, October 31, 2020. (Photo: The Church of Jesus Christ of Latter-day Saints Intellectual Reserve)
The young man spoke of the importance of completing family history.
"I find it incredible that I am a descendant of a man as great as Joseph Harker was, and still living in the community that he helped to establish," he said. "I testify that as you participate in family history and temple work, you too will receive … blessings."
Welcoming a new temple into this community is a great privilege and members — regardless how long they have lived in the area — should be excited, Elder Gong said.
"Whether you're the first generation or the sixth generation, this is still your home," he said. "We understand that all of us are home, whether we've just arrived or whether we've been here for a long time. And that's a great thing about this church," he continued. "We have great diversity but we have unity in the faith, unity in the household of God."
Editor's Note: Deseret Digital Media, Inc., the operator of KSL.com, is a subsidiary of Deseret Management Corporation, which is owned by The Church of Jesus Christ of Latter-day Saints.
×
Photos
More stories you may be interested in