SALT LAKE CITY — About two weeks after a generational storm with hurricane-force winds ripped an estimated 1,500 trees out of Salt Lake City's public spaces — many 60- to 100-year-old giants — an effort has begun to replant.
Salt Lake City Mayor Erin Mendenhall on Thursday joined city forestry officials, the nonprofit TreeUtah and Rocky Mountain Power to announce a donation and volunteer effort to replace what is now a Salt Lake City tree graveyard.
"As a certified tree lover, this has been difficult, especially since we know the benefits that trees and tree canopies provide residents, including reducing air pollution, conserving water and increasing walkability," Mendenhall said in a news conference at the International Peace Gardens on Thursday. "Trees are indispensable. But luckily, they aren't completely irreplaceable; we're going to do our best to regrow what was lost and more."
The storm hit Salt Lake City parks especially hard. Liberty Park lost 69 trees, and the Salt Lake City Cemetery lost 255, according to city officials.
Mendenhall stood in front of a toppled Colorado spruce, estimated to be 50 to 60 years old, its roots yanked from the dirt and its trunk split in half, one of the thousands of tree casualties to the Sept. 8 storm.
Mendenhall called the destruction left behind "devastating," and the sight of 100-foot trees, in some cases 100-year-old trees, lying on their sides "heartbreaking."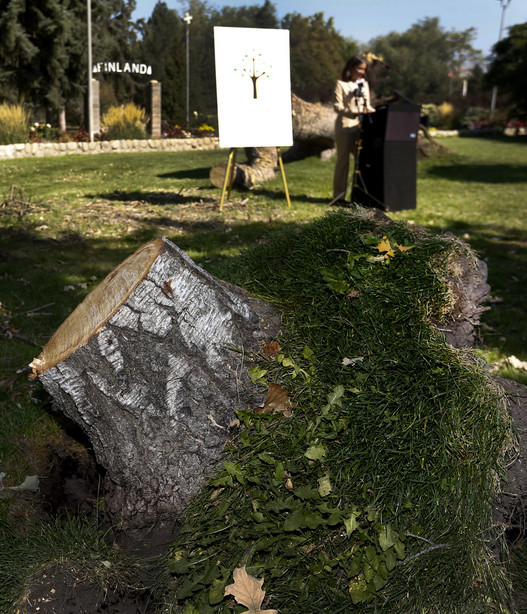 Salt Lake City Mayor Erin Mendenhall announces a new effort to replant trees throughout the city that were lost in a Sept. 8 windstorm during a press conference at the International Peace Gardens in Salt Lake City on Thursday, Sept. 24, 2020. (Photo: Laura Seitz, KSL)
But the mayor, TreeUtah Executive Director Amy May and Rocky Mountain Power officials painted a picture of hope and a green future for Salt Lake City's urban forest as they kicked off an effort to raise donations to replace the fallen trees.
Rocky Mountain Power committed to matching the first $10,000 raised. TreeUtah partnered with Salt Lake City to launch the effort ReTree SLC, starting a website, retreeslc.com, to collect donations. The initiative also includes a solicitation for volunteers to help plant trees, with a list of volunteer events available at www.treeutah.org/events.
"We will find a way," she said. "We will find a way no matter what the circumstances are. Salt Lake City will see a growing urban forest for the first time in well over a decade."
×
Related Stories
More stories you may be interested in