SALT LAKE CITY — In a moment 33 years in the making, Weber State women's volleyball threw the first punch.
After a brief shuffle, they also threw the second.
And then came the haymaker.
Dani Nay poured in a double-double with 18 kills, 14 digs and three blocks, and Rylin Adams added 14 kills, 11 digs and four blocks as Weber State won its first-ever NCAA Tournament match with a 25-18, 22-25, 25-22, 25-21 win over Bowling Green at the CHI Health Center in Omaha, Nebraska.
Ashlyn Power had 49 assists, seven digs and four aces, and Sam Schiess supplied 11 kills, two digs and two blocks for the Wildcats (19-1), who handed the Falcons just their second loss of the season in their first tournament appearance since 1988.
"This is a huge day for Weber State volleyball," said Weber State coach Jeremiah Larsen, a former libero at BYU. "Six years ago, we were barely getting by.
"I'm just proud of the way our kids kept handling the pressure. That's not an easy team to play, and the facility isn't easy, either."
Jacqueline Askin led Bowling Green (22-2) with 16 kills, and Hannah Laube dished out 40 assists with six digs and three blocks for the Falcons.
The Wildcats (19-1) collected a season-high 16 blocks in the win, led by eight from Caroline Clarke and seven from Emma Mangum in earning in the first tournament victory by a member of the Big Sky Conference since Sacramento State in 2007.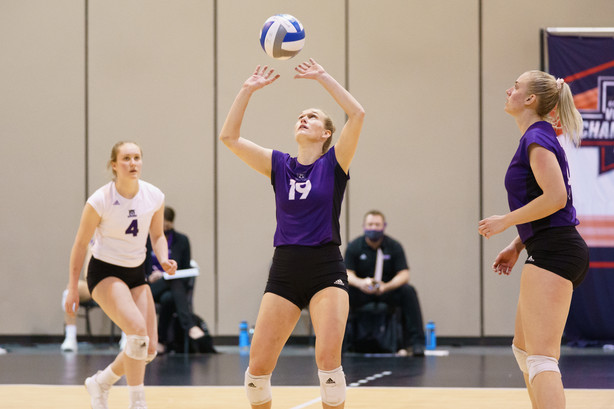 And each point mattered more than the previous, from Nay's .500 hitting in the first set with seven kills to just one error, to a dominant block anchored by Clarke and Mangum that held the Falcons as low as -.400 hitting with one kill on their first 10 swings of the second set.
Neither team had trailed much, and both had lost fewer times, combing for a 40-2 record prior to Wednesday's showdown. Bowling Green was making its first tournament appearance since 2012, but the Wildcats were out to make up for lost time early with a strong start.
Sure, it fizzled. But the early advantage proved crucial, in the end.
"I think we got out really fast, and then the nerves set in," Larsen said. "We didn't start calming down until midway through the third set. But it was important to jump on them fast with our serve.
"The goal was to make them be the ones on their heels. Then we can do what we do. … We only spent 30 minutes on that court up until that moment. We knew there would be some good moments."
The Wildcats were a sub.-500 team just four years ago, when Power was a freshman and Scheiss was playing at Salt Lake Community College after graduating from nearby Bonneville High. Weber State went 9-20 in 2017, with a 7-9 record in Big Sky play — but slowly got better, just as they did each year and throughout the history-making one-loss (so far) spring season of 2020.
That made simply winning a Big Sky regular season and tournament title, combined with Wednesday's NCAA Tournament appearance, the prize of the season. Wednesday's win was, in many ways, icing on the cake.
And icing never tasted so good.
The Wildcats were playing with house money — having fun, playing loose, and playing each set like it was their last.
"We're so excited," Scheiss said. "We've been working at this for years; it wasn't just this season. Me, Ash and Ry, we've been grinding since we were nothing. It means the world to be able to be here, and we're just enjoying it and making some noise while we're here."
The Wildcats jumped out to a fast start in the opening set. Between an ace from Lincoln native Power en route to a 9-2 run and Nay's ace to end it, the Wildcats' standout outside hitter was .500 with seven kills and just one error in a nearly flawless offensive start.
It didn't last, though.
Katrin Trebichavska and Julia Walz paced a 10-2 run in the second set, and the Falcons got a timely ace from Yelianiz Torres to even the match with a 25-22 second-set victory.
The Wildcats rebounded to take the third set, behind the serving of Power and a dominant showing by Mangum and Broadhead at the net, who combined for the team's 11th block to cap a 4-0 run for a 22-18 advantage en route to the 25-22 win.
Weber State had leads of 4-0, 7-2 and 12-5 in the fourth set before running into some trouble after taking a 23-14 lead. That's when the Falcons rattled off five-straight points on Askin's kill, and Larsen called timeout.
The winning point of the first NCAA Tournament win in Weber State history! #PurpleReign#WeAreWeber#BigSkyVB#Invictuspic.twitter.com/K4iMDtgp36

— Weber State Volleyball (@weberstatevb) April 15, 2021
What secret sauce or new play did he introduce in the huddle?
Anything but.
"I told a joke," Larsen deadpanned with the emotion of a well-oiled dad-joker. "I think we realized the moment was at hand. We had a chance to do something I've wanted to do since taking over this program. I tried to lighten the mood, and then we had the chance to be the aggressors.
"We just needed to rely on what we did well."
Larsen declined to mention the joke he told, but the important question is: did it work? Was it at least funny?
"He's got some decent one-liners," Scheiss said. "I think I'm a bit funnier, though."
"I disagree. She's got a lot to learn," her coach immediately retorted.
Either way, the team is moving on to the second round, where the Wildcats will face top-seeded Wisconsin in Thursday's second round (5 p.m. MDT, ESPN3).
Bring on the Badgers, who are 15-0, advanced to the most recent national title match against Stanford in 2019, and whom Larsen says they haven't even cracked the previously downloaded film prior to Wednesday.
But the Wildcats will take some advantages into the second round, too: history, among them.
"I think this first game helped us get used to the facilities, and smooth out our nerves," Scheiss said. "We're pumped. We're excited for the challenge, for another chance to go into the gym and get better, get tested."
×
Photos
Related Stories
More stories you may be interested in