SANDY — Saturday's match against Portland will have a "senior night" feel to it for Utah Royals FC: the Royals' home finale just one week after playing their home opener in the NWSL fall series.
If that feels odd — back-to-back home games bracketed by road trips to the Pacific Northwest on either side — just add it up to another oddity of the 2020 season, which has been anything but normal.
The Royals will host the Thorns at 8 p.m. MT Saturday, and not only will it be Utah's final home match, but it will also be the only match in the four-game fall series schedule to be featured on linear television (CBS Sports Network).
And even if it will be the final match with home fans, the Royals are quick to point out that it's not the end of the season. Not yet, not as it stands, at least.
"It's kind of weird. This year has been really strange, and so with each game, we're just taking it for what it is," Royals rookie Kate Del Fava said. "We get to play in front of fans, too, and something I hadn't experienced as a Royal.
"Sad that it's the last home game, but we're really excited for the next chapter in 2021."
If it's weird, that's just another one of the oddities of a strange season, which was postponed due to the novel coronavirus pandemic, restarted for the NWSL Challenge Cup in Herriman, and then brought back again for the NWSL fall series.
"This year has definitely been different than other years," Utah forward Brittany Ratcliffe told reporters Friday. "But I think it's good for us to take this game for what it is. We still have to go out there and get three points … It's sad being the last home game, but there will be some extra grit to earn three points at home.
"We still have this game, and we still have another game Oct. 17. So our job isn't over just yet."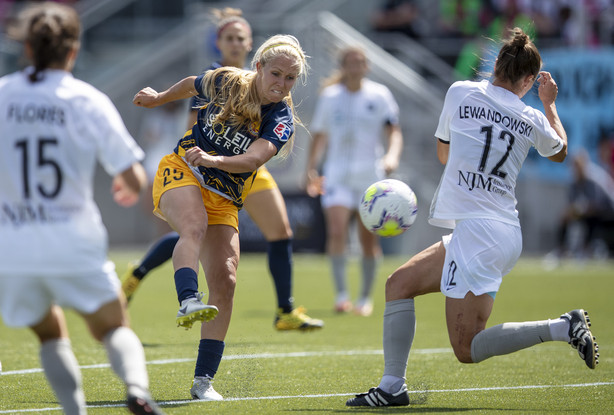 Utah Royals FC forward Brittany Ratcliffe (25) fires a shot into the leg of Sky Blue FC defender Gina Lewandowski (12) as the Utah Royals and Sky Blue play in the National Women's Soccer League Challenge Cup at Zions Bank stadium in Herriman on Saturday, July 4, 2020. Utah won 1-0. (Photo: Scott G Winterton, Deseret News)
The Royals (0-1-1, 1 point) are tied with Washington-based OL Reign with one point in the regional standings of the fall series, a series of exhibition matches with prize money awarded to the local nonprofit or organization of the winner's choice via the Verizon Community Shield.
Portland leads the Royals' group with six points and an unbeaten 2-0-0 record after Wednesday's 4-1 win over the Reign.
The Royals, for their part, are hopeful that plenty has changed in the two weeks since a 3-0 loss to the Thorns at Providence Park that came during one of the craziest week in franchise history, when head coach Craig Harrington was placed on administrative leave and assistant Amy LePeilbet was elevated to interim manager.
"It was a little bit wild going into that first Portland game; a lot of change happened, so the players were definitely dealing with more than just that game," LePeilbet said. "I think now things are settled, we're in a rhythm, they had a good week of training, and they are prepared.
"We grew from the Portland game into the Reign, and now we keep growing and building on the little pieces we've been adding. I think we'll grow even more going into the weekend."
Utah's coaching staff also grew this week, with the addition of Nikki Washington as an interim assistant coach. Washington previously played with LePeilbet with the Boston Breakers prior to a coaching career at the University of Washington, and the Royals' interim manager sought her advice with coaching limited during the final few weeks of the season.
Besides Harrington, assistant coach Louis Lancaster was also placed on leave, which left LePeilbet alone on the bench — and in training sessions — with developmental coach Caitlin Young.
[embedded content]
Washington, who retired following the 2019 season, becomes the first Black assistant coach in the seven-year history of the league. Of course, that wasn't the reason Washington was brought to Sandy, nor should it be an indication of the long-term effect on the staff, LePeilbet cautioned, noting the "day-to-day" nature of working in an interim capacity.
"She had an extensive career, and a wealth of knowledge as a coach," LePeilbet said of her new assistant. "I caught her between jobs, and so I got a little lucky at that.
"It all just kind of worked out, and she's been really good to that."
NWSL Fall Series
Portland Thorns (2-0-0) at Utah Royals FC (0-1-1)
Kickoff: 8 p.m. MT
TV: CBS Sports Network
Streaming: CBS Sports
×
Related Links
More stories you may be interested in