BYU quarterback Jaren Hall warms up in Allegiant Stadium prior to the Vegas Kickoff Classic between BYU and Arizona in Las Vegas on Saturday, Sept. 4, 2021. (Jeffrey D. Allred, Deseret News)
PROVO — Jaren Hall had just walked off the field after completing 18-of-28 passes for 198 yards — a 7.07 yards per attempt average, for those wondering — and two touchdowns. He had a quarterback rating of 147.3, which led all players in the Cougars' 24-16 win over Arizona except Neil Pau'u, the wide receiver who completed one pass for 9 yards — to Hall — for a 175.6 rating.
But the most important stat had nothing to do with completions, touchdowns or ratings, Hall said in a moment of jubilation on the BYUtv mobile set.
"It was a lot more fun than I remember, honestly," Hall said. "I'm just grateful to be back out there and to be healthy enough to finish the game. That's a stat that we should be talking about. I'm so grateful."
For the first time since 2019, Hall started a college football game as the mantle officially passed from the former No. 2 overall pick Zach Wilson.
But for the first time in his career, Hall finished the game he started. Previous starts in 2019 against South Florida and Utah State ended in pain and tragedy, a pair of injuries that likely impacted one another and — in the case of the head injury sustained in Logan — also led to the end of his season.
So while it wasn't perfect — Hall himself would be the first to admit that — simply finishing the game upright was important for the 6-foot-1, 205-pound signal caller from Maple Mountain High School.
"He's a guy who knows he can play better and make some big-time plays," BYU coach Kalani Sitake said. "I love the way he controlled the offense and managed some difficult looks that we got.
"You saw his athleticism and how he can create some space."
"that's what you see from Jaren Hall, his leadership, his abilities…This is a good sign, a good indicator for what he can do" – @D_Nixon#BYUAFR | #GoCougspic.twitter.com/heIdzEVTin

— BYUtv Sports (@byutvsports) September 8, 2021
It's also only Week 1. By completing the game and not falling to injury, Hall ensured there will at least be a Week 2, when most college football players tend to make the biggest jump in a season.
Obviously, Arizona — arguably the worst team in the Pac-12 — is a very different team from No. 21 Utah, despite the two's shared conference affiliation.
But the purpose of a season isn't to play the best football on the opening weekend, or even in the second game. Players, like teams, want to get better as the weeks progress.
Indeed, Hall wasn't perfect to start the game against Arizona. Far from it, offensive coordinator Aaron Roderick said, while saying he was "pleased" with the overall performance.
"I think he started out 1 for 5 or so, and on most of those plays, something went wrong with our execution or the defense doing something we weren't ready for," Roderick explained. "But what we did in those times is he really took care of the ball. He didn't put it in jeopardy — and then he hit a stretch in the middle of the game, leading us to three scores.
"If he takes care of the ball like that and we can just improve our expectation, I think he's just going to get better every week. It's one game, so I don't want to get too high or too low, but I was really pleased with how he played."
Perhaps the best part, Roderick added, was that Hall knew exactly what he needed to do to get better. The redshirt sophomore who sat behind Wilson for each of the past two seasons was well adept at watching from the sideline, and his dissection of plays was almost instantaneous.
"I call the quarterback on the phone every series," said Roderick, who calls games from near the broadcast booth. "I've had experiences where what he (the quarterback) is seeing and I'm seeing aren't the same thing; that's often the case when the QB is making a first start. But in each case, Jaren could tell me what he saw on each play. It was the same thing I was saying.
"The fact that he had that kind of poise and recall makes me confident that he's going to keep improving."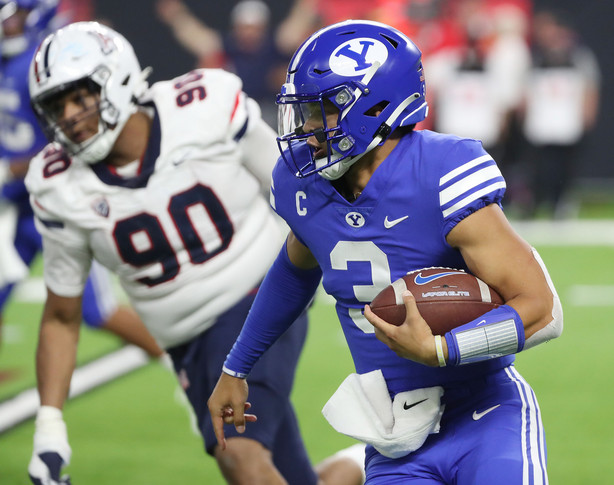 Even through the rough start, by keeping the Wildcats off balance with his athleticism, the dual-threat quarterback ran for 36 yards on five carries (a 7.2 yards per carry average) — and did exactly what he needed to do.
But in the most important facets of the game — winning being No. 1 overall — Hall got better.
"I've improved over the years," Hall said after reviewing the tape. "The game has come a little quicker for me now than it has. … I thought the game really slowed down, we were able to see what they were doing, and we adjusted as the game went on."
Likely because of his past experience, he's also more grateful, Sitake added.
"He's got this great level of appreciation and gratitude," the head coach said during his weekly coach's show on BYUtv. "He's always smiling and always excited; he's a good, positive leader for this team."
Hall made the offense work "with the tools he was given," Pau'u said.
"He just made the offense do what they had to do, and that was score more points than the other team," the wide receiver added. "You could see all the offensive work with John Beck and everything he did to prepare himself. He looked great out there, and he's looked great all week so far. Hopefully we can continue to build on that, and we'll see what happens on Saturday."
Even when the plays broke down, Hall did what he was supposed to do. His legs can be a weapon, but only when the pocket collapses and the downfield threat eludes him.
With Arizona providing max coverage on the Cougars' star tight end duo of Isaac Rex and Dallin Holker, and with Gunner Romney out of the game with an apparent ankle injury that has left him doubtful for Saturday's rivalry game against Utah (8:15 p.m. MT, ESPN), Hall wasn't afraid to take a few shots in the run game.
With respect to Pau'u, who went off for a career-high 126 yards and two touchdowns, or Tyler Allgeier, who broke free for 94 yards and a touchdown on 17 carries, the Cougars needed more from their starting quarterback.
"THIS IS WHAT HE'S SUPPOSED TO DO" – @BFowler16 comments on Jaren's decision to run out, showing his intelligence on the field.#BYUAFR | #GoCougspic.twitter.com/NYtHpk5Fia

— BYUtv Sports (@byutvsports) September 7, 2021
Hall gave it to them with an electric run, weaving through traffic to the left sideline and 39 yards down field. The dual-threat quarterback did exactly what he needed to do on the play, including when he stepped out of bounds around the 20-yard line.
"That's what he's supposed to do," said former BYU quarterback Blaine Fowler, who moonlights as an analyst with BYUtv. "This is what they've coached him to do. If he didn't have anybody coming or his legs weren't heavy, maybe he runs in (for the touchdown). But I don't want him cutting back inside; I want him doing exactly what he did."
That mobility was one of the first thing other college coaches noticed of Hall, including the former BYU linebacker who will lead the Utes into LaVell Edwards Stadium this weekend seeking a 10th consecutive victory over the Cougars.
"Very mobile. They moved the launch points a lot with him," Utah's Kyle Whittingham said of Hall. "There's not a lot of drop back passing with him … getting him outside the pocket. He's got good speed, and his mobility is good. I thought he did a nice job managing the game Saturday (against Ariziona)."
Hall was also helped by his teammates. Besides Pau'u's explosive emergence and Allgeier's steady presence, the quarterback was kept upright by an offensive line that faced plenty of questions after sending three linemen to the NFL.
But in facing Arizona defensive coordinator Don Brown, the 40-plus season college assistant nicknamed "Dr. Blitz" for his unique schemes, alignments and pass rushes, the Cougars allowed only one sack.
"That team was really well coached, and a brand-new team from what they were," BYU center James Empey said of Arizona. "It was a fun game to see some challenging things, and we have lots of things to build on.
"We're excited to get rolling, and get better."
[embedded content]
That protection will be doubly important against a Utah front-seven led by defensive end Mika Tafua and linebackers Devin Lloyd and Nephi Sewell.
Most importantly, though, last Saturday wasn't the end of Hall's season or career. He still has plenty more to do — plenty of ways he can improve — as he turns his attention to the rivalry game and pushing BYU forward into the 2021 season.
But the son of former BYU running back Kalin Hall and Cougar gymnast Hollie Hamilton is grateful and optimistic he can make those improvements.
After all, he finally gets a chance to build on a second game, a rivalry game where he finally gets to line up under center rather than out wide like he did in 2019.
"We've just got to start faster, get points on the board. That's what we're out there to do," Hall said. "I think be comfortable, having more energy right from the get go, getting after it, trusting the game plan — and really, just making plays."
×
Photos
Related Stories
More stories you may be interested in