Real Salt Lake goalkeeper David Ochoa (1) makes a save on the kick by Sporting Kansas City forward Alan Pulido (9) in Sandy on Saturday, May 1, 2021. (Jeffrey D. Allred, Deseret News)
HERRIMAN — David Ochoa showed up to training with Real Salt Lake this week just like old times.
He donned the familiar blue goalkeeper shirt, his usual goalkeepers' gloves, and the highlighter-blue cleats for which he's become familiar in his short time as the club's starting keeper.
The RSL Academy product turned to center back Marcelo Silva and said something in Spanish — a dialogue, an instruction, or just a joke. It was probably the latter, as the two cracked a smile after.
Then Ochoa jogged out on the training grounds on the sprawling Herriman complex and got to work, alongside backup goalkeepers Andrew Putna and Zac MacMath — the goalkeeper who replaced him for nearly a month.
It was just like old times. Ochoa was back in familiar confines, even if a massive step in his professional career had just concluded.
The 20-year-old goalkeeper had just returned from his first formal U.S. men's national team camp, a trip that took him to Switzerland and back, to the top of CONCACAF with the Nations League-winning Americans, and back home where he sat on the bench for the United States' victory lap of a 4-0 win over Costa Rica at Rio Tinto Stadium.
When Ochoa returned to the Wasatch Front, he was the same goalkeeper he's always been, the same Oxnard, California, product who bypassed a collegiate career to jumpstart his professional career and helped lead Real Monarchs to the 2019 USL Cup title.
And yet, he's also very different after a month away — a good kind of different as Real Salt Lake resumes MLS play Friday against Vancouver Whitecaps FC (8 p.m. MT, KMYU).
"I definitely feel more confident in my game," Ochoa said. "I definitely learned a lot while I was gone. I got to learn the good and even the bad from the keepers.
"It was such a high level, even higher than here, so I come back more confident and a little more alert. I feel like I read the game a little quicker now. It definitely helped me a lot, and I'll try to show that this week versus Vancouver on Friday."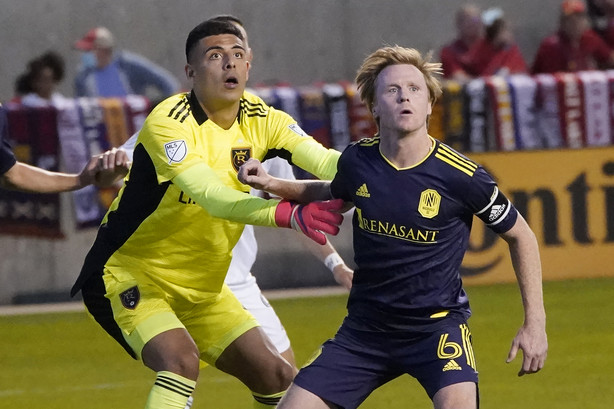 In the few days since Ochoa has rejoined RSL, his teammates have noticed a different aura around the U.S. international — even if Ochoa was the only player who didn't see any time during the United States' wildly successful most recent run. But Ochoa put himself in position to return to manager Gregg Berhalter's camp, and may do so as soon as July, when Berhalter is expected to draw on a mostly MLS-based roster to compete at the U.S.-based Gold Cup.
"I talked to David about it, and said, 'your time will come,'" Berhalter said after last week's win over Costa Rica. "Our focus was on World Cup qualifying, on getting Ethan (Horvath) minutes — valuable minutes that he's needed recently. But David's a top prospect. He's continued to impress us throughout camp, with his attitude and also with his play.
"We're excited to see how he develops."
Even without his first official cap with the U.S. senior team, Ochoa took plenty away from his time with the national team. The Mexican-American who grew up in the U.S. youth system played behind current No. 1 'keeper Zack Steffen and backup Ethan Horvath, both Europe-based goalkeepers who have realistically superseded the 20-year-old on the United States' depth chart.
Simply being in the same environment as two goalkeepers of Manchester City and Club Brugge pedigree, respectively, played a critical role in Ochoa's development.
At the very least, it did for RSL coach Freddy Juarez. The third-year first-team head coach and former academy director admits he's been "very hard on Ochoa" in his development, both on and off the field. One of Juarez's top criticisms prior to the 2021 season? Ochoa's professionalism, the day-to-day mindset and mentality of the young goalkeeper barely removed from his teenage years. Since January, Juarez has mentioned that to Ochoa time and again.
The past month with the United States team only accelerated a process as Ochoa has learned from 10-year MLS veteran MacMath and Putna, who is six years Ochoa's senior, as well as RSL goalkeeper coach Ignacio Hernandez.
"They're all helping Ochoa," Juarez said. "It's just the last six months of his growth, and that's the reason why he's going into the national team. They said he was very mature over there, and that makes me feel good — it's one of the things he's been working on.
"It's important that he shows professionalism off the field … and that's where I want to see his most growth."
Ochoa has the physical tools to make for a long career, either in MLS or in Europe, where he aspires to (one day) move. He's on the cusp of the U.S. men's national team, and will likely be given more opportunities to prove himself to Berhalter, as well.
There's no doubting the young goalkeeper's physical abilities — even a keeper who was dubbed "not that good" by a rival MLS coach. That incident, of course, came after Ochoa showed a moment of youth, kicking the ball into the stands after his first MLS victory on the road in Minnesota.
It also showed a flash of emotional immaturity in some ways, Juarez admitted. That's to be expected from a 20-year-old goalkeeper. But that's also something that Ochoa has been improving since April — and before then.
"Physically, he's very good," Juarez said. "He's going to get better, but I've been wanting to see more growth on the professional side, and I've seen a lot of growth — even these last six months."
Match Day
Real Salt Lake (2-1-3, 9 points) vs. Vancouver Whitecaps (2-4-1, 7 points)
Friday, June 18
Venue: Rio Tinto Stadium, Sandy
Kickoff: 8:08 p.m. MT
TV: KMYU
Radio: ESPN 700
Streaming: ESPN+
Series record: Vancouver leads, 11-9-5
×
Related Stories
More stories you may be interested in