SALT LAKE CITY — Utah Sen. Mike Lee made headlines last fall for hugging people without wearing a face mask at a Rose Garden ceremony where President Donald Trump introduced Amy Coney Barrett as his choice to fill a U.S. Supreme Court vacancy.
Photos and videos of the Republican senator holding a mask in his hand at the event exploded on social media along with sharp criticism of those at the gathering for disregarding COVID-19 safety protocols.
"The hug was probably not a wise thing at that moment," Lee acknowledged Thursday during an online forum hosted by the Kem C. Gardner Policy Institute at the University of Utah.
His comment came in response to a question about what he would have done differently to address the pandemic given the opportunity of hindsight.
"I can't tell you how many times I saw the picture of you hugging someone in the Rose Garden when the big contagion happened," moderator Natalie Gochnour, Gardner Institute director, said after posing the question. "You were pretty visible for a while there."
Lee said in his defense that he was part of a small group who had all just tested negative for the virus.
"Sometimes muscle memory kicks in," he said. "That's probably what I would do differently."
Less than a week after that late September ceremony, which included indoor receptions and that Dr. Anthony Fauci, the nation's top infectious disease expert, subsequently described as a "superspreader event," Lee began experiencing symptoms similar to allergies. Lee was tested for coronavirus and announced Oct. 2 second that results were positive.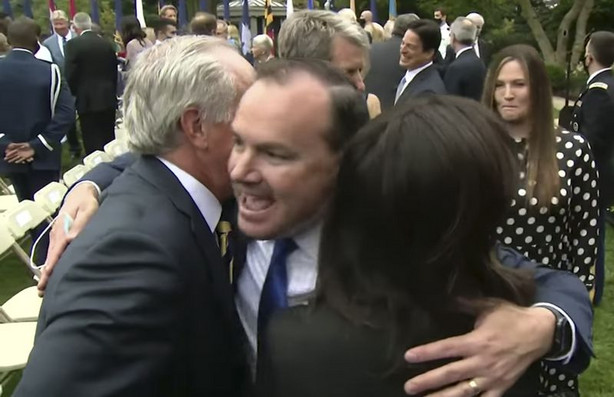 Money and incentives
On a larger scale, Lee said he had concerns from the outset of the pandemic about what Congress might be incentivizing if it pushed too much money through the government down to people.
The Paycheck Protection Program made sense and did a lot of good for people, but the extra unemployment insurance benefit should not be carried out as long as it has, and maybe that should have been left to states to decide, he said.
Lee praised Utah GOP Gov. Spencer Cox for moving to end the $300 weekly unemployment payment as well as other federal unemployment programs starting June 26.
"It was a bold and courageous move," the senator said. "It's a decision I'm sure some will be critical of, but I think it's a wise decision."
Lee said he can't blame people for taking the benefit rather than working, but it will hurt them to be out of the labor force.
"When you incentivize nonworking, you end up creating a problem for them personally," he said. "The longer you go without working, the longer you're going without developing job skills, job references, opportunities for promotion and advancement."
Lee said the federal unemployment benefit is going to end in September anyway and it's better for the economy for people to go back to work.
Americans, and Utahns in particular, are also dealing with inflation as a result of federal stimulus money, he said. Prices are up at the gas pump, grocery store and hardware store, he said.
"You can't just pump all that money into existence," Lee said. "With this latest round of government spending coming in right now, it's kind of like throwing not just water on an oil fire but it's a little bit like throwing gasoline on a fire."
×
Related Stories
More stories you may be interested in