TOOELE — Tooele Valley residents turned more than soil Saturday as they ceremoniously broke ground for construction of the Deseret Peak Utah Temple of The Church of Jesus Christ of Latter-day Saints in Tooele, Utah.
With seagulls calling in the spring sky and a majestic backdrop that included running horses and all 11,000 feet of snow-capped Deseret Peak itself, church members and leaders also turned the final page on a year that included a decision to move the planned temple to Tooele from the original site in Erda, a seven-minute drive away.
Now everyone is looking ahead together to backhoes moving dirt in earnest next week and to the temple's completion in 23 to 24 months.
"I'm so grateful for Heavenly Father putting a temple in this very spot so it can bless our community and our families," Tooele resident and church member Dianne Rose said during the ceremony. "I have prayed we would be able to have a temple in this valley."
"It's where heaven and earth intersect," said Elder Brook P. Hales, a General Authority Seventy who lives in neighboring Grantsville. He presided at the ceremony and said a dedicatory prayer for the temple's construction during Saturday's event.
"We're drawn to the temple, particularly in these times of great difficulty and calamity and chaos," he said. "The temple is truly a house of peace, where we can go and feel comfort and peace."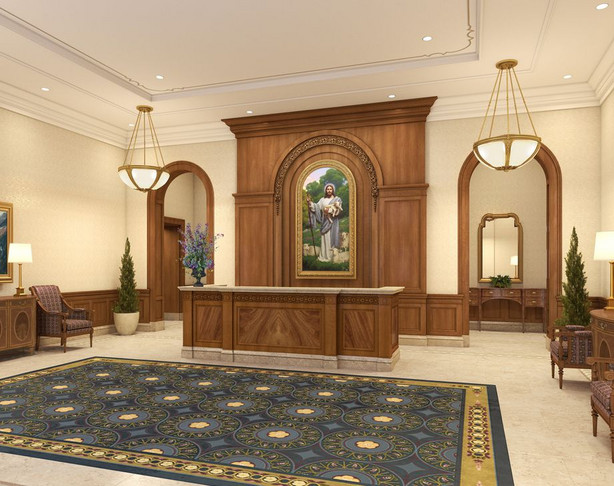 The Deseret Peak Temple still will sit on the Tooele Valley floor ringed by mountains with the Great Salt Lake sprawling to the north. About a year ago, church leaders planned to build what initially was called the Tooele Valley Temple and a housing development on some of its own farmland in Erda.
However, some residents objected. In August, President Russell M. Nelson announced the church had withdrawn its plans for that site. In January, the First Presidency announced the Deseret Peak Temple and the new site, with the Oquirrh Mountains on the east and the Stansbury Mountains to the west.
Perry Homes donated the land for the new site, 17.98 acres on the eastern edge of one of its developments that in coming years will expand to envelop the temple with single-family homes, said Brent Roberts, director of special projects for the church.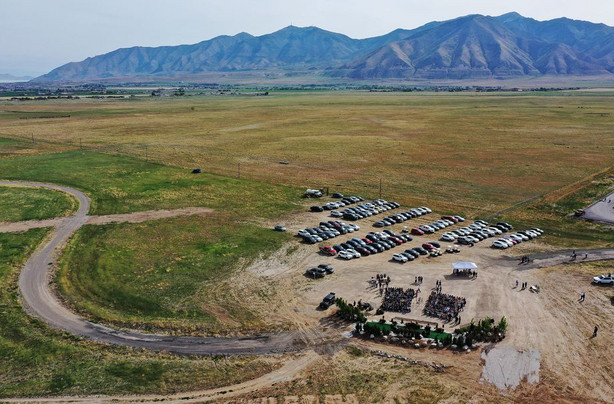 "The hearts of the people have been so soft and so good for months now," said Richard Droubay, chairperson of the temple committee. "It's been amazing to see the healing that's taken place in the last few months. We've not heard a cross word, we've not had anyone disparaging or discouraging as far as this site is concerned. It was bitter, and the healing is good. We're very grateful for what's happened."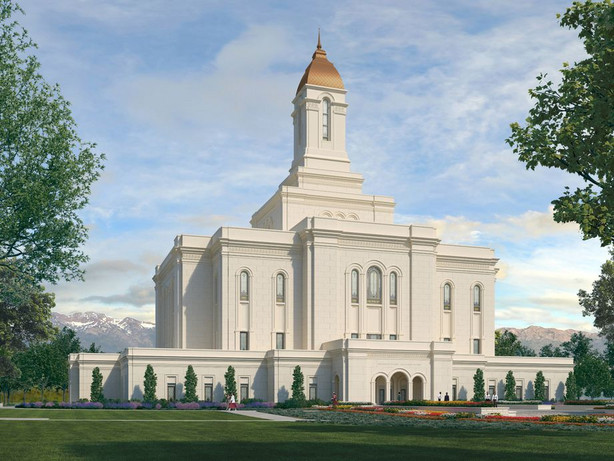 About 300 people attended the groundbreaking ceremony, which was limited due to the COVID-19 pandemic. The event also was livestreamed to thousands of people in the temple district and Elko, Nevada. Local church officials were joined by Utah Congressman Burgess Owens and other civic leaders.
President Russell M. Nelson announced a Tooele-area temple during the church's April 2019 general conference.
The Deseret Peak Temple will be the 21st of 27 temples in Utah. The church has 168 operating temples worldwide, with another 84 announced and under construction.
"We've always heard, 'Someday temples will dot the earth.' Well, today is someday," Tooele resident and church member Merna Dalton said during the ceremony.
The church released renderings of interior designs in April 2020.
Elder Hales said temples are literally the House of the Lord Jesus Christ. Temples are separate from Latter-day Saint meetinghouses, where the church's 30,000 congregations worship each Sunday. Church members attend the temple on other days of the week to seek guidance from God.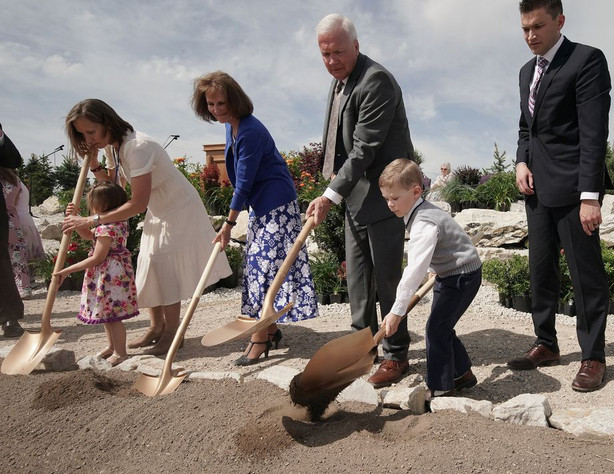 "I hope I get to see that beautiful temple," Dalton said. "We need to get ready for it, for when it is finished, and they finally open the doors, we can receive just exactly what God wants to give us."
Church members also attend temples to make covenants with God and perform ordinances that are considered vital to salvation, such as temple marriages or sealings, endowments and baptisms on behalf of others who have died.
"It is the very purpose of temples and of temple work to do the work for our loved ones so that they can be still together for eternity," Rose said. She added, "One of the biggest concerns anyone has as a loved one passes away is, 'Will I ever see them again?' Our gospel offers us the assurance that yes, families can be together forever."
The Deseret Peak Temple will be built west of the intersection of 2400 North and 400 West near Johnsen Junior High School. The change of locations did not change the building design plans. The temple will be three stories tall and about 70,000 square feet and will include four sealing rooms that seat 50 people. A 20,000-square-foot meetinghouse will be built on the site.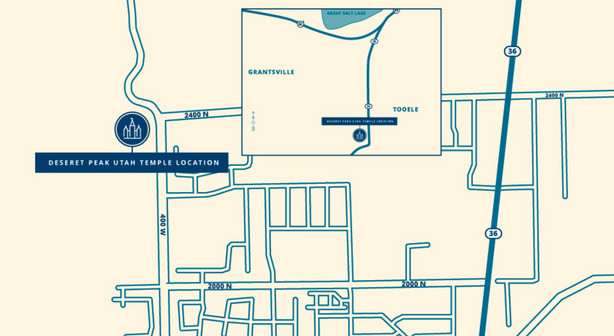 "I think it's an inspired choice," Elder Hales said. "It's a stunning sight."
He felt similarly about the temple's name.
"I happened to be in the meeting that day when they approved it, and I had to constrain myself from being too overly excited because I think it's a great name. I think it's an inspired name," he said.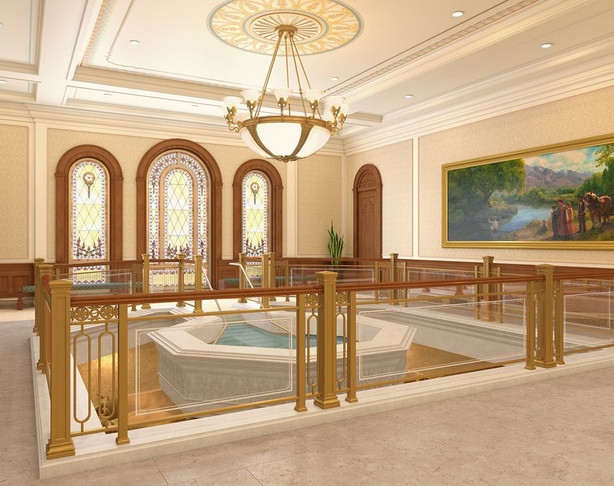 In his dedicatory prayer, Elder Hales asked God to magnify the talents of those who will work on the temple's construction.
He also prayed for rain.
"We recognize that we live in desert conditions," he said, "but we sincerely and gratefully thank thee for the rain and snow that thou hast sent to replenish our mountain streams, reservoirs, aquifers and wells. We humbly petition thee to open the heavens and to end the drought."
Stream beds are extremely low for this time of year and reservoirs are only partially filled compared normal levels, he said after the ceremony. Wells have dried out.
"You go out in the desert and natural grasses are dried and gone and it's only mid-May so it's a concern," he added. "I know the drought is on everyone's mind. It's very serious. and so to have an opportunity to kind of represent everybody who's concerned about it in this unique setting where the faith of a lot of people are joining together, I felt that was important to add in."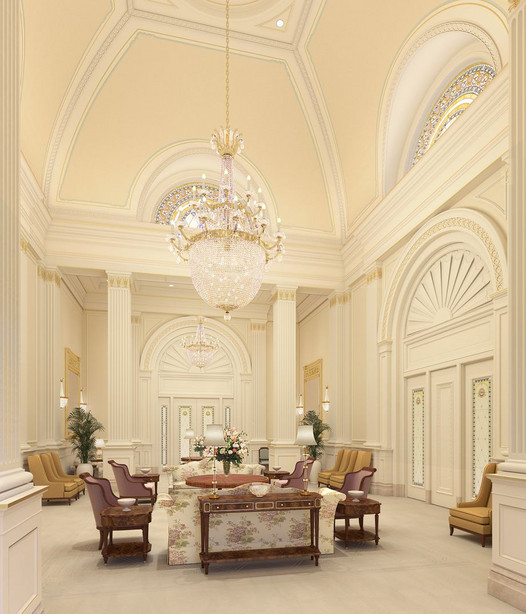 Latter-day Saint pioneers immediately used the grass in Tooele Valley to winter their herds after arriving in the area in 1847. Soon after, three families settled the area.
Today, Tooele's population is estimated at close to 35,000 and growing steadily, with bustling new buildings and businesses up and down Main Street. Still, the city and the entire valley remain a small rural community with vast open spaces.
"It's a big day in a little town," Grantsville Mayor Brent Marshall said.
×
Related Stories
More stories you may be interested in