PROVO — Nothing is guaranteed until the name is read during the NFL draft.
Sure, BYU quarterback Zach Wilson and former Desert Hills offensive tackle Penei Sewell are among the most "sure-thing" prospects that will likely hear their names called during Thursday's first round (6 p.m. MT).
But surprises happen every year, which makes projecting the draft a risky endeavor.
Still, three other Utah products — all from high schools in the Beehive State — could hear their names called during the second day of the draft, or the second or third rounds Friday (5 p.m. MT, ABC/ESPN/NFL Network).
Let's take a look at Brady Christensen, Jay Tufele and Simi Fehoko — starting with Wilson's blindside protector.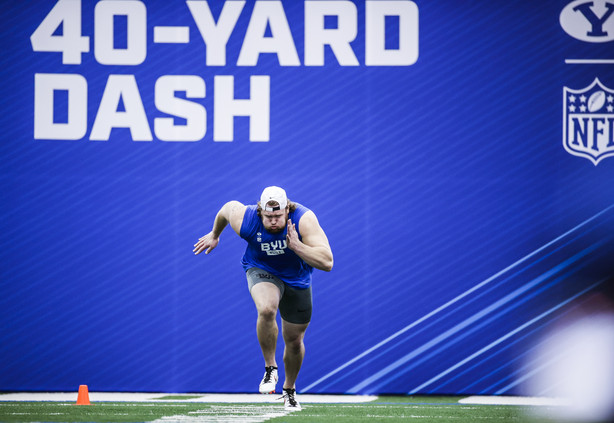 The old adage that offensive linemen are just "the fat kids" on the football team isn't just an overstatement, but often a complete misnomer.
BYU tackle Brady Christensen is the definition of "athletic lineman."
A former three-sport athlete at Bountiful High, Christensen showed off an elite level of play during the Cougars' pro day in March when he clocked a 4.89 40-yard dash, a 34-inch vertical jump and a 10-foot, 1-inch broad jump that would've tied the top mark at the 2020 NFL Combine for offensive lineman with Iowa's Tristan Wirfs — the Big Ten's lineman of the year.
The former two-star athlete did it all while weighing in at 302 pounds and standing 6-foot-6, while showing the grace and skill of a man half his size.
"I've known for quite some time that I'm an athletic guy — not just some big fat guy, as some people may think we are," said Christensen, the top-rated tackle by Pro Football Focus in the 2021 class. "I knew I had it in me, so I was so anxious to show what I can do, that I'm an athletic guy and can move at an elite level."
A consensus All-American and the first at BYU in over a decade, Christensen was tasked with keeping Wilson clean. So when the junior signal caller opted to forego his senior season in favor of the NFL draft, his blindside protector wasn't far behind.
Add to it a two-year mission for The Church of Jesus Christ of Latter-day Saints in New Zealand, and Christensen's time as a Cougar made sense to expire at the end of the incredible 2020 season.
That he even had the option is incredible. Christensen wasn't confident he could compete at BYU out of high school, with offers from Weber State, Southern Utah and Air Force on his resume. While top-rated recruits were at summer camps and spending the offseason on the national circuit, he was playing basketball or baseball.
In the end, that may be his biggest benefit in the NFL, where Christensen is projected to go anywhere between the third and sixth rounds.
"I think at the next level, you can't only be a big guy," he said. "You have to be athletic as well. You're blocking some of the most athletic guys on the field, and you have to match that athleticism. I think I really showed out what I can do, and what I've done in the past three years at BYU."
Jay Tufele, DT, USC (Bingham HS)
[embedded content]
For seniors and draft-eligible juniors every year, the NFL combine and on-campus pro days rank among the most important days for determining their pro football futures.
For USC's Jay Tufele, the Trojans' pro day in March was vital.
The Bingham High alum opted out of the Trojans' 2020 campaign due to coronavirus concerns — an opt out he says "wasn't really about the draft" before he declared for Cleveland — so his first chance to show off for NFL scouts and executives came in March. The 6-foot-3, 315-pound defensive tackle showed well enough, posting a 4.98 40 along with his other measurables. He's projected to be selected anywhere from the second to fifth round of this spring's draft.
More importantly, the former Miner's decision may have saved the health of several people — including his family. His sister contracted COVID-19, was hospitalized for a lengthy stay, and the family prayed for her recovery while they took turns caring for her and the family. Things aren't back to normal, but Tufele said his sister has recovered enough to watch him post his pro day numbers from a TV at home.
"She's alive, and that's all we can ask for," Tufele told reporters following USC's pro day in March. "She's someone that I really hold dear to my heart, and the fact she's breathing and was able to watch my pro day, it means more than the world. There was a point where I didn't know if she would see this day."
Tufele was considered by many to be a first- or second-round draft pick prior to opting out, when he appeared in 25 games for the Trojans and finished with 65 tackles, 7.5 sacks and a fumble recovery for a touchdown. The explosive, hard-charging interior lineman developed a reputation as one of the best run stoppers in the Pac-12, a characteristic that was also proven by his 7.77 3-cone drill on pro day.
Of course, Tufele has been asked by every NFL team with which he's met about his decision to opt out. And he's been honest with them, he told reporters following his pro day workout.
In the end, maybe he could've bolstered his draft stock with a supersized junior year, when the Trojans finished 5-0 before a 31-24 loss to Oregon in the Pac-12 championship game.
But Tufele doesn't regret his decision.
"We'll never know. But I know I would've done some amazing things for my team," he said. "In the end, I don't regret what I chose. I'm grateful for the opportunity that was given to me."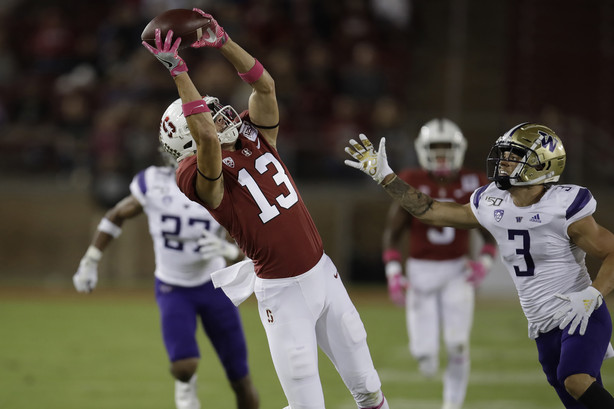 The hardest part for former Brighton High standout Simi Fehoko when he decided to play for Stanford in his final season of 2020 had nothing to do with football.
A veritable talent since he lined up for the Bengals, Fehoko reported to fall camp with the Cardinal just four months after marrying his wife Bailee (nee: Larson) as the COVID-19 pandemic was dramatically altering American life in March 2020. The newlyweds spent over a month apart while he played out his junior season, which he later announced would be his last.
Additional restrictions in California's Bay Area kept Stanford's home games sterilized, with no fan interaction, and the Cardinal sometimes didn't even know when, where — or if — they would be able to practice during the week, because of government restrictions.
"That whole uncertainty was hard," Fehoko said. "I had to leave my wife for four weeks, and that was hard. But the hardest part was the uncertainty all around."
Fehoko played in six games with four starts during the truncated fall season, which the Cardinal finished 4-2 with one cancellation. The 6-foot-4, 227-pound wide out finished with 37 catches for 584 yards and three touchdowns en route to first-team all-conference honors, including a school-record 16 catches for 230 yards and three scores in a double-overtime victory over UCLA.
Three years after finishing a two-year mission for The Church of Jesus Christ of Latter-day Saints in Korea, the one-time four-star recruit from Brighton High finished third in Stanford history with an average of 18.48 yards per reception.
But Fehoko's heart was always in his desire to turn pro — his cousin Alfred Pupunu played for the San Diego Chargers, and he has other cousins who played football and basketball at Dixie State, Texas Tech, Washington State and San Diego State.
So less than a year after marrying his wife Bailee (nee: Larson), Fehoko left two years of eligibility on the table and declared for the NFL draft, where he is projected between the third and sixth round.
Playing in the NFL has always been a dream of Fehoko. But this year's decision is about something more, both on and off the field, he explained after his pro day at Stanford.
"I'm a hard worker, and I bring a level of maturity that a lot of these other guys don't have," Fehoko said. "I'm married, I've taken that next step, and I'm providing for my wife. I think that gives me an edge over a lot of other people."
Fehoko tested well during pro day, posting a 4.42 40-yard dash — a mark in the 77th percentile nationally among receivers — and completing the three-cone drill in 6.86.
"For me, just being able to be that big-bodied receiver with that blend of speed, it really separates me from a lot of other receivers in the class," Fehoko said. "They say with my size and speed, I could fit in with any offense."
---
[embedded content]
Brady Christensen
Position: Offensive tackle
Age: 24
Height: 6'6″
Weight: 300 lbs
School: BYU, Bountiful HS
---
Jay Tufele
Position: Defensive tackle
Age: 21
Height: 6'3″
Weight: 315 lbs
School: USC, Bingham HS
---
Simi Fehoko
Position: Wide receiver
Age: 23
Height: 6'4″
Weight: 220 lbs
School: Stanford, Brighton HS
×
Related Stories
More stories you may be interested in