SALT LAKE CITY — After the strangest NCAA women's volleyball season on record, one player in conference-only or mostly-conference settings in front of limited or no fans due to the coronavirus pandemic, the national tournament went off nearly flawlessly.
Yes, one game had to be declared a "no contest" as a result of COVID-19 cases at Rice. But in the rest of the new, strange, reduced field of 48 teams, the opening two rounds of the tournament cruised.
There were upsets — like unseeded Pitt's sweep of No. 14 Utah or Western Kentucky's thrilling five-set win over Washington State that set up an all-bluegrass state regional semifinal — and historic moments — like Weber State's first-ever tournament win or Utah Valley's inaugural tourney debut.
By and large, 16 teams made it through the first two rounds of the tournament that included first-round byes to the top 16 national seeds, and will march towards the NCAA championship Sunday afternoon at the single-site CHI Health Center in Omaha, Nebraska.
Well, 14 teams will, at least.
No. 16 BYU's win over UCLA didn't just set up a showdown with top-seeded Wisconsin. It also forced a scheduling switch.
The Cougars (17-1) and Badgers (16-0) will be the only two teams playing Saturday night in Omaha (6 p.m. MDT, ESPN3), an accommodation made as a result of BYU's long-held religious beliefs.
Excited & Ready. @BYUwvolleyball is geared up to take on the no. 1 seed Wisconsin in the #NCAAVB Tournament #WCCsportspic.twitter.com/FK56I7c3bw

— West Coast Conference (@WCCsports) April 16, 2021
The flagship university of The Church of Jesus Christ of Latter-day Saints, BYU does not compete or practice on Sundays, the observed Sabbath for members of the church. So when the NCAA unveiled the bracket for the 2020 tournament (played in April 2021), it also unveiled an auxiliary schedule that would allow the Cougars — or any school with similar religious practices — to play on a separate day.
So the Cougars and Badgers will be the only show in town Saturday night.
"We're super grateful to be advancing in the tournament," BYU coach Heather Olmstead said, fully cognizant of the accommodation made by college sports' governing body after their match Thursday night. "We're looking forward to playing the No. 1 team.
"We've talked about it as a team, and we're anxious to keep getting better, keep growing this team, seeing how good we can be."
Both teams swept through their second-round matchup, though the Badgers made short work of Weber State a few hours before BYU took to the court against the Bruins.
Due to COVID-19 protocols and space restrictions inside the CHI Health Center — teams don't have space for post-match media interviews, for example, and all media until the regional finals is conducted virtually, from coaches and players' hotel rooms — there is no live scouting allowed in the facility.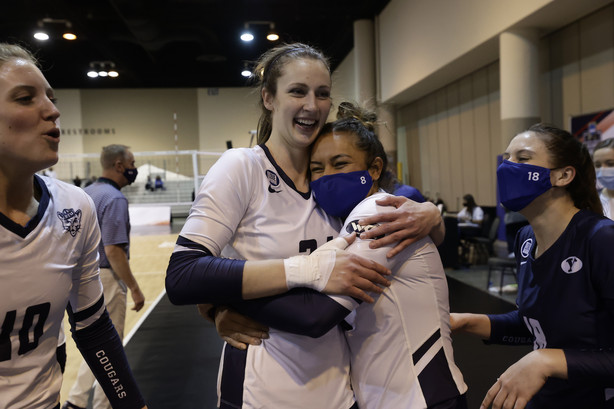 That means Wisconsin would've been scouting BYU's second-round match with UCLA in the same way most of America was — by watching the ESPN3 live stream on their phones, tablets or smart televisions.
The Cougars may have been doing the same earlier in the day with the Badgers, and if they did they would've seen the same thing at-home fans and media would've seen: how Weber State struggled to contain Wisconsin right-side hitter and middle blocker Dana Rettke, the three-time All-American who had nine kills and a block with just one error against the Wildcats.
Rettke is the sixth-best hitter in the country with a .456 hitting percentage. That's just ahead of Kennedy Eschenberg, the Cougars' 6-foot-4 middle blocker who has 131 kills and 69 blocks in the spring of her senior season.
Two of the nation's best middles, and a stage all to their own?
"I'm so excited," Eschenberg said. "I know our team, our coaches are so excited. We're ready. We're going to prepare, but we're super excited and ready."
NCAA women's volleyball tournament
Regional semifinals
Saturday, April 16
No. 16 BYU vs. No. 1 Wisconsin, 6 p.m. MDT
Streaming: ESPN3
×
Related Stories
More stories you may be interested in